AFS is pleased to announce that Jayla Greene has been named as the school's next Varsity Girls Basketball head coach, effective immediately.
Director of Athletics Jeff Bond says, "We are thrilled to have Jayla join the AFS community and take the lead of our girls basketball program. Jayla brings a passion for teaching basketball, a fierce determination and a well-developed emotional intelligence to all that she does. Her coaching experience at the high school and collegiate levels and her extensive Philadelphia grassroots basketball experience, including the last six years with Philadelphia Youth Basketball, have left her well-prepared to lead our program into this new era. I am excited to watch the program and our players grow under her care."
A Philadelphia native, Greene graduated from Springfield (Montco) High School where she was a key member of the girls basketball program. She continued her playing career at Gwynedd-Mercy University, leading the Griffins to a conference championship and an NCAA tournament berth during her sophomore season. Greene transferred to Drexel University, earning her B.S. in Sports Management  and simultaneously beginning her coaching career in the Philadelphia Youth Basketball and Philly Triple Threat AAU programs. Greene also served as a varsity girls basketball assistant coach at Imhotep Charter School and a men's basketball assistant coach at Chestnut Hill College.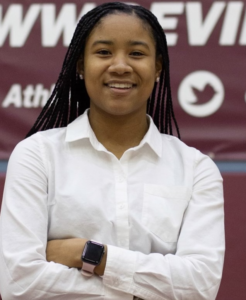 Greene succeeds AFS Athletics Director Jeff Bond at the helm of the Kangaroos. Bond steps down from his coaching responsibilities after 11 years on the sidelines that include 10 Friends Schools League postseason appearances; 2 FSL titles and the 2019-20 PAISAA state championship. Since the founding of the Friends Schools League in 1982, AFS Varsity Girls Basketball has appeared in the FSL championship game 13 times.
"I am thrilled to continue my coaching career at AFS," remarked Greene. "Coaching is bigger than just the X's and O's, and I am excited to make a positive impact in the AFS community. Be addicted to your passion and not to your distractions. Let's ball!"
AFS is a Preschool through Grade 12 Quaker School located in Jenkintown, PA. The college-preparatory independent school lives out its mission as stated in the recent release of the Strategic Plan for AFS 2022-2027 —Envisioning the Fourth Century of Friends Education.