Upper School Students at AFS Seek Intellectual Adventure
In the Upper School at Abington Friends students are prepared for successful lives of purpose. The classrooms at AFS are Meetings for Learning in which the conditions for student growth are ideal. Here, deeply collaborative and interdisciplinary teaching leads students to understand the 'how' and 'why'. Our students become leaders with powerful ideas and voices and they possess the tools it takes to make a difference in a world that needs them. The conditions that make AFS optimal for student growth include: 
Validating students as human beings first.

Modeling that exploration and inquiry is a normal part of life that makes day to day living more interesting.

Curriculum and activities that adapt with the interests and skills of the students in the room and things that are happening in the world.

Crafting opportunities and experiences for dynamic discussion, deep engagement, wrestling with real life issues

Challenge is met with support.

A community where everyone is both learner and teacher

Allowing students to explore, play and build.

Letting go of content and allowing time to wallow and dig deeper.

Giving students challenging things that have multiple approaches without expecting them to be perfect.

Encouragement of the artistic process: research, play, execute, refine. Repeat.
Come experience the intellectual adventure at AFS by scheduling a visit.
"We do not grow by entering either the Meetinghouse or the classroom with the aim of proving ourselves to be right or in possession of more knowledge than others. Rather, we grow only to the extent that we approach each of these experiences with a hope and expectation of being transformed, combined with a willingness both to learn from others AND contribute to their learning. (2001) "
Meet our Upper School Director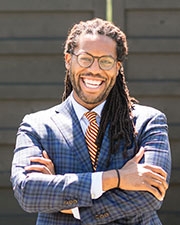 Brendon Jobs was appointed as Upper School Director at AFS in July 2021. Brendon brings extensive professional experience facilitating organizational and adult learning to his practice. He is a practiced school leader, classroom teacher and racial literacy consultant with 14 years in public and private school environments including The Haverford School, The Browning School, The Baldwin School, Penn Charter School, Central High School (PA), St. Peter's School, The Waldorf School of Philadelphia, Wilmington Friends School, Penn School of Design and more. Recently, he has been recognized as a "Top Teacher" by Main Line Today Magazine and has published articles on talking with kids about race and the need for emotional intelligence in schools in the Philadelphia Inquirer.  
Brendon is a connector, building programs and relationships across school communities and drawing from a rich network that he has developed across the region with researchers, school leaders and teachers. Central to his vision is the power of relationships and collaboration, with students, colleagues and families, to together build school communities of academic depth and meaning, social emotional strength and wellbeing, a shared ethic of systemic equity and transformational opportunities available to all. As a school leader, his interests range from the craft of classroom teaching to strategic visioning for schools in the 21st century. 
Learn a few of Brendon's goals at AFS in this Philadelphia Business Journal interview.