Record: 11-12 (overall); 2-7 (FSL) - 2021-22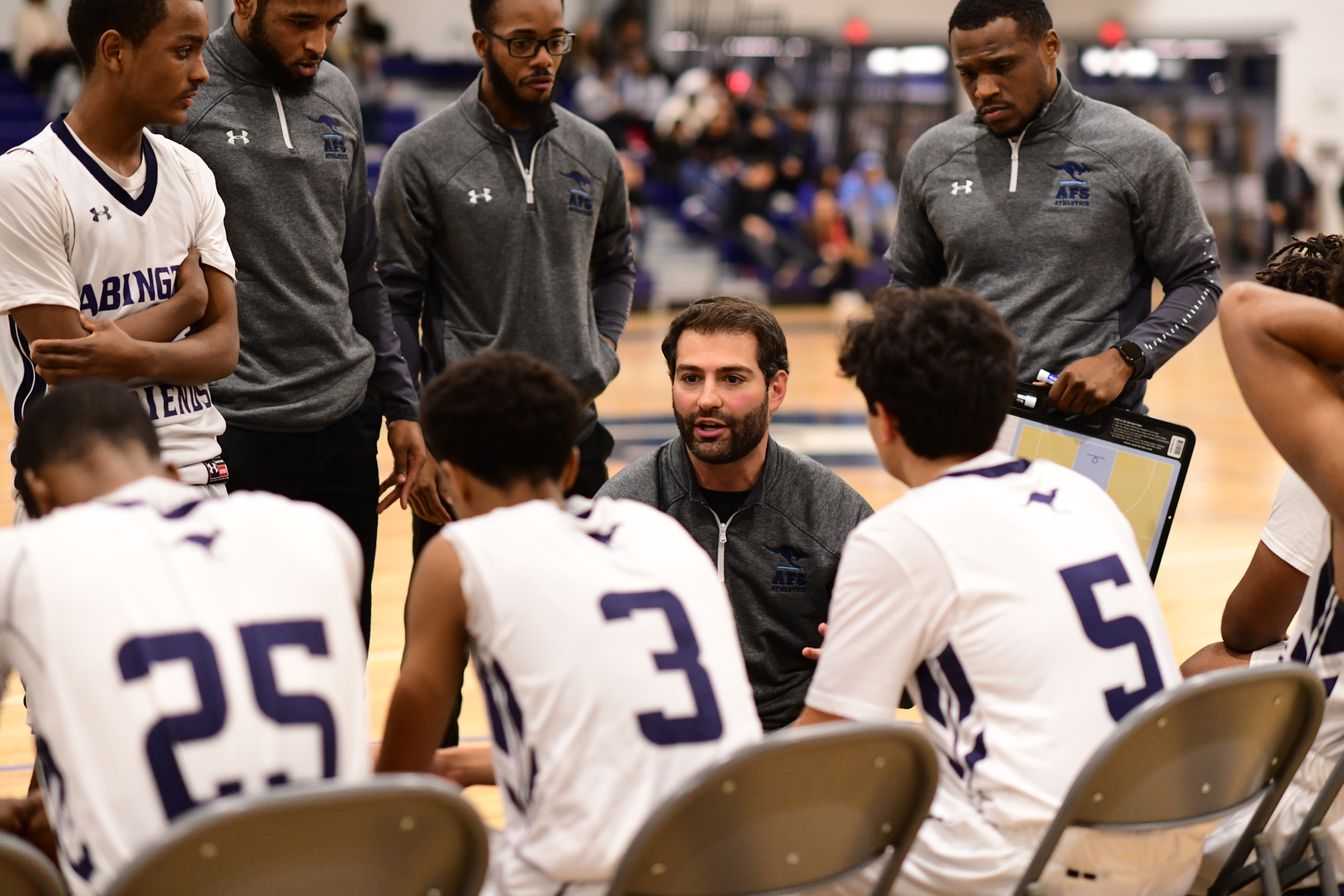 AFS Varsity Boys Basketball Most Recent Season (2021-22)

Team played close to .500 most of year finishing 11-12 overall & 2-7 in Friends League.
Picked up 1st two Friends League wins in two years defeating Germantown Friends & Friends Select.
Had huge win over Public League power Mastery Charter North.
Senior Debarrinn Norman led 'Roos in scoring & rebounding.
Played eventual league & PA state champion Westtown School to a standstill before losing late.
Lost to Academy of New Church in Friends League quarterfinals.
Alum Jon Wessel's 3rd year as AFS head basketball coach.
AFS Varsity Boys Basketball went 1-7 in in shortened 2020-21 season
AFS Varsity Boys Basketball Previous Most Recent Season (2019-20)
Team played its inaugural season in brand new Richard N. Berman Athletic Center.
Alum Jon Wessel's 1st year as AFS head basketball coach.
AFS went 3-20 overall, 0-8 in Friends League play.
Beat CHAD 56-52 on Alumni Day.
Collin Brown (16.6 ppg, 6 rpg) & David Jordan (14.2 ppg, 5 rpg) led the way for 'Roos all season.
Squad will have 6 returning varsity players.
AFS Varsity Boys Basketball Previous Season (2018-19)
Advanced to Friends Schools League playoffs (4th seed) for 1st time in 5 years (lost to Friends' Central).
Coach Steve Chadwin's 40th & final year at Abington Friends.
Team finished with winning record overall (11-10) and in Friends Schools League play (5-4).
Played season using Manor College as their home court.
Taalib Holloman was 2nd leading scorer in Friends Schools League, averaging 15.7 PPG; named 1st team all-league.
Seniors Taalib Holloman (Wilmington University) will continue his playing career in college.
AFS Varsity Boys Basketball Program Highlights
Since mid-1980s have won 16 Friends League Championships, including eight in-a-row from 1991-97.
Steve Chadwin's completed his 40th & final season in 2019, compiling 649 wins wins at AFS.
Sent numerous players to all levels of college basketball, including many to Division 1 such as Michael Jordan, Lamar Plummer & Aron Cohen (Penn), Jason Love (Xavier), Jabril Trawick (Georgetown), Andrew Jones III (Penn State) and Bryan Cohen (Bucknell).
Returning 7 players from last year's team for 2019-20.
AFS Alum Jon Wessel takes over as Head Coach for the 2019-20 season.
| # | Name | Grade | Position |
| --- | --- | --- | --- |
| | Ife West-Ingram | 12 | F |
| | Angel Otero | 12 | G |
| | Jabril Hampton | 12 | G |
| | Jared Shanken | 11 | G |
| | Kaydin Ford | 11 | G |
| | Markel Easley | 12 | F/G |
| | Che Moritz | 12 | F |
| | Nathan Osborne | 11 | C/F |
| | William Lotoza | 12 | F |
| | Namisse Musonge | 11 | F |
| | Jason Green | 10 | F |
| | Ethan Hodnett Bell | 10 | G |
| | Marcellus Jeter | 10 | G |
| | Jeremiah Shephard-Baker | 12 | G |
| | More Players to be Added | | |