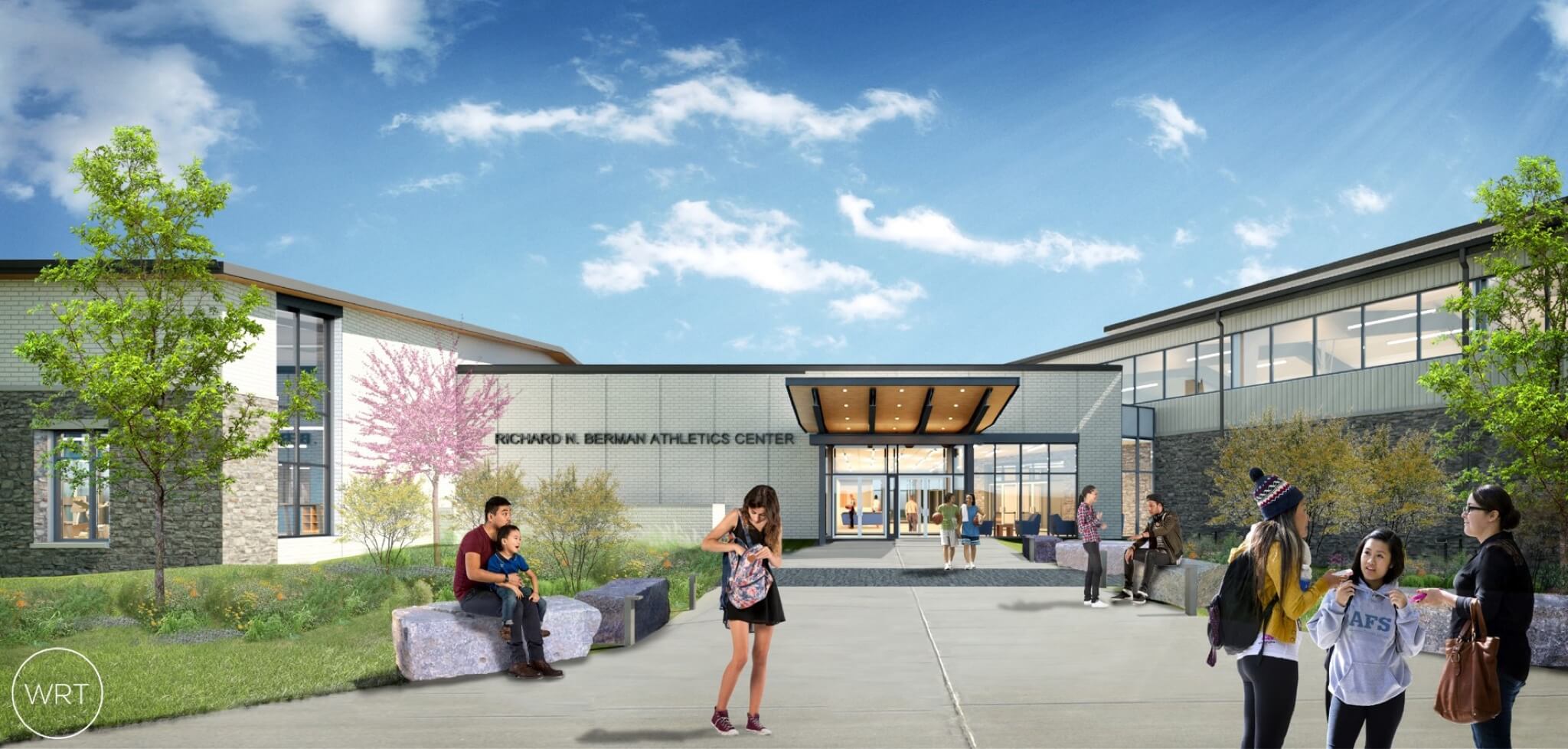 Maybe it was the white, wooden folding chairs lined up in neat rows in the Upper School courtyard, or it was the blue-and-white balloons along the driveway to the Lower School. Or maybe it was the glistening ice sculpture and the high-top tables awaiting guests for a reception in the library.
Whatever the reason, the campus on Saturday exuded all of the magic, joy and warm sentiment of a combination wedding and graduation day. In the 321-year history of Abington Friends, there's no doubt that May 5  — from sunrise to sundown and on all corners of the campus — will go down in the record books as one of our best days ever.
EcoFest and Nature Play Date
The day began with EcoFest and Nature Playdate, an annual event that drew 125 families to the Lower School for outdoor activities that honor the environment. Children turned spoons into marshmallow catapults, built and paintd birdhouses and watched intently as henna designs were painted on their hands or forearms. The Briar Bush Nature Center sent a tortoise named Miss Tortellini to the earth-friendly fair so children could touch her bumpy shell.
Lively music and a billowing, colorful parachute cloth delighted children in the Redbud Playground, while a new student club, Environmental Justice and Action, taught about covering a fabric with beeswax to create a reusable alternative to plastic wrap.
Over near Tyson House, dozens of local residents drove up to e-cycling and recycling tracks to drop off old computers and television sets and to donate used clothing and other unwanted household goods.
Lower School Science Teacher Rasheeda Murphy led the committee that organized the Nature Playdate, and the Home and School Association, led by Clerks Fiona Kyck and Betsy Madway, took charge of EcoFest. Dozens of parent and teacher volunteers helped make the events a success.
Alumni Day, a Campus Tour and Meeting for Worship 
In mid-afternoon, more than 60 of our nearby and far-flung graduates were welcomed back to campus for our annual Alumni Day. Counted among the alumni was the Class of 1948, a group of hardy souls who were among those who walked the campus on a tour led by Head of School Rich Nourie and Upper School History Teacher Drew Benfer.
Alumni Meeting for Worship was another highlight of the day, a time of reflection, nostalgia and happy tears as about 25 alums talked about their gratitude for the school and the value of lifelong friendships.
Saying Goodbye to Hallowell Gym
This year's Alumni Day began with a special event, the final basketball game in Hallowell Gym. Current students had said goodbye to the gym on Friday morning with an all-school program. Upper Schoolers performed funny skits that depicted key moments in the life of the 50-year-old gym. An impromptu dunking exhibition put on by our varsity basketball players delighted and amazed our younger children. On Saturday, it was the alumni's turn to say farewell — with a pickup game of hoops, of course.
Former Associate Head of School Debbie Stauffer came out of retirement to coach the White team and current staffers Brian Schiff and Josh Leopold '08 piloted the Blues. Though the Blues staged a mighty comeback in the final minutes, the Whites prevailed, 85-80.
Among those enjoying a final game on the court were Washington Post sports staff writer Jesse Dougherty '12, Ambler realtor Jordan Burrell '12 and Upper School Math Teacher Angie Adams '09, who ignited the crowd when she sank a nifty pair of threes.
Asked afterward what it felt like to be playing in the Hallowell one last time, Angie said, "I don't think it has hit me yet. This is going to be gone in the next few weeks. I've lived here almost year round for the last 20 years as a player, coach and summer counselor.
Among her memories, she said were "the joys, the heartbreaks, the tears — from buzzer beaters to blowouts and everything in between."
Breaking Ground for a New Athletics Center
The sense of nostalgia that was evident in Hallowell Gym gave way to celebratory joy later in the afternoon at the ceremonial groundbreaking for the new Richard N. Berman Athletics Center. The $9 million facility will be nearly three times the size of the Hallowell and house a competition-size basketball court, two practice courts, a large fitness center, a multi-purpose room, team rooms and much more. The new center is expected to open in February 2019.
Head of School Rich Nourie told a crowd of about 250 community members seated in the Upper School courtyard that the school was thrilled that the new facility would allow athletics, PE, and health and wellness programs to "fully take their place alongside our outstanding academic and arts programs.
"Most importantly," he said, "it will ensure the strength and vitality of this great school so its mission can be strong and vibrant well into the fourth century, and for a world that certainly needs what our students will bring to their future communities."
Margaret Sayers, Clerk of the School Committee, thanked her fellow committee members and a subgroup, the Campaign Leadership Committee, for their hard work, vision, optimism and grit.
"Despite the warm spring weather and the redbuds bursting with color, I feel like a kid on Christmas Eve. I am just so excited about what is getting ready to happen for our beloved school. And like all the major holidays, a lot of planning and hard work has brought us to this moment," she said.
A total of 86 families have donated to the project, with a lead gift given by the extended Berman family. Four generations of the Berman family attended the ceremony.
AFS parents David and Marc Berman P'19, P'20 each gave moving speeches about their gratitude for the school and their belief in its mission. David spoke about the importance of the rich diversity at AFS and praised how well the school prepares students to be good citizens who are able to bridge societal divisions.
"AFS brings out the best in human nature, promotes exploration and understanding of complicated issues, issues which do not have quick or easy solutions. This makes our graduates better suited to thoughtfully address society's problems," he said.
In his remarks, Marc focused on his admiration for his late brother Richard, a devoted family man and successful businessman, in whose memory the building is named. Marc spoke of the many lessons his older brother had taught him, including the importance of goodwill and loyalty, hard work and integrity. "Much of what I know about being a good person comes from the example he set," he said.
Marc also spoke about his gratitude for the school and its leadership and faculty. "What I appreciate most about AFS is that we not only learn to recognize the goodness in ourselves, but also develop the ability to see the same in others. This is at the core of our education and a gift that extends well beyond the reach of this campus," he said.
In closing, Marc addressed his beloved brother with these touching words: "I am proud to have your good name stand with this thoughtful and dynamic community."
After the ceremony, community members filled the Faulkner Library and Reading Room to connect with each other, enjoy an elegant reception and savor the remarkable day.