Record: 6-11-1 (2019)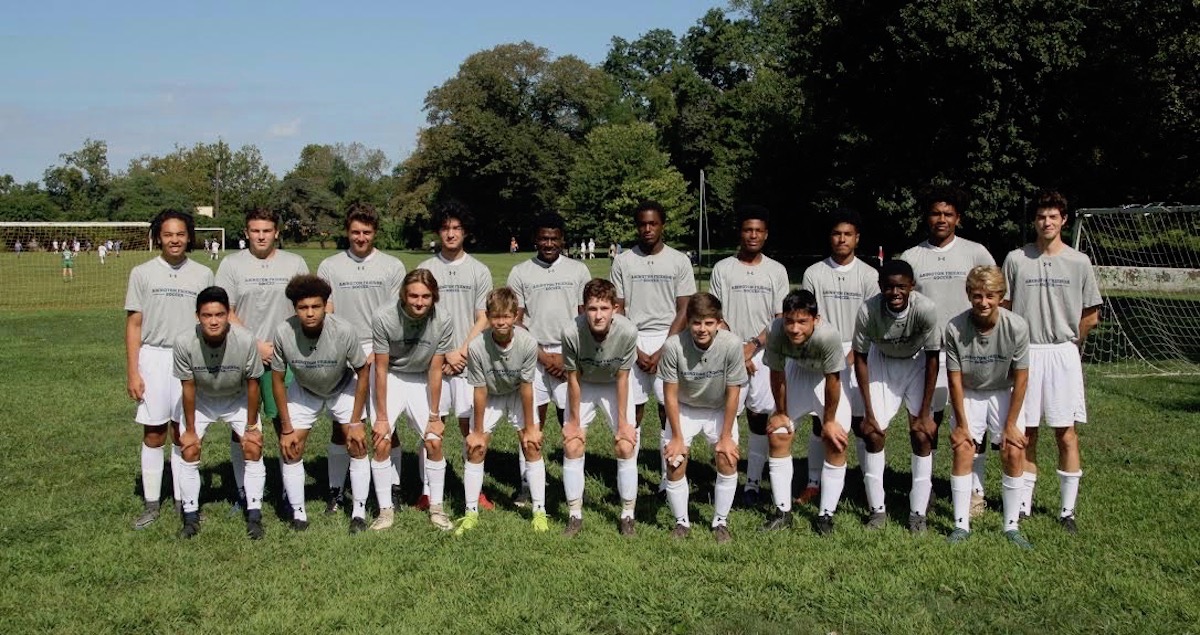 2020 Soccer Season was Canceled due to Covid-19 Pandemic.
AFS Varsity Boys Soccer Most Recent Season (2019):
Finished 2019 season 6-11-1 overall, exceeding win total of previous year (1).
Played in PAAISA State Tournament for first time in AFS history.
Went 2-7-1 in Friends League play (wins over Friends Select & Friends' Central).
Dropped tight 2-1 game to George School in Quaker Cup finals.
Senior Kai Haynes named all-league selection, for 2nd year in-a-row. Noah Mass & Jonah Fine also standout years.
Dave Urbach's 2nd year as AFS head boys soccer coach.
AFS Varsity Boys Soccer Previous Season (2018):
Finished 2018 season 5-10-1 overall, more than doubling win total of previous year (2).
Scored 15 goals, allowed 31.
Dave Urbach's 1st year as AFS head boys soccer coach.
Went 1-8 in Friends League play winning lone league game 2-0 vs Friends Select.
Dropped tight 2-0 game to ANC in 1st round of Quaker Cup.
Junior Kai Haynes named all- league selection.
AFS Varsity Boys Soccer Program Highlights:
Charter member of Friends Schools League Boys Soccer, tied MFS 0-0 in Sept. 1981 in 1st-ever FSL match.
Friends Schools League Champions in 2002, 1984.
Friends Schools League playoff appearances in '06, '05, '02, '00, '96, '95, '91, '87, '84, '83, '81.
Graduates have played collegiately (AFS grad. year) at Pitt-Johnstown ('18), Susquehanna ('16), Hartford ('14), Holy Family ('12 & '04), Swarthmore ('10), St. Joseph's ('04), Ursinus ('03), Drexel ('96).
Ten players have received All-Friends Schools League recognition since 2010.
All head coaches since 2005 have had collegiate playing and coaching experience.
David Urbach, former collegiate & professional player & coach, named head coach in May, 2018.
| # | Name | Grade | Position |
| --- | --- | --- | --- |
| 00 | Noah Mass (captain) | 12 | GK |
| 2 | Max Emery | 11 | F |
| 4 | Elias Davatzes | 9 | F |
| 5 | MJ Kiernan | 9 | D |
| 6 | Calder Small | 9 | F |
| 7 | Elliot Diver | 9 | M |
| 8 | Kai Haynes (captain) | 12 | M |
| 9 | Trevi Fleming | 12 | D |
| 11 | Jonah Fine | 12 | D |
| 12 | Andres Fluellen | 12 | M |
| 14 | Alden Co-Doyle | 10 | M |
| 15 | Jonah Sim-Laramee | 12 | D |
| 16 | Hadley Julye | 10 | F |
| 17 | Miles Kurtz | 10 | M |
| 18 | Sydney Mbah | 9 | M |
| 19 | Wadner Simon | 11 | F |
| 21 | Dexter Dugdale | 12 | D |
| 22 | James Lewis | 11 | M |
| 24 | Josh Eisen | 12 | D |