Speed is a curious measurement. At first you might think, "How complicated can it be? Things can go fast or slow." But when it comes down to it, what is speed itself? When two balls are racing down a hill, and why does one get to the bottom first? And more importantly, how do you explain these ideas to a 5 year-old?
This year, the Catbird class in AFS's early childhood program has been busy tackling the important questions about the nature of speed, starting with the important question: "How do we know how fast things go?"
Another interesting way to explore speed, offered by Upper School Math teacher Mary Anne Wassel, would be to compare how fast two different things went. The easiest way to do that would be to release two things side by side on a ramp and see which one gets to the bottom first.
To get the project up and running, Mary Anne enlisted the aid of four members of the AFS Roobotics Club to build a ramp for the class — but not just any ramp! A multi-level ramp, with multiple different angles that would be safe to play with for 3- and 4-year-olds. So the team got to thinking.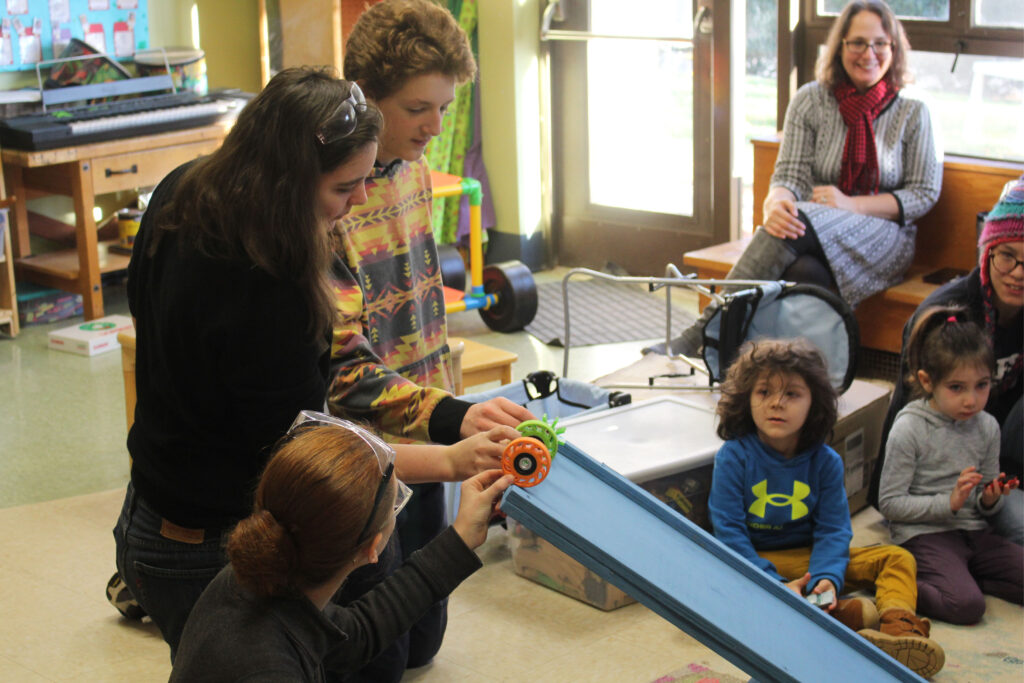 "The ramp was deceptively difficult," said Kiera Larrieu '23, the ramp project lead, "and it ended up taking longer than expected because of the size screws that we needed. The plywood wasn't thin by any means, but for screwing in the hinges, we needed 1/2" screws, which we had, but they were very low quality and kept breaking."
"And since the product was going to Lower Schoolers, we sanded all of our wood so as to not cause injuries, which I unfortunately don't normally do—it was actually a good learning experience."
When it came time to test the ramp, the Catbirds were eager to rock and *roll* plenty of items down to test its speed capabilities. They started with different kinds of cars, followed by wheels by themselves, moving on to blocks (round and square!) and finishing up with. All the while, the young students guessed, and made compelling arguments, for why they thought each competing object would go faster. Before they started using the ramp, students had theories for why certain things went faster than others—from the colors of the materials to their shapes and sizes. But now, instead of just guessing, they could test their theories.
"It was great practice for Roobotics," said Mary Anne. "The students really took the lead on design."
"Honestly, I think my favorite part was the planning stage," said Kiera. "We used math that we had learned in class and had never gotten a chance to apply to the real world, which just made us feel really smart and cool."
Special thanks to Roobotics members Kiera Larrieu '23, Casey Rush '23, Sophia Wang '24 and Niels Rush '25.