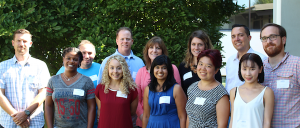 Abington Friends School will begin the new school year after Labor Day with an exceptionally strong group of new appointments in all three divisions. The group has spent three days in orientation, learning more about the School, its Quaker underpinnings and 320 years of history. Here are brief biographies of the new administrators, faculty and staff.
Lower School
Esmé Artz
Fourth Grade Collaborating Teacher
Esmé, who joined AFS in April as Admission Administrative Assistant and Receptionist in Tyson House, this September will begin a new role, as Fourth Grade Collaborating Teacher. After eight years working in public relations, Esmé decided to follow her heart and pursue a career in education. She is studying toward a graduate degree in education at Chestnut Hill College. A native of Holland in Bucks County, she received a B.A. in English from Temple University.
Aiden Chen
Lower School Afternoon Staff
Aiden was born in Nanchang, a city in the south of China, and received a bachelor's degree in nursing from Gannan Medical University. She worked as a nurse in a pediatric unit of a hospital for a year, an experience that led her to want to be an early childhood teacher. After coming to the United States, Aiden received a master's degree in Early Childhood Education at Arcadia University. As part of her graduate coursework, Aiden completed a semester of fieldwork at AFS, and is excited to return to the School.
Abigail Drakely
Lower School Extended Day Teacher
Abigail, who was a student teacher in the kindergarten class at AFS during the 2013-2014 academic year, received a bachelor's degree in Early Education and Special Education from Arcadia University this spring. She also has an associate's degree in Early Education from Montgomery County Community College.
Rasheeda Murphy
Lower School Science Teacher
Rasheeda, who grew up in the Philadelphia suburbs of Lower Merion and Yeadon, has a degree in Elementary Education with a concentration in urban education from Kutztown University. She earned a graduate degree in Education Administration from Gwynedd Mercy University. Rasheeda, who has 14 years of experience, has a passion for teaching science. Over her career, she has facilitated collaborative workshops and science fairs with fellow teachers from throughout the country.
Kyle Rankin
Second Grade Collaborating Teacher
Kyle joined AFS in January as Head Coach of the Boys' and Girls' Track and Cross Country teams. Beginning this school year, he also will serve as a Second Grade Collaborating Teacher. Kyle earned a bachelor's degree in education from the University of Tennessee, and recently received a master's degree in multicultural education from Eastern University. He spent more than 20 years in the business world before embarking on a second career in education.
 Mindy Sage
Second Grade Collaborating Teacher
Mindy, who worked in the Extended Day program last year, will take on a new role, as a Second Grade Collaborating Teacher. She has experience as an assistant teacher at Twin Spring Farm Day School in Ambler. Mindy earned a B.A. degree in English/Communications from Thiel College.
Middle School
Pete Thobaben
Middle School Art Teacher
Pete comes to AFS after having taught Middle School art for the last five years at North Clayton Middle School in Georgia. He earned his BFA in Illustration and his Master of Arts in Teaching at the University of the Arts in Philadelphia. Pete also has a lot of design experience and will be overseeing use of the Middle School Makerspace, in addition to teaching Middle School arts courses. He attended the Perkiomen School in Pennsburg, Montgomery County, where both of his parents were teachers in the arts. His wife, Kristin, will be starting her first year as an art teacher at the Baldwin School in Bryn Mawr.
Upper School
 Julie Ferreira
Upper School French and Spanish Teacher
A native of France, Julie grew up competing in gymnastics, and later coached many children in the sport. She earned a bachelor's degree in English literature and linguistics from the University of Paris-Est Marne-la-Vallée in Champs-sur-Marne, France, and a bachelor's degree in English film and cultural studies from Bishop's University in Lennoxville, QC, Canada. Julie moved to Boston, where she earned an M.A. in teaching from Simmons College. She comes to AFS after having taught French and Spanish at the Dover-Sherborn Middle School in Dover, Mass., and at Moorestown (N.J.) Friends School. She and her fiancé, Shane Reil, recently relocated to Pennsylvania.
 Dominique Gerard
Upper School Director
Dominique comes to AFS after 14 years as a teacher and administrator at Montclair Kimberley Academy in northern New Jersey. Most recently, he held the dual roles of all-school Director of Diversity and Inclusion and Upper School Dean of Student Life. He received a master's degree in independent school leadership from the Klingenstein Center at Columbia University's Teachers College and a master's degree in European History from Fordham University. Dom studied theater at the University of Houston and began his career as a professional actor in Texas.
Jillian Ma
Upper School Math Teacher
Jillian graduated from Swarthmore College, where she studied neuroscience and engineering and developed a curiosity for the science behind learning. After college, she was a Match Corps member, serving as a tutor and teaching assistant at a charter school in Boston. She is continuing her educational psychology research, studying interest and motivation, at Swarthmore.
Neha Nautiyal
Upper School Science Teacher
Neha comes to AFS after teaching chemistry at Olney Charter High School in Philadelphia for five years. After graduating from Rutgers University with a degree in chemistry, Neha enrolled in a doctorate program at the University of Pennsylvania. After a year of rigorous course and lab work, she went on to teach English in Le Havre, France, and decided to pursue teaching in high school instead. She has since earned an M.S.Ed. from Penn.
Carolyn Schwartz
Upper School Administrative Assistant
Carolyn has more than 20 years of experience working as an administrative assistant and sales coordinator in the toy and clothing industries. Prior to that, she worked as a marketing manager for an advertising agency. Carolyn graduated from Boston University with a B.S. in Communications.
Mark Stetina
Upper School History Teacher
Mark has 13 years of teaching experience, including six years in higher education in Argentina. He most recently taught American and Modern World History at Moorestown (N.J.) Friends School, where he served as the Middle School Diversity Coordinator and coached two sports. He played Division I baseball at West Point Military Academy and Bucknell University. After his playing career ended, he has enjoyed coaching. His wife, Amparo, teaches Spanish at Germantown Friends School.
All School
Dr. Michael Cassano 
Consulting Psychologist
Mike earned a Ph.D. in clinical psychology from the University of Maine and completed his internship and postdoctoral fellowship at the Children's Hospital of Philadelphia (CHOP). He is an Associate Professor at the Institute for Graduate Clinical Psychology at Widener University, where he teaches and supervises students pursuing doctoral degrees in clinical psychology. He is also the co-founder and co-director of Dragonfly Psychological Associates, an outpatient practice offering psychological assessment and therapy, with a focus on working with youths and families.
Dan Taboada
Director of the Wilf Learning Resource Center
Dan started his teaching career at the Churchill School and Center, a college preparatory program in New York City for students with learning disabilities. At Churchill, he was head mathematics teacher and 10th grade dean. He later served as Director of Curriculum and Middle School at The Quaker School in Horsham. He has a bachelor's degree in music and business from Concordia College and a master's degree in mathematics education from Western Governors University. Dan has spent his entire teaching career advocating for and helping exceptional learners reach their potential.