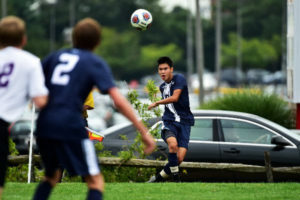 Six AFS fall student-athletes earned postseason honors by Friends Schools League coaches. At the conclusion of each season, coaches in each FSL varsity sport hold a meeting for business and arrive at a sense of unity around which participants from the member schools are worthy of recognition for excellence in skill and sportsmanship they exhibited over the course of the season. Kai Haynes '20 (soccer), Lilli Wallace-Larkin '21 (soccer), Von Curry '22 (cross-country), Charly Avril '21(cross-country) received All-Friends Schools League First Team honors for their exploits. Clare Robinson '21 (soccer) and Dexter Zapf '22 (cross-country) were designated as worthy of All-Friends Schools League Honorable Mentionrecognition. Kudos to Kai, Lilli, Von, Charly, Clare and Dexter. (Shown photographed above, in this order, top to bottom, left to right.)
Winter Season Update: 
The winter season of athletics is in full swing with 14 interscholastic teams and two instructional personal fitness programs keeping the campus busy from 2:45 to 6 p.m. each day.
Winter Season Results: 
Varsity Girls Basketball opened their 2019-20 season on Tuesday, 11/26 with an exciting come-from-behind 46-43 win over visiting Episcopal Academy on Chadwin-Stauffer Court in the Berman Center. Kendall Hodges '20 led a balanced Roo attack with 14 points, followed by Paige Mott '20 with 12 and Zaniyyah Ross-Barnes '21 with 11. Kyleigh Kilpatrick '22 sealed the win for AFS with several key foul shots and a big steal in the last two minutes.
Varsity Boys Basketball saw visiting Episcopal Academy use a 28-7 fourth quarter burst to pull away and defeat the Roos 73-46 on Tuesday 11/26 in the team's home opener on Chadwin-Stauffer Court in the Berman Center. AFS was unable to build upon their 29-26 halftime lead as the Churchmen effectively bottled up hot-shooting Collin Brown '20 (18 points) and David Jordan '20 (11 points) in the second half. Aasim Gunther '22 dropped in 17 points for the Roos in his varsity debut.
The most recent AFS Athletics information can be found on Twitter at @AFS_Roos. Also, Middle School team web pages are here and Upper School team pages are here.
Information on the AFS athletics schedule can be found on the calendar page and on the Athletics tab of the AFS website.