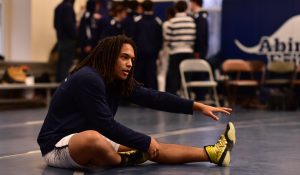 A true renaissance man, Clay Lewis '22 was recently published in the May issue of Friends Journal. The theme of the publication's yearly Student Voices Project was "Friendly Competition" and the entrants were asked to write about the role of competition in their lives and how Quaker values influenced their views. Clay wrote about finding joy and balance in being a Quaker and a high school wrestler. In fact, he finds a unique balance in his life at AFS as a student-athlete and an accomplished actor. 
AFS students submitted their writing to the Friends Journal in January, guided by their Upper School English Teacher Jenny Burkholder. Clay and his classmate Felicity Medina were selected to be published from among more than 240 submissions.
An excerpt from Clay's story Wrestling with Defeat: "At first, I could find little overlap between Quaker values and wrestling values, but as I began to hone my wrestling skills and learn more about the sport, it struck me that when applied correctly wrestling can bring people closer than other more team‐oriented sports can." Read Clay's full Wrestling with Defeat story at https://www.friendsjournal.org/wrestling-with-defeat/.
Clay recently played Orlando in the Upper School's spring production of Shakespeare's As You Like It. He reflected upon the significance of his Shakespearean studies and said, "I have learned that understanding Shakespeare's plays – especially As You Like It – is not as elusive as I had originally thought. If performed correctly, Shakespeare can be just as accessible as modern plays, and audiences can pick up on all of the thoughts and emotions that the actors try to portray." He added, "AFS theatre means so much to me, not only because I enjoy theatre, but because the community that grows from the cast and crew is always one I can count on to make me laugh and support me in anything I do."
Whether it is in the classroom, on the wrestling mat or on the stage, it is clear that Clay infuses the Quaker testimonies of simplicity, peace, integrity, community, equality and stewardship into his daily life.