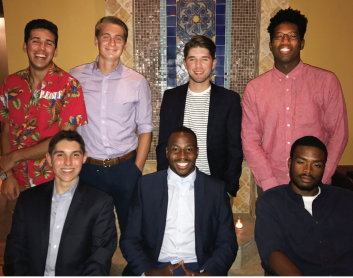 LOUIS PLATT '17 writes, "I was with my advisory, sitting in Rich Nourie's office on a cool and sunny April afternoon, when he asked us what we were looking forward to after graduating from AFS and starting college. I had not thought about this since the previous November when I was traveling with my dad in Israel and I began to sketch a blueprint of my gap year. I realized during that trip that maybe college could wait a year if it meant experiencing new cultures, meeting new people and stepping outside my comfort zone. These were sentiments expressed by my Israeli cousin, Yaara, that really stood out to me when she told me about her two years abroad before going to college.
So, as my friends attempted to stuff the last few things into their parents' cars for college orientation week, I tried fitting a seventh shirt into my heavy-duty traveling backpack. First, I was off to Europe for two months. As I stood under the blue and golden Roman sky in the crowded Coliseum, the building transformed in my mind's eye to the elegant and dignified social center it once was.
A couple of weeks after graduation, Dariush Sosnowski '17 and I stood at the top of the Palace of Pena in Sintra, Portugal, looking out at the Atlantic Ocean and pointing to where we thought Philadelphia might be if we set sail at that moment.
Shortly afterward, I set off for Bologna, Italy, to live with an Italian family that owns and operates a farm and restaurant. My "8 a.m. class" on the farm was picking spinach and my afternoon was spent with the lively chefs teaching me how to make fresh pasta. After Italy, I settled into my cozy Jerusalem apartment for the last three months, interning at a solar energy company, Gigawatt Global.
Each destination or job presented its challenges, including communicating with an Italian shop-owner with my limited Italian vocabulary and adapting to a business environment straight out of high school. No matter how difficult the obstacle, I reminded myself of my answer to Rich Nourie: "I am excited to test the 'working-world' skills that AFS helped me develop while I travel."