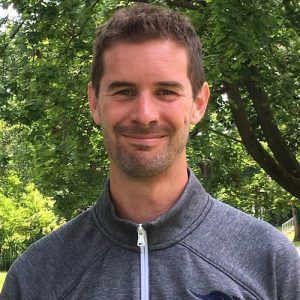 Abington Friends School is pleased to announce that Rob Hewitt has accepted an offer to join the school as Director of Running Programs. Hewitt will serve as the head coach for the Kangaroos' Varsity Cross-Country, Indoor Track and Track and Field teams and the development of all of AFS's current and future cross-country and track athletes. Hewitt will also teach upper school physical education and health and middle school science at AFS.
Abington Friends School Director of Athletics, Jeff Bond says, "We are thrilled to add a coach of Rob Hewitt's caliber to the Abington Friends School community. Not only has he built successful programs at both the high school and collegiate levels, but he also conveys Quaker values and instills them in his athletes. Rob is skilled in passionately communicating his ideas and preparing his athletes for success on and off the track. He brings an intricate knowledge of biomechanics and training techniques, which will greatly benefit AFS athletes."
A 2003 graduate of St. Joseph's University, where he lettered in Men's Cross-Country and Track & Field, Hewitt began his coaching career at Germantown Friends School in 2004. In his 13 years at the helm of GFS's running programs, Hewitt led the Tigers to 17 Friends Schools League Cross-Country championships, including 12 Boys' Cross-Country titles in a row, and 15 FSL Track & Field championships. In addition, his GFS teams won 15 Pennsylvania Independent Schools (PAISAA) Cross-Country State Championships – 10 boys' titles and 5 girls' titles. Hewitt trained 34 Track and Field All-Americans in his time at GFS and was named PAISAA Coach of the Year five times.
In 2016, Hewitt and his wife Claire, a former three-time Academic All-American in cross-country and track at Penn, became the Co-Head Coaches for Cross-Country and Track and Field at Earlham College. In their time at Earlham, the Hewitts led the Quakers' Cross-Country and Track teams from eighth and ninth in their conference to third in 2018-19. They trained 66 all-conference athletes at Earlham and saw 18 school records fall during their tenure. Claire Hewitt will also join AFS's coaching staff as an assistant cross-country and track coach.
"Coming to AFS means so much to me and my family," remarks Hewitt. "We are thrilled to join such a welcoming community. I'm excited to teach and coach the whole student at AFS – not just the athlete. I'm looking forward to using our imaginations, creativity, and talents to build on top of the foundation that exists. We have the opportunity to do some very special things together and I'm excited to get started!"
Hewitt succeeds Kyle Rankin who takes over the reins of the cross-country and track teams at Barron Collier High School in Naples, FL.
AFS Varsity Cross-Country begins official preseason training camp on August 19 and races a full slate of Friends Schools League dual meets and regional invitational meets, culminating in the FSL and PAISAA championships in late October.