The Medical Experience, known as MedEx, at Abington Friends School was fueled by the student desire to learn more at greater depths. Three years ago, the program was created with the goal of exemplifying the immersive and experiential  learning experiences offered by this leading Friends School, while maintaining a strong tie to the mission and value of a Quaker education.
The curriculum and extracurricular offerings provide a multitude of options, focusing on varying interests and exploring many possible career choices. As students enter their sophomore year at AFS, they can truly immerse themselves in the real world experiences provided by the School's Center for Experiential Learning.
Under the direction of Rosanne Mistretta, the Center is taking the school's values and academic prowess and combining them with unique opportunities for high school students. These learning experiences range from interactive field trips, to professional settings, to unique workshops. Students are able to connect with real-world mentors one-on-one, and engage with doctors and professionals in many fields of medicine. MedEx meetings, simulations and discussions revolve around topics such as medical ethics, reading x-rays, MRIs. They are also discussing and performing dissections. The students also travel together to hospitals, clinics and museums. Some students have even gone on to complete independent projects with MedEx volunteer mentors.
"Through the sharing of experiences, our students are actively learning — something we value and encourage at Abington Friends. They are understanding possibilities, connecting to  opportunities and making an impact on the world," said Mistretta.
Recently, Amy Burkholder – an Emmy Award winning television medical news producer – has been added to the roster of MedEx mentors.  She says,
"Working with the students at AFS, I'm convinced the future of medicine is in very good hands. The students complement a strong intellectual curiosity with the drive and compassion that embrace and continue to fuel rapid changes in medicine and technology. There are so many career options to explore: from clinical care and research, to healthcare leadership and communications. I'm thrilled to bring my experience in medical journalism and network news producing, and now, running communications at the CHOP Cancer Center, to these capable, hungry minds. To explore, to ask quest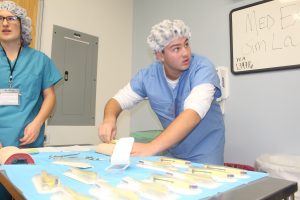 ions, to not be afraid to challenge the status quo – AFS has well-prepared the students we mentor to carve out a path to truly follow their passions, and in doing so, find the joy in such a transformative field of work. As mentors, we are fortunate to face their tough questions, and continue to stretch ourselves to see medicine through fresh eyes."
More than thirty students have completed the MedEx program over the past three years and the program continues to expand and grow. Students enrolled at AFS apply for the program through a selective process and this year, applications exceeded the available slots for the small cohort of twelve students. Due to its popularity, the program has also expanded to allow for juniors to participate if they cannot fit the program into their sophomore year.
Graduating senior Isabelle Newman '19 reflects on her experience with MedEx. She says,
"Medex was a one-of-a-kind experience that I don't think I could have gotten anywhere else besides AFS! My favorite thing about MedEx was that there were so many hands-on activities; there was never a dull moment! My personal favorite was the visit to Abington Hospital. During this visit we got to use real laparoscopic tools and also simulators to learn about surgery. We even practiced delivering a baby! Medex was an experience I will never forget and an opportunity I was so lucky to have! I have always been very interested in medicine, which is what prompted me to join the cohort in the beginning. However, MedEx not only fueled the love of medicine that I already had, but also grew this interest into something I could see myself doing for the rest of my life! Being immersed in medicine and science through the interactive activities and conversations in this cohort was fun and enlightening. I hope I can find internships in college that offer me similar opportunities!"
The MedEx small group learning program is just one of many group learning experiences hosted by The Center for Experiential Learning. AFS students have unique and memorable experiences that contribute to the creation of a lifelong love of learning.
Details about programming at the Center for Experiential Learning can be found at  abingtonfriends.net/experientiallearning.