Over the course of the past two and a half weeks, Kristina Denzel Bickford '93's Upper School Environmental Science class worked on a taxonomy project to learn how organisms are classified. Students were assigned to collect, examine and identify the life around them. Kristina talked about the importance of the exercise saying, "Aside from learning how living things are organized, it's also a way of getting students outside to notice the world around them. When you go to a natural history museum, you're looking at the work of people who went outside and collected and observed."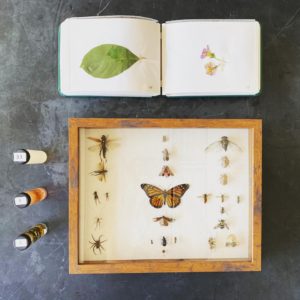 One student, Sophia Mele '21, was uniquely inspired by the project and found joy collecting specimens everywhere she went. Sophia only collected organisms that were no longer living and ended up with an impressive number of invertebrates and plants, along with fungus and bacteria. Going above and beyond the requirements of the assignment, she chose to put her collection into a beautiful display case after conducting research on how to prep, set and mount organisms.
Sophia enjoyed the work of examining and working with the insects in her display. She even created a "bug sauna" to soften their appendages for mounting, but she also delved into the research it took to identify each species. Sophia said, "It's so interesting how they're classified. Sometimes I couldn't quite find the exact species, because there are such tiny things that are different between each species and I was studying tiny objects like ants."
Kristina said she often tells students that biology is the most visual science and observed, "Sophia really loved the nature part of this, but she's also an artist and created something artistic out of science." Sophia's oil paintings can be found on display in the Upper School hallway.
When it was mentioned that Sophia's fixation on capturing bugs anytime she was outdoors may have gotten her into a little trouble with her soccer coach, Sophia responded by saying, "Okay, I might have been a little distracted by the bugs. I got really into it!" There were days Sophia came skipping into class exclaiming, "I found a bug!" One particularly giant grasshopper found on the AFS campus caused great excitement; and a perfect Monarch butterfly seemed to choose to live out its final minutes in Sophia's driveway just so she could discover it.
Over the last few weeks, Sophia has recruited family, friends and teammates to keep an eye out for worthy specimens. Even though this assignment is complete, this scientific artist's passion for taxonomy hasn't waned and she plans to keep collecting. However, she made sure to reassert, "I will never kill a bug." Now, that's joyful learning.