When you're looking to enroll your child in an independent school, you want to ensure you find the right fit. For many people, a private school is preferable due to the smaller class sizes and numerous learning opportunities and the culture of a close community. Among these establishments are Friends Schools, also known as Quaker schools.
So what is a Quaker School, and is it right for your child? To determine the latter, you should first understand the religious principles on which Quaker schools were founded.
What Do Quakers Believe?
Quakerism was founded in the 17th century and has been in North America since the 1650s. Quaker education as a concept that dates back to 1689 when many in the Quaker community decided to educate their children outside of existing systems. The goal was to instill Quaker values in students:
Peace
Stewardship
Simplicity
Equality
Integrity
Community
Today, Friends schools incorporate these values into their education systems.
Supporting Social Justice
As part of their commitment toward equality, Quaker organizations have long been a part of the fight to protect human rights. Quakers believe that all people have the "Inner Light of God," no matter their race, gender, country of origin, or sexuality. They believe that all people should be treated with respect and are deserving of human rights.
As a result, the Quaker support for social justice can be seen throughout U.S. history. One significant example is the participation of many Quakers in the Underground Railroad, a secret network of safe houses and volunteers who helped slaves escape to the northern states and Canada.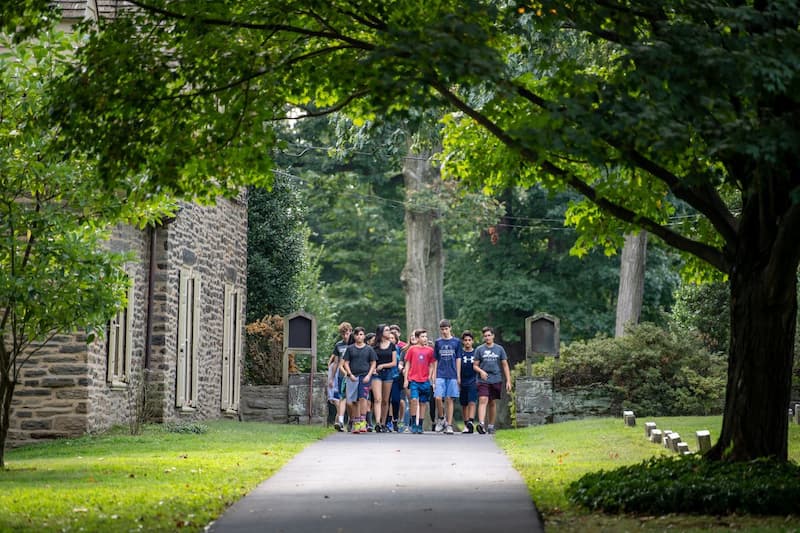 Building Community
The Religious Society of Friends places great emphasis on building a supportive community. Whether it be a time of crisis or joy, a community should come together to protect and nurture all of its members, especially those who have been excluded from broader society.
For Quakers, diversity is considered a strength. Differing perspectives and experiences offer innovative solutions and increased empathy, both crucial to creating a resilient community.
Protecting the Environment
Quakers believe humans have stewardship of the earth; as stewards, it is our responsibility to keep it healthy and safe. As a result, many Quaker education promotes the environmental sciences and here at AFS we have a program called AFS Outside, which includes partnerships with the TTF watershed and many other pro nature organizations.
Encouraging Peace
Many Quakers are pacifists and actively campaign against violence. Peaceful confrontation, such as nonviolent protest, is encouraged as an alternative strategy to fight evil and oppression. An example that is distinctively AFS, we call the traditional rope pulling game of strength tug of conflict instead of the tug of war.
Are Quaker Schools Christian?
While Quakerism has roots in Christianity, not all adherents consider themselves Christian. Some believe in Jesus Christ, while others follow other religious teachings and philosophies.
Additionally, some read the Bible as part of their spiritual practice, but Quaker doctrine doesn't consider it God's word. Instead, individuals are encouraged to discover God's guidance through a direct connection, which may or may not involve spiritual texts.
What Is a Quaker Education?
What makes a Quaker school different from other education systems? Perhaps the most significant difference is the philosophy that schools should support student growth in every aspect of life. While Friends schools are led by a powerful academic program, there's also an emphasis on emotionally, socially, and spiritually preparing students for adulthood.
Social Responsibility
Social responsibility is awareness of one's duty toward others and the environment. In a world where everyday choices have a significant impact on pollution, socio-economic inequality, and racial oppression, it's more important than ever that younger generations understand and embrace social responsibility.
As part of instilling social responsibility in students, Friends schools think critically about U.S. history and discuss equality as part of the regular curriculum. Students are also encouraged to engage in activism and develop their moral compasses.
Spiritual Growth
Rather than having a rigid doctrine, Quakerism encourages its followers to seek individual connection with God. This philosophy emerges in Friends schools as well, where students are taught to explore their thoughts and feelings. Meetings for Worship give children a safe place to puzzle through the broader questions of belief and develop their own philosophies with their Inner Lights' guidance.
Intellectual Exploration
Real knowledge doesn't come from memorization but questioning. At Friends schools, critical thinking is taught and practiced across the curriculum. Curiosity is promoted and nurtured in every student, starting in early childhood classrooms.

Do Students Have To Be Quakers To Attend a Quaker School?
No, students don't have to be Quakers to attend a school run by the Religious Society of Friends. In fact, Quaker students are a minority in most Friends schools. However, students participate in weekly Meetings for Worship, where they can engage as they so choose.
What Are the Benefits of a Quaker Education?
Quaker schools such as Abington Friends School in Jenkintown, PA, offer a variety of benefits to students. Rather than drilling students for tests, Friends schools focus on children as individuals. As a result, students get the one-on-one attention necessary to help them discover their interests and strengths.
Opportunities for Experiential Learning
While textbooks and lectures have their place, not every student can absorb information through traditional teaching methods. Even students who excel in that environment can benefit from hands-on learning. Experiential learning is the philosophy that students can gain unique skills and insights when they learn through doing. In practice, experiential learning may mean performing a scientific experiment and reporting the results or spending designated school time in a working environment. At its core, experiential learning allows students to use their new knowledge in context, which increases their retention rate.
Preparation for College and the Workforce
Finding success in higher education and a career requires more than memorizing facts. Young adults must be able to work with others, think critically, and adapt to changing environments. At Quaker schools such as Abington Friends School, educators help students develop emotional maturity, intellectual curiosity, and interpersonal skills alongside their academic studies. This care ensures they're well-equipped to be independent and continue their personal growth upon entering college and the workforce.
Connections To a Loving, Active Community
Parents are encouraged to participate in their children's education. To facilitate this, Quaker schools host public events, arrange for parent-teacher conferences several times a year, and encourage parents to volunteer at school functions when possible. Schools also have connections to local community organizations that offer valuable resources to students and their families. The result is an extensive network actively working to support each member.
Contact Our School
Are you looking for a school in the Philadelphia region? Abington Friends School offers education at the preschool, elementary, middle, and high school levels. We're dedicated to promoting diversity among our students and encouraging them to explore the world. Additionally, we offer a variety of sports through our athletics program and methods of self-expression through our arts programs. For more information or to enroll your child, contact us online or give us a call at (215) 576-3950.