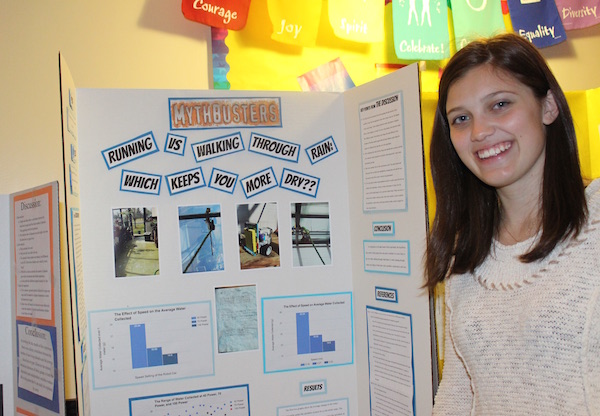 Junior Ella Pokrifka loves to watch the science TV program "MythBusters," so when it came time to design a project that eventually would be shown at Science Night, it was only natural that she would put a common notion to the test.
Is it true that people who run through the raindrops stay drier than those who calmly stroll?
To test her hypothesis, she set up a sprinkler in a greenhouse, added a common yellow sponge to the front of a robot, and sent the mechanical device rolling under the sprinkler many times and at various speeds. Each time, she weighed the sponge and then had her answer.
Yes, she learned, it's better run from the house to the garage when the rainclouds burst. But then she cautioned her visitor, as a good scientist would, that her results were only for this experiment, with these controls and under these conditions.
Ella's display was one of dozens that lined the school's hallways, classrooms and lobby on Thursday night, STEAM/Science Night.  The school was so packed with energy and people — parents, grandparents, students and teachers — that it seemed more like a boardwalk at the Jersey Shore on a holiday weekend than a night when the complex world of science reigned supreme.
In the Lower School, youngsters carried passports and sought stamps as they visited room after room filled with activities. Amy Hoyt, from the Academy of Natural Sciences, held an Asian legless lizard for the brave to touch. In the next room, former Upper School Art Teacher Barb Handler showed kids how to make collagraph prints.
Down the hall, Nick Davatzes P'27 and 'P23, ran an "Earthquake Machine" and explained to curious visitors why aftershocks follow a quake. Early Childhood Teacher Carol Wolf stood in the library next to the "Sound Machine" display that children in her Catbirds class had worked on this week.
Parents and students alike stood in a knot outside the Muller Auditorium, chuckling at the clever videos running on a big screen. The videos, about breaking Newton's laws, were the handiwork of fifth graders. A video of seniors and first graders creating a Robotics Zoo together was running in a loop in a first grade classroom.
Two members of the RooBotics team, meanwhile, were driving their robot up, down and around the Middle and Upper School hallways. In the Stewart Lobby, eighth graders who had created Rube Goldberg contraptions seemed to spend as much time lining up their dominoes as they did pulling the levers to make them fall.
Elsewhere, eighth-grader Rory Erlich was happy to explain his research into how the frequency of sound affects the size of waves. Next to him, seventh grader Sophie Peterson held a paper glider with a balsa backbone aloft and explained her research testing the effects of wing size and drag on how far a plane can fly.
In the Upper School, the results of other original research lined the corridors. From rockets that had been launched — and returned to earth — to the sense of touch, putting fingerprints to the test, students showed how and what they had learned over the last several months.
As darkness fell, a crowd of several hundred gathered in Smith Field to watch as a handful of gas-fired student rockets rose into the sky and then descended gently with the help of parachutes.
Spotted in the crowd was Upper School Chemistry Teacher Emily Paar, who founded Science Night decades ago.
"It think it's been 25 or 30 years," since the original event, she said with a smile.
My, how it has grown.