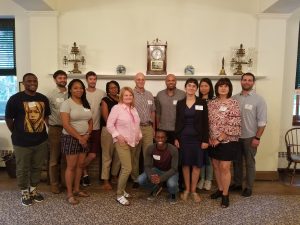 As Abington Friends School enters its 323rd year, we are thrilled to welcome 13 passionate new faculty and staff members to the school community. Read more about them and the diverse experiences and gifts that they bring to our school:
Bartley "Bart" Jeannoute
MS Humanities Teacher
Bart has spent the last three years at The Philadelphia School and will be joining the sixth grade team as an English and Social Studies Teacher. If you can't find him in his classroom, you'll likely find him on the sidelines coaching Middle School Boys' Basketball.
Charles "CJ" Miller
Middle School Theatre and Math Teacher
Originally from South Carolina, CJ recently earned a Master of Arts degree from Villanova University. He and his fiance' are planning a September wedding and live in Bryn Mawr. They enjoy live theatre, laughing and watching episodes of MasterChef.
Dylan Porter
Lower School Teacher, Fourth Grade
Dylan is a University of Kansas graduate who earned his B.S. in Elementary Education and a master's degree in Curriculum and Instruction. His passion for teaching, traveling, and public service led him to become a Peace Corps volunteer, where he served as an English teacher to students in Moldova. After two ­years in Moldova, he continued to teach at independent schools in Kenya, Nepal and the Czech Republic before moving back to the U.S. to teach at Carlthorp School in Santa Monica, California. Dylan recently moved to Philadelphia with his wife, Erin, who is studying at The Wharton School.
Hermione "Buer" Su
Middle School Humanities Teacher
Hermione is a recent graduate of Davidson College, where she studied Political Science and Data Science and was an apprentice teacher of Chinese. She is a native speaker of Chinese and has lived in Minnesota, Norway, and China. Hermione is excited to join AFS and to explore the Philadelphia region.
Jonathan Wessel '03
Middle School Physical Education
Since graduating from college, John has been a coach and worked with young people in a variety of settings. He received Master of Social Work, but ultimately decided that he wanted to be a teacher. After obtaining a certification in Health and Physical Education, he is extremely excited to begin his career as a teacher and head varsity basketball coach at AFS.
Karen Barrett
Database and Advancement Services Manager
Karen worked in the Development Office at Church Farm School in Exton, Pennsylvania before joining AFS. She worked at Community Music School in Trappe as the Registrar and is still active in that community, where she serves on their Development Committee. Karen has an adult daughter who is a professional musician in New England and she resides in West Norriton with her husband and two dogs.
LaToya Miller
Upper School Dean of Students
LaToya grew up in a rural town in South Jersey and although she now lives in Philadelphia, she enjoys hiking through the Wissahickon Valley or making her way to the Poconos to wander among the huckleberries. LaToya earned a B.S. in Psychology and Africana Studies from The University of Pittsburgh and an M.S. in Education from The University of Pennsylvania. She also served in Uganda teaching pre-service teachers for the Peace Corps.
Linda Coyle
Payroll, Student Billing, AR Associate
Linda Coyle comes to AFS from the hospitality industry where she worked in both the restaurant and private club divisions of the industry. She held a myriad of positions in operations and worked in varying levels of management. Linda lives locally with her husband, Joe and their red Irish terrier. She is grateful to spend time enjoying her family, including four children and five grandchildren, in the mountains.
Mark Levenstien
Part-time Upper School Science Teacher
Mark received a B.S. degree in Biomedical Engineering from Brown University, then worked as an engineer at Nitinol Medical Technologies and Becton Dickinson before focusing on statistical methods in genetics at Rockefeller University where he received his doctorate. Mark performed a postdoctoral fellowship at Memorial Sloan Kettering and after taking a hiatus for several years to care for his two daughters, Mark taught high school level courses in mathematics and chemistry at Kohelet Yeshiva.
Melanie Duncan
Upper School Math and Science Teacher
Melanie was a Middle School Science Teacher and Girls' Soccer Coach at The Philadelphia School for three years before joining AFS. She has a B.S. in Biology from North Carolina Agricultural and Technical State University and a PhD in Microbiology and Immunology from Meharry Medical College. She was a postdoctoral fellow at the University of Pennsylvania.
Olga Livshin
Upper School English Teacher
Olga has taught Russian and creative writing, most recently for the Mural Arts of Philadelphia. She lives in Bryn Mawr with her husband Andy, their eight-year-old son Nathan, and a benevolent zoo of pets. Olga looks forward to getting to know her colleagues at AFS, where she will be teaching Tenth Grade English.
Ricardo McKenzie
Upper School Language Teacher
Since he was a young child in Spanish Town, Jamaica, Ricardo's interest has been piqued by the connections between his culture and multilingual cultures that surround his home island. This interest led him to study Romance Philology and Ethnic Studies at the university level, studying abroad in France and Spain. He served five years as an international and domestic flight attendant and left to pursue his love for teaching. He's spent the last two years teaching middle and high school Spanish.
Robert "Rob" Hewitt
Director of Running Programs/ Middle and Upper School Teacher
Rob will serve as the head coach for the Kangaroos' Varsity Cross-Country, Indoor Track and Track and Field teams and teach science, health and PE in the Middle and Upper Schools. A 2003 graduate of St. Joseph's University, where he lettered in Men's Cross-Country and Track & Field, Hewitt began his coaching career at Germantown Friends School in 2004 and spent 13 years at the helm of GFS's running programs and was named PAISAA Coach of the Year five times.
More News:
In addition to welcoming these wonderful people to the community, we'd also like to share the news that Suzanne Hodges, Director of Admission and Tuition Assistance, has recently accepted a new position as a Staff Attorney at the Support Center for Child Advocates. Suzanne feels truly called to this work and we support and are deeply grateful as she embarks on this next chapter in her professional life. Over the past fifteen years, Suzanne has been an outstanding leader as part of our administrative council and she has made a lasting impression on our entire school community.
With Suzanne's departure, Devin Schlickmann will assume the role of Acting Director of Admission in addition to his role as Assistant Head of School for Institutional Advancement. We are incredibly fortunate to have Devin's deep, varied and successful experience in enrollment management and as a Director of Admission at other independent schools prior to joining AFS. Devin brings a strong understanding of and affinity for our school's mission, values and its academic program. During the year, the School will conduct a national search for a new Director of Admission.
We'd also like to share that former Middle School Teacher Megan Asplundh has been named Director of the WILF Resource Center. Also Charity Hendrickson will be expanding her role as Lower School Collaborative Teacher to include the role of Extended Day Coordinator.