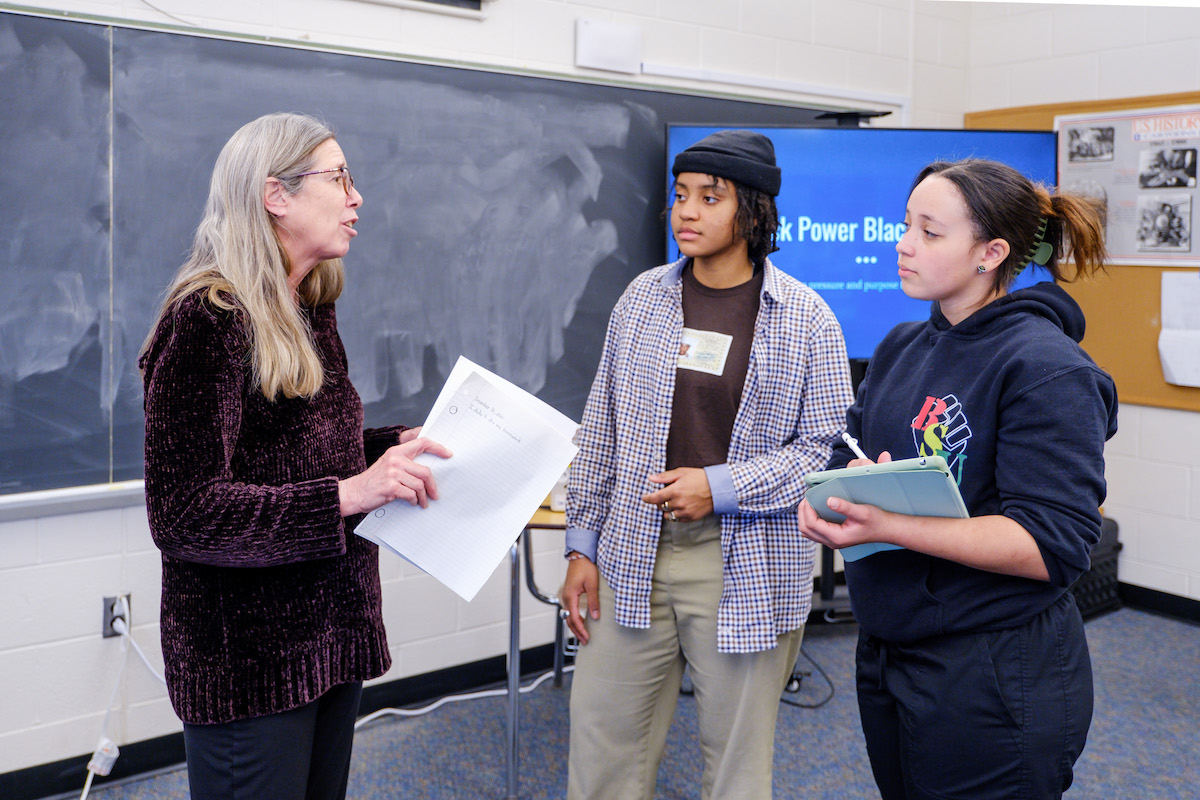 Continuity and change is a historical thinking skill we practice often in history classes. Students inquire of any event how it connects to the past and how much change it represents. I began teaching history at AFS in 1997. One thing that remains consistent since 1997 is the extent to which Friends' testimonies guide our curricular and pedagogical work. The idea that our work is to "walk cheerfully over the world answering that of God in everyone" guides our department to develop a curriculum which reflects the vast range of human experiences. Our pedagogy is grounded in the belief that our students need history study so they can actively craft their understandings of the past and use them to shape their work in the present.
Can I identify a turning point in the past 25 years? While there are many, the pandemic is the most obvious. The pandemic allowed us to restructure classes in partnership with students. In the spring of 2020, when lockdown began, my students and I leveraged our relationships and our newly found free time to co-create the remainder of the year. AP US History students worked with me to plan the pace of work, create community and prepare for an unpredictable exam. All my students shared with me and one another how they were feeling, what motivated them, and what parts of our work resonated. We craved collaboration and made it work, at least in part, because we were each other's only company beyond family and pets. As we moved into 2020-2021 we had a hybrid, block-schedule where only half of the Upper School student body was on campus each day and we enlisted students in their own learning and built relationships in the most challenging of circumstances. Our department shared ideas for community-building, created check-in questions, useful feedback forms, and discovered ways to use Canvas to create multiple pathways for student learning. 
In May 2020, the movement for racial justice took center stage in the public eye and our students, whether racial justice work was always part of their lived reality or not, felt the urgency and possibility of change. Throughout the 2020-2021 school year, many of our Black students shared their experiences in classes and in the world. Their strongest messages were, "Listen to us. Don't rush to 'fix'. We need to see ourselves in the adults in our community and in our curriculum. Representation in the curriculum must include Black joy, Black power and the diversity of the African diaspora." 
This testimony guides our thinking about curricular development and pedagogy. They are the 21st century frame for what we called "global citizenship" or social history in the 20th century. 
During the summer of 2021, our department held a two-day retreat to assess what we learned the previous year and to plan for the future. Front-and-center were questions of representation in the curriculum. One of the many tensions in our work is to teach honestly and openly about systems of oppression, yet allow our students to understand that people who experience oppression also experience joy and create rich lives. Another component of the work is to collect primary sources by many different people, including people who had the least access to literacy and preservation of their past. This is much easier for sources written in English, and we continue to try to balance our desire to include more world history with our students' need for sources they can read and interpret.
These different strands weave together in our work creating authentic assessments. Public historians talk about a "usable past," a concept which is alien to our students' expectations of history classes but part of their lived experience. The idea that the past is not simply a pitcher of facts which teachers pour into students' heads and expect them to reproduce verbatim is both obvious and hard to shake. Given the opportunity to dissect a moment when history is used (there have been many since the invasion of Ukraine), their teenage skepticism feeds their historical analysis. Our most recent work on assessment involves having students "use" the past themselves. Students in my ninth-grade class had several choices about how to use our study of emancipation in the U.S. during the Civil War. Some wrote eloquent letters to their representatives about bills designed to limit what students could learn; one proposed replacing the Lincoln Memorial with a monument which reflected how enslaved people liberated themselves. They all based their work on a wide range of primary and secondary sources, and an understanding of the historical context. 
Our goal is to co-create more work like this with our students and within our department. This school year I have been working with two senior students, Gabby and Sanaa on independent research. Gabby and Sanaa's research focuses on aspects of the long civil rights movement (after 1965) and is another example of the work we're doing to engage students in meaningful learning. The energy in the room as Gabby and Sanaa taught a sample class to ninth-graders was palpable. They provided a range of sources so students could connect the Black Student Movement to their school experience and explore how women created their own spaces in the Black Power Movement. Perhaps even more important, the students saw Gabby and Sanaa using history to explore their own stories. Giving students the skills and practice to use history to answer their own questions seems to me to be our central goal. This wasn't how we described our purpose 25 years ago. The continuity is that it is a goal fully consonant with our Quaker belief in the importance of each person.