AFS Roobotics returned to Pennsylvania from Texas last week after finishing 45th in the Archimedes Division at the FIRST® World Championship. This was AFS Roobotics' first appearance at Worlds since 2015, clinching their spot after three intense weekends of qualifying matches at the local and regional levels throughout February, March and April.
"The whole thing is an incredible challenge, and having a robot that moves is an accomplishment itself," explains Ben Gauck '23, one of the team's co-clerks. "There was a moment in the middle of the season where we were behind, and we were all super stressed. Looking back at that, I think we're all proud that we not only made it through, but made it to Worlds."
Every year, the FIRST® World Championship hosts the top 600 robot teams from around the world in an intense three-day competition pitting robot against robot. This year, teams were tasked with designing, building and programming a robot that could be controlled to pick up inflated cube-shaped beach balls and small traffic cones and place them in scoring areas.
Complicating matters, the robot had to compete completely autonomously during the first 15 seconds of each match—in other words, without a driver operating them. While this addition frustrated many teams' paths to Worlds, Robotics' incredibly strong performance during the autonomous period during the qualifying rounds earned them the Autonomous Award from FIRST®, sponsored by Ford Motor Company.
"Going into the Championship, our robot's autonomous driving performance was ranked 21st in the entire world," explains Ben.
Faculty Mentor and Upper School Math teacher Mary Anne Wassel was incredibly proud of both their autonomous design and their achievements overall. While new to the FIRST® Robotics Competition this year, she has plenty of experience with high intensity, short-burst engineering projects both as a manager and as a participant, including as an alumnae of programs like Baja SAE and the Vehicle Design Summit at MIT.
"This year's group of students in RooBotics are immensely talented and they were able to accomplish a lot in the short span we had for building and design," said Mary Anne. "AFS RooBotics faced teams with dozens of students from huge school districts with countless mentors, and our small team performed at the same level as they did, if not better. It goes to show how much dedication, perseverance and passion can be the catalyst for accomplishing truly incredible things."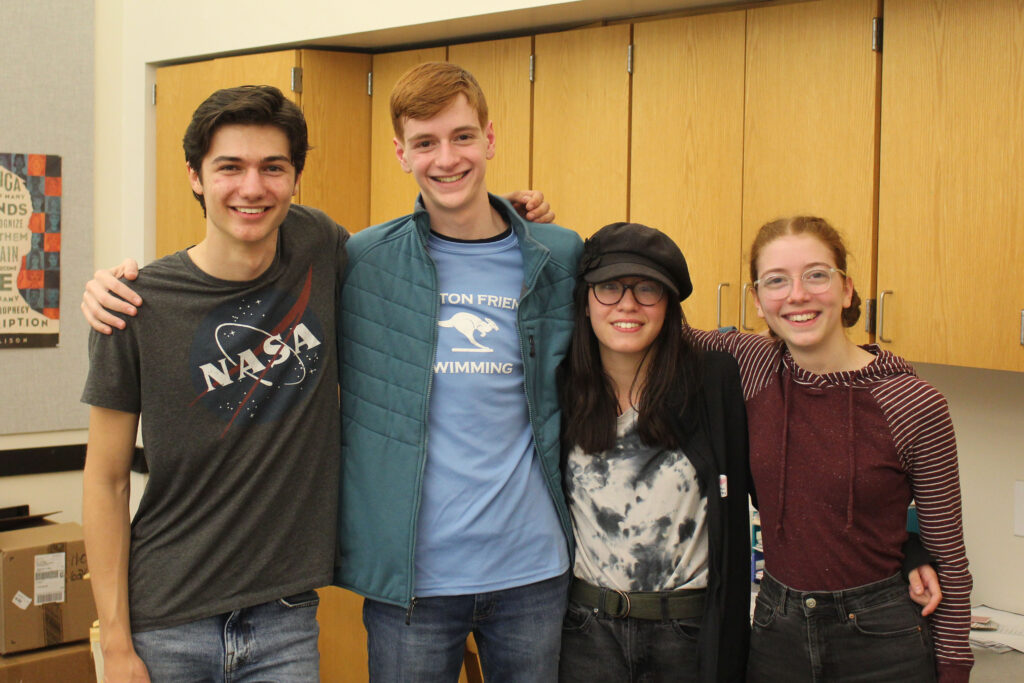 Graduating alongside Ben at the end of this season, Cyle Rush '23 and Casey Rush '23, the two other co-clerks of the team, are adamant that the team is in an even stronger position next season because of their journey to Worlds.
"Our teammates definitely saw a whole bunch of great ideas over there," says Cycle. "At Worlds, you get to see everyone else's robots, how teams build things; how other teams organize themselves. It's huge. The teams that get to go to worlds really get a step up the next year. And it's unfortunate that you have to get to Worlds, and have enough money to go to Houston, to experience those things."
"It's hard because the task is different every year," explains Casey. "In the past, we've been really good at shooters, but this year, we had our best season ever in a completely different area. I think that's a good sign of adaptability."
As Sophia Wang '24 prepares to assume the clerkship, she has a lot to consider. She will be assuming responsibility for programming the robot, and coordinating the team in general. "We're also looking to get more sponsors to help us stay ready for the next season," Sophia says. After all, they want to have everything prepared to go if they qualify for Texas again next year.