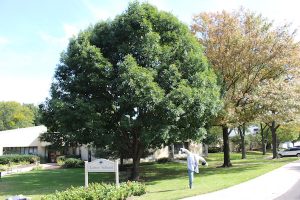 ArbNet, a national, professional network that sets the industry standards for public arboreta, recently gave accreditation to the 300-tree arboretum at Abington Friends.
But that's not all. Sue Paist, ArbNet coordinator, confirmed on October 10 that AFS is the first secondary school in the nation to earn this elite recognition.
There's no doubt that we're in good company. In the Philadelphia area, Longwood Gardens and Morris Arboretum also have been accredited by ArbNet.
"We are thrilled to learn that our new arboretum has been judged worthy of this recognition," said Rosanne Mistretta, AFS's Director of the Center for Experiential Learning and one of the leaders of the project.
The arboretum, a school project accomplished in collaboration with the Abington Monthly Meeting, was granted a level-one accreditation in late September. ArbNet has four levels of accreditation that recognizes arboreta at different degrees of development, capacity and professionalism.
The AFS arboretum encompasses more than 75 species of trees, many of them mature, with a replacement value of $4.3 million. The project, begun in the fall of 2013, was aided by grants from the state Department of Environmental Protection and the Friends Council on Education along with a gift from the AFS Alumni Class of 1964. The Pennsylvania Horticultural Society advised AFS on the project.
A team from Bartlett Tree Experts Inc. inventoried the trees on the school campus and Meeting property, identifying, tagging and mapping them with GPS for a new website, www.abingtonfriendsarboretum.org, which can be accessed via our main website, abingtonfriends.net. Visitors can identify a tree by its numbered metal tag, and look up information about the tree, such as species, maturity and canopy size, on the website.
Students in every division of the school have been involved in the project, creating and uploading data for the website, taking photos of the trees and making nameplates out of clay.
"The new arboretum is another part of our expanding program 'to make thinner' the walls of the school,' said Rich Nourie, head of school. "We want to incorporate the outdoors in our curriculum so students discover their own lessons in nature, whether it is by free play on the new Headwaters Discovery Playground or by walking beneath a canopy of trees."