To get to AFS wrestling practice, first you have to cross campus. You'll pass soccer and lacrosse players sprinting across Smith Field, green Wilson balls bouncing on the tennis courts, and baseball and softball players drilling on the diamond. You'll enter the Triangle Gym, where on the first floor, students practice shooting three-pointers on the basketball courts. But if you climb to the second floor, you'll find blue mats lined wall-to-wall, ready for students to pair off, shake hands, square-up, and wrestle. Being on the second floor of the farthest corner of the campus, it's hard to stumble upon wrestling practice—to get there, you need to seek it out.
As she approaches graduation, Bella Washington-Vasquez '23 thinks about how she had started wrestling almost by chance. She didn't seek it out as she did with other sports.  If you told her as a 6th grader that she would one day sign a National Letter of Intent committing to being a scholarship wrestler at East Stroudsburg University, she might not have believed you.
"All I knew was that I wanted to be a three-sport athlete," Bella explains. Justin Solonynka was the Middle School wrestling coach at the time, and Bella credits him for getting her involved. "He told us to just try it. If we liked it, we could play; if we didn't, we could stop. And I didn't want to stop."
On the coaching side, Varsity Coach Brandon Johnson and Middle School Coach Dave Robinson know exactly how that feels. Both men wrestled in high school, and then tried to find a substitute sport in college—with no luck.
"There's nothing else like it," Brandon says. "Once you're on the mat, it's hard to leave."
"Six Minutes of Absolute Grappling"
What makes wrestling so demanding also tends to be what makes it so appealing to many athletes. It's a one-on-one competition where you have to physically grapple with another person for several minutes at a time; the meets are loud, and the contact is sweaty. One might think that it's a decidedly non-Quaker sport. But as fellow AFS wrestler and alum Clay Lewis '22 writes in an article for the Friends Journal, so much of wrestling is about respecting your opponent and seeing their dignity. "Every wrestler will acknowledge and respect the effort it takes to go out on the mat," writes Clay. "This respect creates a community where even if someone loses a match, everyone recognizes that both wrestlers worked doggedly to get to where they are."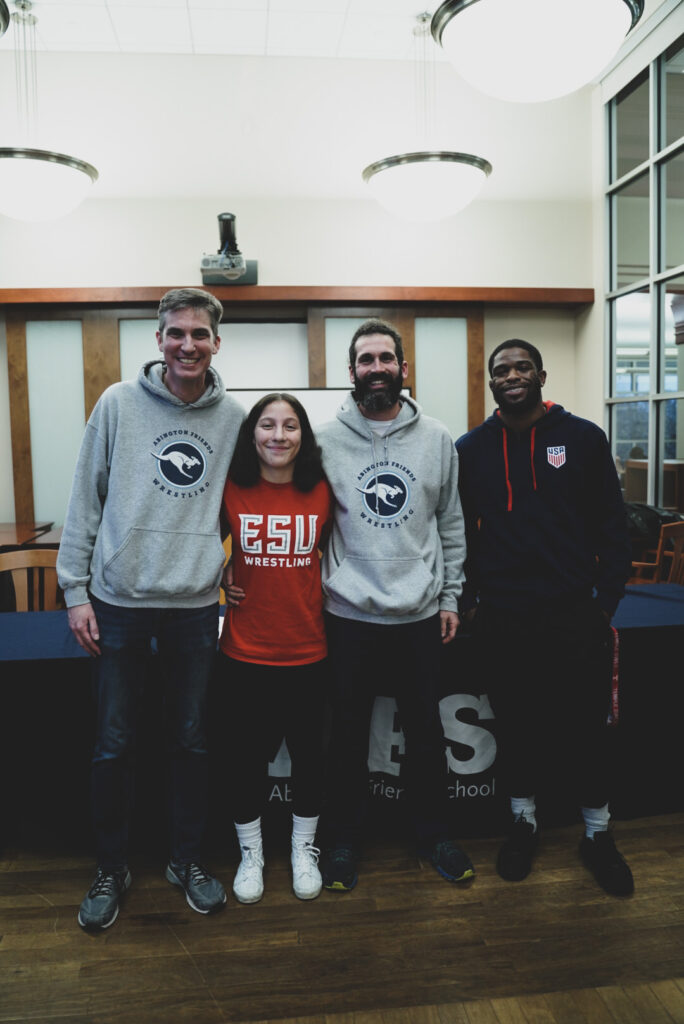 Wrestling is defined by this strong tradition of sportsmanship—before each match, you make eye contact with your opponent and shake their hand, a ritual that grounds the match in mutual respect.
"Wrestling is hard," Dave admits. "There's a lot of getting crushed and slammed and thrown. It's physically demanding and requires an indescribable amount of energy. It's not for everybody—but no sport is! Most people don't know if wrestling is for them because they've never tried it. They grow up playing basketball; they play basketball in PE in the winter; they know all about basketball; but they don't know about wrestling."
Throughout Middle School, Bella got to know quite a bit about wrestling: her preferred techniques, the rules of folk-style wrestling, and that sometimes you had to wrestle co-ed—different genders facing off on the mat.
"When I was starting in Middle School, there were like 20 of us, and a bunch of us were girls. It was a really big team," she explains. "Now in Upper School, I'm the only girl. That just means I need to pin guys instead of girls."
While women's wrestling teams are becoming more common, it is still rare to see at the high school level, and rarer still in independent schools. Notably, PA women's wrestling at the high school level has gotten a major boost in recent weeks. The Pennsylvania Interscholastic Athletic Association (PIAA) recently saw its one-hundredth school district register a girls wrestling team, the threshold needed to officially sanction the division with state recognition. Looking forward to next year, PIAA will have a High School girl's wrestling division.
When asked if it's difficult to wrestle with all guys, Bella pauses for a moment. "Well, it used to be," Bella admits. "I started wrestling on the Upper School varsity team in 8th grade, and it was definitely more difficult. I was this small little 8th grader trying to wrestle up. But the way I look at it, it made me focus on my technique, and I like to think that I'm stronger compared to some of the other girls I wrestle. It helps me to control the match better against them."
The Inevitable Rise of Women's Wrestling
Women's wrestling at the college level is not new, but it has only recently begun to receive its due recognition. In 2021, the University of Iowa became the first of the Power Five Division I NCAA programs to add a women's wrestling program based on its club program. As of now, there are only four Division I teams in the United States, and like Iowa, they've all just started, so teams across all divisions compete with one another. Schools like East Stroudsburg, a Division II program, compete hard for talented wrestlers like Bella to strengthen their rosters.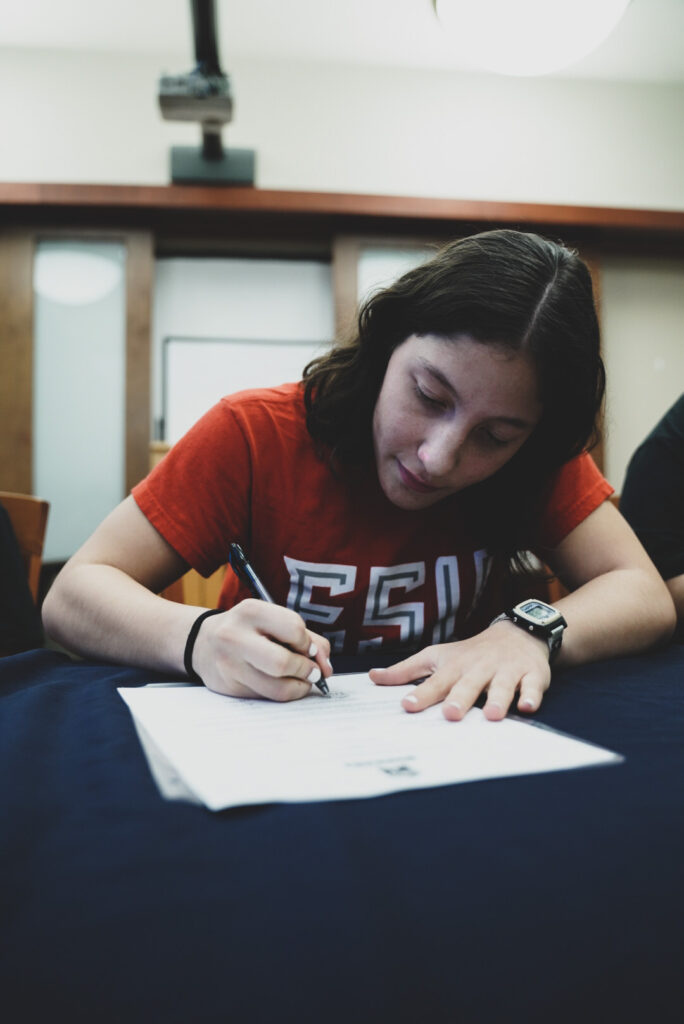 Advancing to wrestling at the collegiate level, Bella is looking forward to having more girls to wrestle with. "I had gotten used to going to girls tournaments pretty much alone," Bella says. I warm up by myself; I wait by myself until I go wrestle. But a few weeks ago, I got to go to a tournament with a few Middle School girls wrestlers, and it was really cool to have my own little crew with me."
The structure of the tournament allowed Bella to compete in the morning, then observe their matches in the afternoon and give them advice after.
"I already knew most of them because I would help out with the Middle School practice sometimes," Bella says. "Being able to coach them was like a whole new experience and it even helped me to rethink some of my own techniques." She hopes that these students who she's worked with continue to pursue wrestling and grow as student athletes—and she's positive they will.
Coach Brandon is quick to point out the mental benefits of wrestling. "I see a lot of kids in schools today who are shy, dealing with anxiety and depression, not wanting to come to school," he says. "When I was in school, wrestling was what got me to want to go. It helps you get out of your comfort zone, but in a controlled environment: There's nowhere to run on the mat."
"Wrestling in general—and girl's wrestling in particular—offers a great opportunity for us as Friends schools to rise to the challenge and make wrestling more accessible to those who want to try it out," Dave adds. "The more Middle School students who join, the more they will learn whether it's right for them. It's a lot of hard work, but it's incredible fun, and very rewarding."
Perseverance on the Mat
Off the wrestling mat, Bella credits AFS for introducing her to wrestling in the first place. "When I think back on some of the other schools I could have gone to, I don't think I would have wrestled ever," she says. What made AFS different, Bella reflects, is the deep connections she made with her teachers, the friendships she cultivated, that made her feel comfortable enough to try something a little different and go out for wrestling. It was the sense of mutual respect that made wrestling more than just grappling—that it felt like somewhere she belonged.
"I think wrestling is one of the hardest sports in high school ever, if not the hardest," says Bella. She says it with a laugh, but there's no mistaking the fire in her eyes as she stakes the claim. "You have all these soccer and basketball and baseball players saying that they're the coolest or whatever. But there's nothing like six minutes of absolute grappling with an opponent with no break."
Since we spoke, Bella competed in the Girl's Division of the National Prep Tournament, going  4-1 on the day and taking all four wins by pin. By securing a 3rd place finish, she completed her AFS Varsity Wrestling career as a two-time National Prep All-American.
What advice does she have for students—especially girls—who are thinking about wrestling? "I think hard work is always the most important thing," Bella explains. "In Middle School, I was painfully bad at wrestling. I look back at videos and it's actually like, really bad. But I stuck with it, I worked hard, I stayed late after practices, I worked with my teammates, and year-after-year, I kept coming back."
Brandon agrees. "My big thing is not if they win or lose, but how did they lose or how did they win," he explains. "I'm proud of them when I see that they went out there and left everything on the mat. That's all I'm really trying to see. I want to see them try their best."
"I have to stay hungry for the win, stay hungry for those championships, focus on making myself better and making my team better," Bella argues. "Even if we don't win as a team, we can win on the mat. Even if we don't have every weight class, we can win every match. The main goal is to persevere."
---
Learn more about Athletics at AFS.