After a successful junior year during which she made All-Friends Schools League First Team playing basketball at AFS, Jordan Smith '20 headed to Paris for an ExTerm trip in May 2019. Upon her return home, she immediately headed back on the court with her AAU team. Jordan was getting back into the rhythm and went up for a basket when she heard a disturbing pop. The diagnosis was a torn ACL, meniscus and a sprained MCL. She'd need surgery and the projected recovery time was nine months.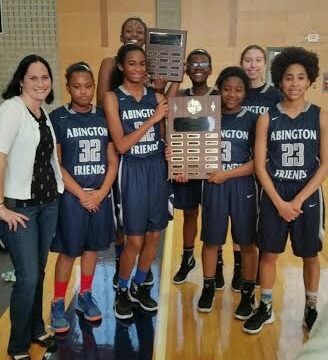 Entering her senior year and afraid her injuries might ruin her chances to play basketball at a collegiate level, Jordan underwent grueling rehabilitation at NovaCare and AFS while she continued to support the girls basketball team from the sidelines. Ultimately, the team would end the season with a PAISAA state championship win for the first time in school history. Although Jordan had envisioned suiting up to play in the championship with her team, she was there to experience the joy of the win with friends she's been playing with since sixth grade. She said, "Watching my teammates do well and win the tough games outweighed any of the bad things that might have happened before and I'm so happy we were able to end the season on a high note."
Jordan was cleared for full contact almost exactly 9 months after her injury, just as Covid-19 struck the United States in March 2020. Schools and colleges closed their doors and everyone in our region was placed under a stay-at-home order. Though things seemed grim, Jordan's support-system went into full swing. Athletics Director and girls basketball coach Jeff Bond explained, "For Jordan to realize her goal of playing college basketball, we had to adapt to the new normal quickly. I put together a six-minute highlight package from her junior season. Jordan has been a multidimensional presence on the court for AFS and I knew to include clips that showed all the ways she impacts a game and goes beyond her statistics. We needed to paint a picture of what a coach would want to see from a potential athlete."
Jeff films most games and uploads the recordings to a hosting platform called Hudl. The team views these game films together before or after practices to evaluate and improve their play. Highlight films for Alexa Middleton '16 (Monmouth University) and Kendall Hodges '20 (Montclair State University), among others, have helped to get them noticed by their eventual college programs.
After posting the film on social media, Jordan received interest from more than 10 schools at all levels of college basketball. Coaches from several of those schools reached out to Jeff and he was able to share Jordan's story and tell them what an asset she was to the championship team this season, acting as almost another coach while doing the grueling rehab required to come back from her injury." The film and her story resonated with top-level coaches, including the head and assistant coaches at Western Kentucky University (WKU), who had not been recruiting Jordan until seeing the game footage.
Jordan received a full scholarship offer from WKU and one other Division I school. She decided to continue her basketball and academic career at Western Kentucky, after consulting with her support network, including AFS English Teacher Jenny Burkholder. Jordan let both schools know of her decision last Friday.
The impact of basketball on Jordan's life has been great. She says it has strengthened her work ethic and that it has taught her how to be a leader. Focused on getting in shape and preparing for the next level while finishing out her senior year remotely, Jordan is grateful to be headed off to college at a school she knows will be a great fit. She plans to study business and communications. Congratulations, Jordan. You'll always be a Roo, but we're proud to see you become a Hilltopper.
Read more AFS stories from Spring 2020 in This Week!