The Mary Lynn Ellis Poetry Program was created to honor a beloved AFS faculty member, Mary Lynn Ellis P'01 P'03, who retired in June 2020. During her time at AFS, Mary Lynn's love of reading, writing, reciting and analyzing poetry has inspired countless students and colleagues to find their inner voice and discover the power of their written words. This program is fully-funded by anonymous donors and will include on-going collaboration with each selected poet throughout the course a school year, beginning with this year's selected inaugural poet Trapeta Mayson, Philadelphia Poet Laureate 2020-2021.
Last week, Trapeta joined the community as AFS for a full day of engaging and sharing her work with students in each division. Trapeta's work sheds light on and honors the immigrant experience and amplifies the stories of everyday people. She is a recipient of a Pew Fellowship in Literature, Leeway Transformation Award, Leeway Art and Change Grant and Pennsylvania Council on the Arts Grants. You can view Trapeta's talk and reading with the Upper School on YouTube above.
Prior to the visit from Trapeta, the entire Upper School did a poetry practice on Trapeta's poem "In this season" after watching this video about the Healing Verse (stories of mental health, empowerment and change). Trapeta led several upper school students through a master class during her visit. Senior Alden Co-Doyle shared key takeaways from the experience saying:
It is amazing how creative people can be in their own different ways. [The Master Class] opened my eyes to how many different types of people there are and how many ways one can write. More or less, it just expanded what I believed to be my poetry potential.

I feel like [poetry is] really something you can do for your whole life and always feel that your writing isn't what you want it to be. There is always room for growth in poetry.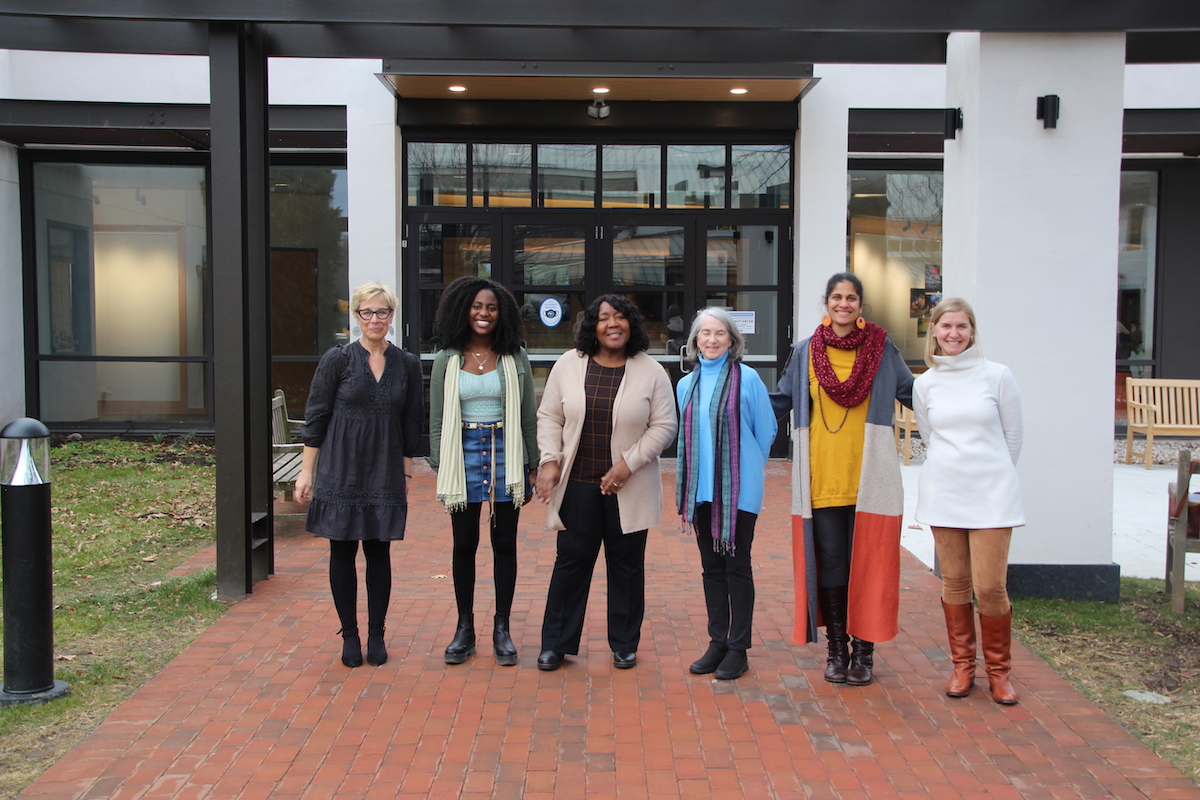 2021-2022 Planning Committee (shown above, left to right with Trapeta in center): Jenny Burkholder (former AFS English faculty member, current parent and poet), Cydney Brown (AFS senior, 2020 Philadelphia Youth Poet Laureate and Clerk of the AFS Poetry Club), Mary Lynn Ellis (former AFS English faculty member, alumni parent, poet and program namesake), Sheila Pai (AFS English Department Chair and poet) and Amy Gordon (AFS Advancement Office).

Watch the full program on YouTube!