By Brendon Jobs
---
It is not every day that students in the Upper School get to speak with — and lead discussions with — iconic scholars like Dr. Elijah Anderson, the Sterling Professor of Sociology and African American Studies at Yale University. An unwavering truthteller in our national conversation on race, Anderson has shared intimate and sharp insights into Black life for decades. Earlier this year, he wrote Black in White Space: The Enduring Impact of Color in Everyday Life. In the book, Anderson brings his immense knowledge and ethnography to bear in this timely study of the racial barriers that are still firmly entrenched in our society at every class level. He focuses on "symbolic racism", a new form of racism in America caused by stubbornly powerful stereotypes.
Before the visit, Upper School Director and long time History teacher Brendon Jobs took a moment to reflect on the opportunity. Speaking to a group of 11th and 12th grade students from two Black studies electives running this semester, his "Echoes of Black Culture" and English teacher Terri Wiley's "African American Literature" courses, Brendon tells them, "You are intellectual leaders in the Upper School. Seize this moment to ask questions you've been thinking about related to patterns that you notice and topics explored in class."
Speaking over Zoom, Dr. Anderson was a deeply thoughtful interlocutor about selected themes in his book, but it was AFS students who facilitated the discussion: Jabril Hampton '23, Sakinah Abdus-Salaam '24, and TY'lah Washington '23. Guided by queries generated by the entire class beforehand, they synthesized themes ranging from his research methods and motivation for writing the book to specific curiosities about the persistence of colorism, the difference between class and caste, and his personal experiences being Black navigating white spaces throughout his life. The stories he shared with students touched on the legacies of Reconstruction, the widespread racial violence of historical clashes like Tulsa, Oklahoma (a.k.a. Black Wall Street), Wilmington, North Carolina, Elaine, Arkansas, and the prevalence of sundown towns.
He elaborated on his sociological theory of the "iconic ghetto" as a phenomenon that influences American racial dynamics. "The hood is no longer just a physical space, it's become a symbol of where you relegate unwanted black people," explains Dr. Anderson. For decades, his research has explored how the idea of the ghetto, embedded in the social imagination, subconsciously connects all Black people with crime and poverty regardless of their social or economic position.
White space is a perceptual category that assumes a particular space to be predominately White, one where Black people are typically unexpected, marginalized when present and made to feel unwelcome (Anderson, 14-15). "When a Black person navigates 'White space', he or she is burdened with a negative presumption that he or she has to disprove in order to have trusting relations with others in the space. You have to disabuse people of the idea that you are a bad person." Students discussed the unfair burden this pattern creates in a way that deepened the formal studies.
Sydney Johnson '24, put it similarly. "White people don't need to go into black spaces, but black people need to go into white spaces for a lot of reasons. And that affects us in a lot of ways—individually and as a group."
"I'm sorry, I'm so long-winded," Dr. Anderson said with a wry smile. But the students are not sorry at all.
"He had a lot to say," explained Jabril, "but he said it in such a way that it was really clear. He took really complex ideas, but the way he would answer them would be to give you background first on what you need to know before you understand his answer. He made it really easy to ask the questions."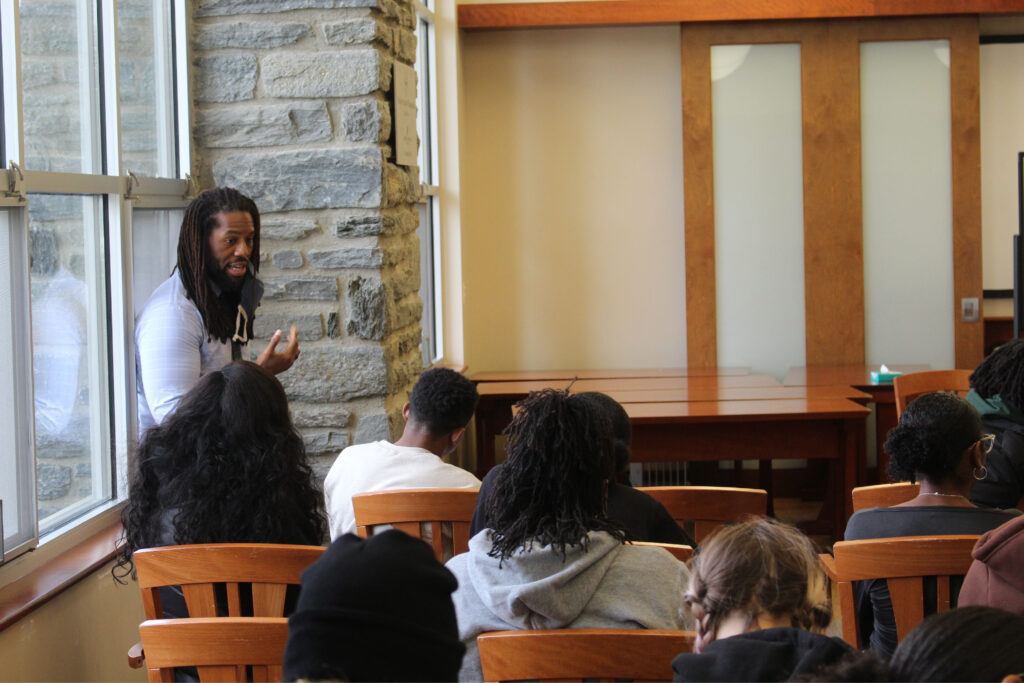 During the discussion, the lines between research and lived experience fluidly converged. Dr. Anderson's personal narrative and experiences inform his research, and the theme of his book is very much inspired by his experiences growing up in South Bend, Indiana in the Post-WWII era well before the racial incorporation period that followed the Civil Rights Movement of the 1950s and 1960s.
Sakinah was moved by the way he spoke so candidly about his own experiences.
"I didn't expect him to tell us stories," she said. "Our questions were more based on his book and other books we read, but a lot of his answers were based on his life and his experiences. It was like every answer had extra context he was providing about things he had lived through."
In speaking with Dr. Anderson, the moderators felt the push and pull of his story changing which questions they wanted to ask, pressing the flow of the dialogue in different directions. With only a limited amount of time, they had to choose wisely which topics to raise — and make nuanced decisions about not only what to ask but also how to ask it.
"As a facilitator, you have to pay way more attention," said Sakinah. "We had maybe fifteen questions planned, but we only had time to ask maybe five of them. We had to maneuver based on what he was saying, responding to his answers to prepare the next question. It was challenging, but I'm grateful I got the chance to do it." Leadership takes practice and students take important lessons from experiences like this one.
Throughout the talk, Dr. Anderson encouraged the students to engage with the history and the scholarship he mentioned themselves, to take the things they learned from the book and keep going. They are the future of Black studies as a discipline.
"Do research — Google these things," he repeated throughout the conversation. "A lot of people don't want you to know these things."
"He's at the top of his profession!" exclaimed Jabril. "So I felt like meeting him on that level, picking his brain and learning all of these things he's researched — it was a great opportunity to represent both AFS and myself."