Students in the Upper School are not only leaders at AFS — they are the future leaders of our communities. As part of a Quaker education, our students learn the importance of using their voices to improve the world around them, to stand up to and correct injustice, and to inspire each other to reach new heights. It is critical that they have the opportunity to speak with and learn from individuals who are using their voices to be a force for justice in the world — individuals like Kareem Rosser.
Born and raised in a neighborhood of West Philadelphia called The Bottom, Rosser and his brothers had no expectations of one day being national polo champions. But when they happened upon a barn full of horses in Fairmount Park, their lives changed in ways they had never imagined. What started as an after school job became riding lessons, trips to practice polo in the Hamptons, and eventually the first all-Black team to win the National Interscholastic Polo Championship.
Rosser's unique and incredible life made him the perfect interlocutor for a group of Upper School students from English teacher Terri Wiley's "African American Literature" and Upper School Director Brendon Jobs' "Echoes of Black Culture" courses. Students in both classes read Rosser's book Crossing the Line: A Fearless Team of Brothers and the Sport That Changed Their Lives Forever, in preparation for the discussion last December.
Rosser opened up with the students about his journey, explicating on some of the themes of the book and giving students the space to ask questions and get a better understanding of his journey. He spoke at length about growing up in The Bottom, dealing with acute anxiety and mental health issues, seeing his friends and loved ones struggle with addiction, and what it was like being one of the only Black men in a sport largely played by white people.
"It was really great to see someone who lived some of the same experiences that I've had, and see how he's kept going," says Najib Stevenson '23, a student in Terri's class. "He's seen the effects of addiction issues, he's dealt with the unexpected death of people who were close to him. But at the same time, he's a black man in a traditionally white area, and he's excelling. That was really rad to see."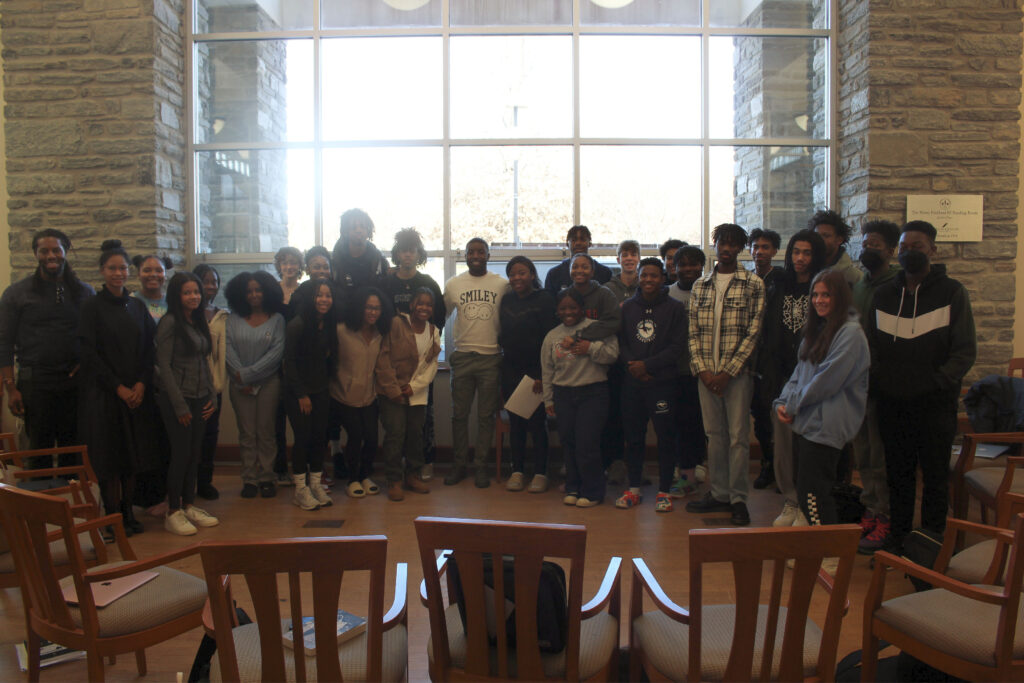 Kareem did not mince words about the challenges faced by those who wanted to make sports like polo more accessible to people of color: Owning and stabling a horse is an expensive proposition, and most riders need more than one to be competitive. But he still spoke optimistically about helping to promote a culture where people in neighborhoods like The Bottom could learn about polo and pursue it if they were interested. To this end, he has helped to organize the inaugural Philadelphia Polo Classic in September 2022, which he hoped would "bring the Hamptons and West Philly together — bridging my two worlds." The event was a massive success, boasting attendance of over 3,000 people from throughout Philadelphia, many of whom had never seen polo played before.
"Listening to his story, it helped me to reflect on and encouraged me to continue to be great and make an impact," says Grace Barlow '23. "Especially as a senior, I'm finishing up at AFS and moving on soon, and it was really a pat on the back to see someone who was able to create something out of nothing."
Throughout the book, Rosser wrote at length about his struggles with his mental health. While this issue has become much more directly addressed by members of younger generations, Rosser remembers a different culture around mental health when he was growing up. "When I was in high school, nobody talked about anxiety," Rosser told the group. "I've had people approach me to thank me for talking about mental health so frankly. I do like to think that it has encouraged people to get help. People were suffering, and knowing it's ok to be open, that it's not weak, it's really important."
"I think what I took away from it was that I do have a lot to offer," reflected Jade Sanders '24, one of the discussion leaders. "I have a lot of fear and anxiety. Even when put into the position to lead the discussion, it can be really scary. But from listening to his talk, and this whole class in general, I've learned so much about myself."
"One thing I learned about myself through facilitating this conversation is that it's not me vs everyone else, it's me vs. myself," explained Sydney Johnson '24, another discussion leader. " I don't know how to put it into words. I'm not just doing this to make other people happy. I'm doing it for myself."
As 11th grade students prepare for 12th grade, and seniors prepare for graduation, the importance of cultivating these leadership skills becomes ever more important.
"When you're in the middle of living your journey, you can't always see how far you've come," Rosser said. "I wrote this book for everyone. People are always going through something. Anyone who picks this book up can be inspired. I always tell people, 'Just wake up and believe.' There's always some good in bad situations. There is always some good."