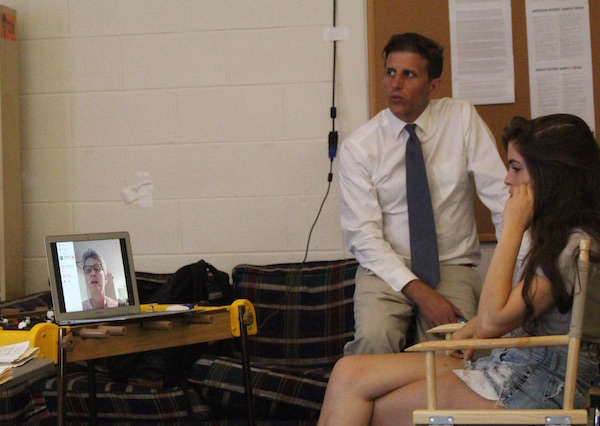 Students in Drew Benfer's "Citizen Activism and Constitutional Law" class talked with Vermont lawyer Susan Murray about her fight on behalf gay of couples seeking marriage equality and the role she played in a case that led her state to become the first in the nation to allow civil unions.
"The law is about real people," Susan told the students via Skype. "It is not about fancy legal theories or scoring points. It's about real people and the harm they suffer when the law is not fair."
The Vermont State Supreme Court ruled in 1999 that the state's prohibition of same-sex marriages denied rights guaranteed by the state's Constitution. The court ordered the state Legislature to take action, which led Vermont to permit same-sex couples to enter into civil unions with the same legal rights as marriage. Vermont legalized same-sex marriage 10 years later, and the U.S. Supreme Court did so in 2015.
"We got the ball a little closer to the finish line," Susan said, referring to her landmark case.
Students in the Upper School history class are studying how citizen activists have played a key part in transforming the nation's laws. On September 28, Susan described her role in a three-pronged approach — working with others to craft the legal brief, community organizing across the state and becoming involved in political work.
Students asked her what tactics worked when trying to "win hearts and change minds" about hot-button issues, and what skills were needed to mount such a hard-fought legal challenge. She told them anyone in her family would say she was "the most stubborn person on the planet" and that it helped to be a perfectionist when writing a legal brief. "We spent hours on a footnote," she said.
Drew said he arranged the conversation with Susan because he wanted them to see her passion for the issue of marriage equality "because fighting for Constitutional rights is a lengthy process that requires energy and determination." He also hoped that someone who had helped change the course of American history would be an inspiration to students who might be considering becoming lawyers.