The Year in Review
Commencement in Cars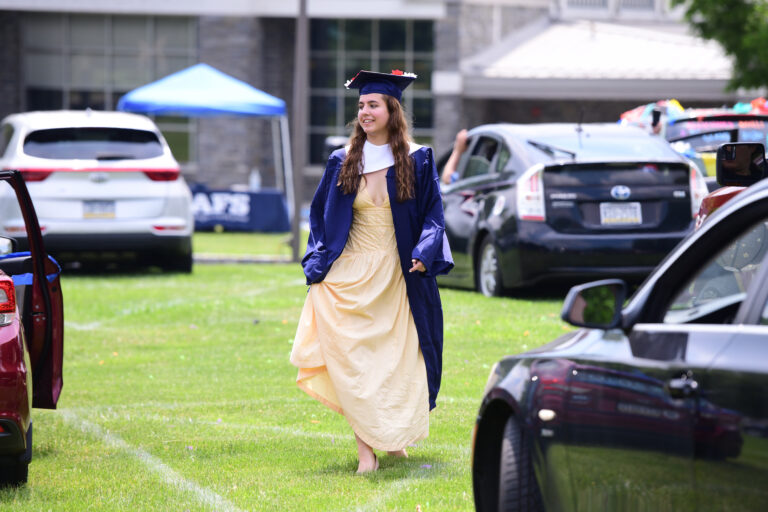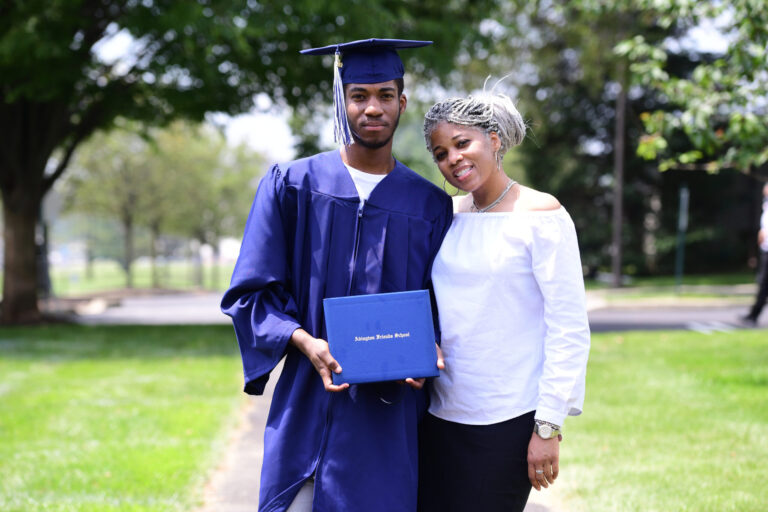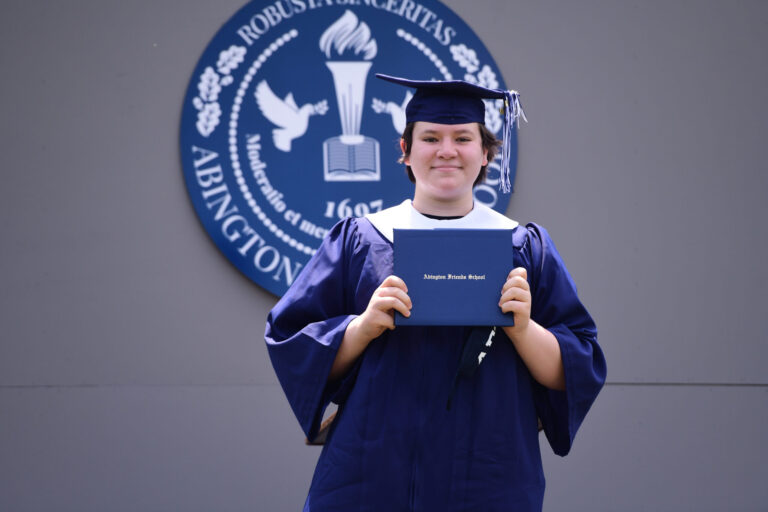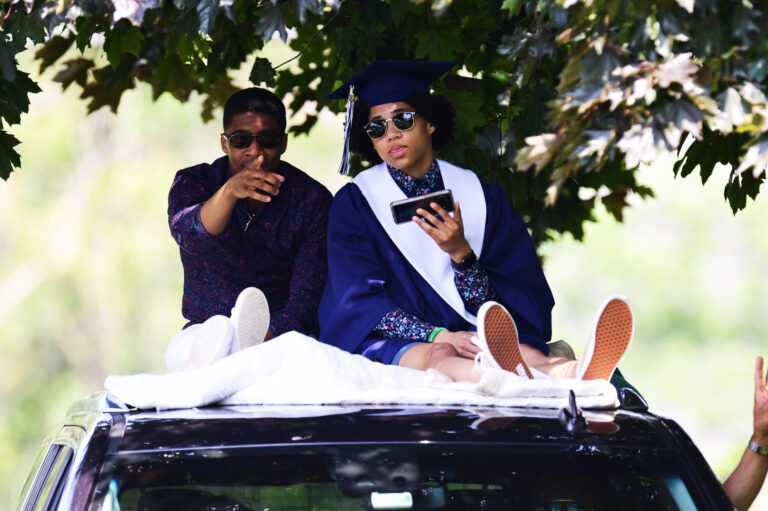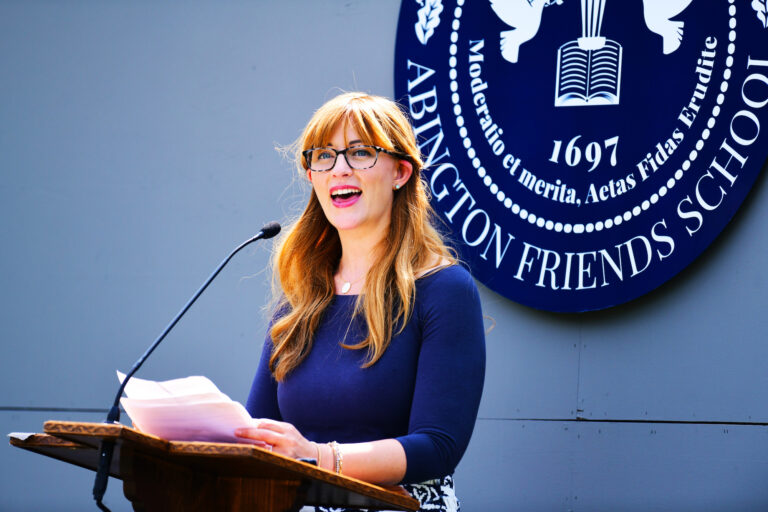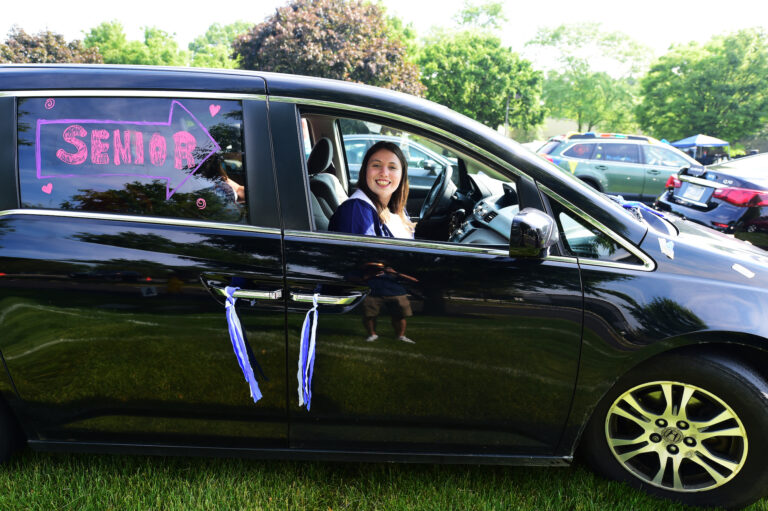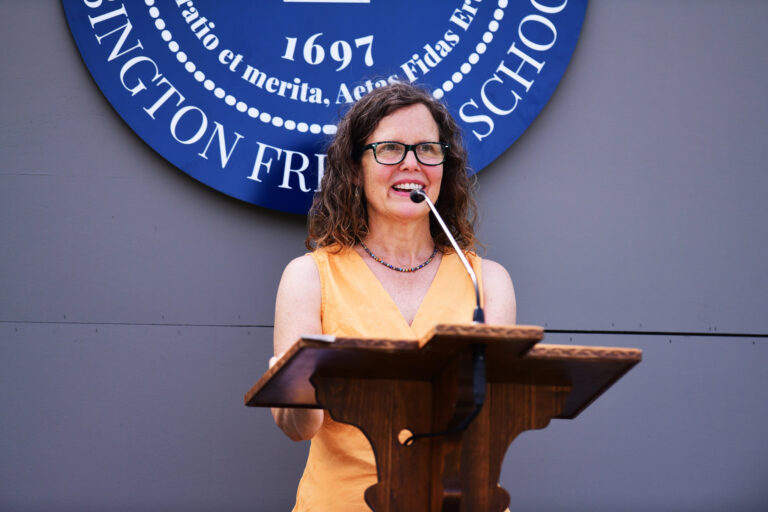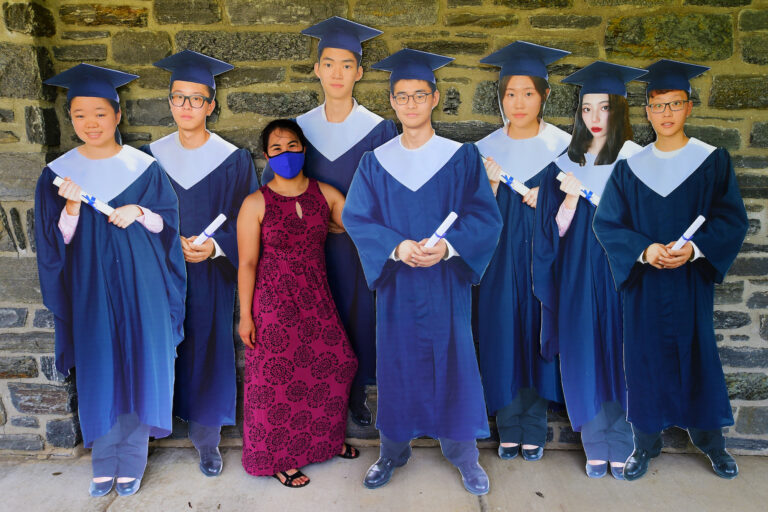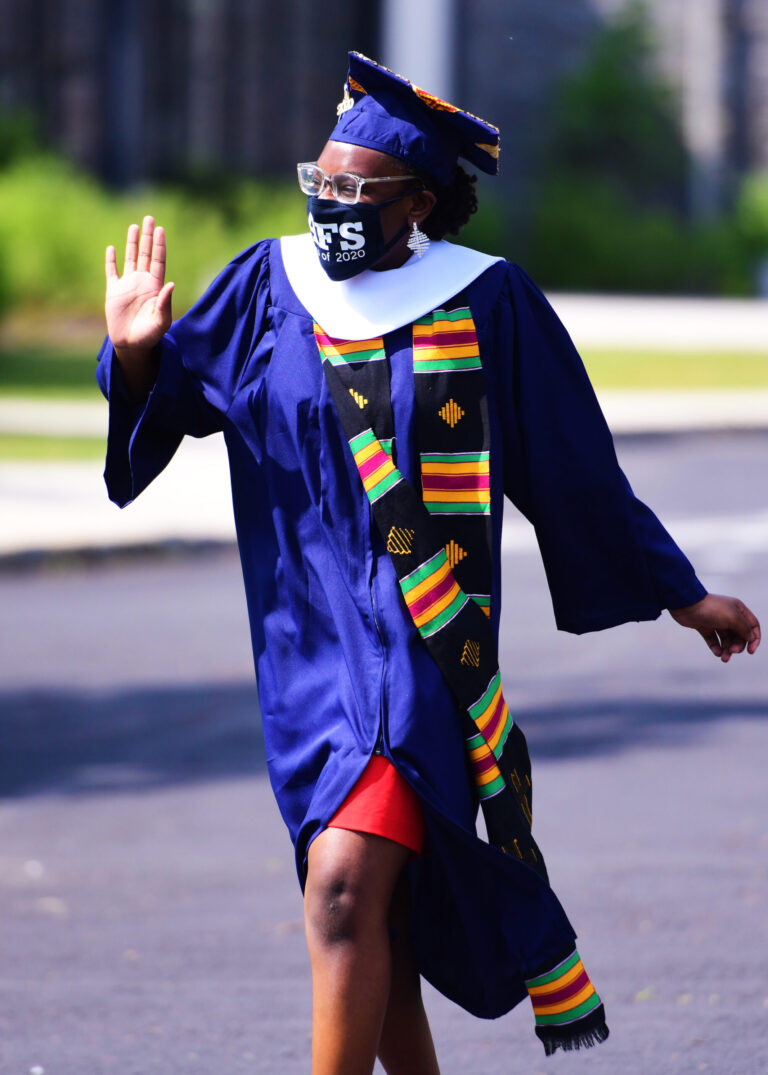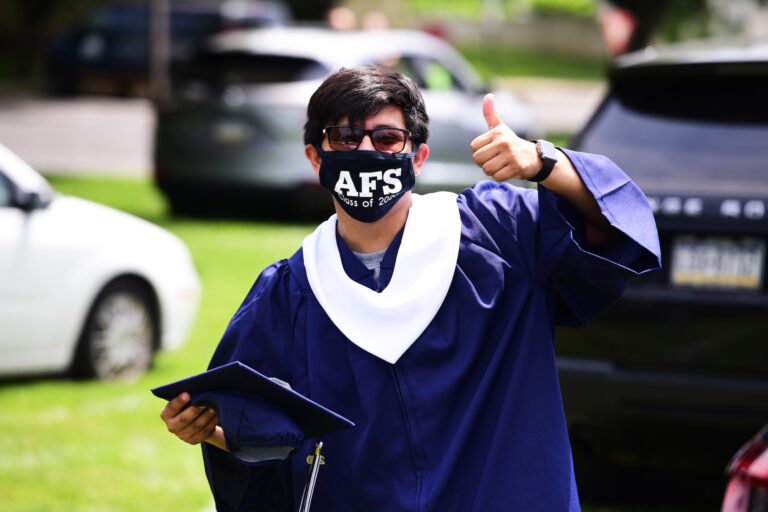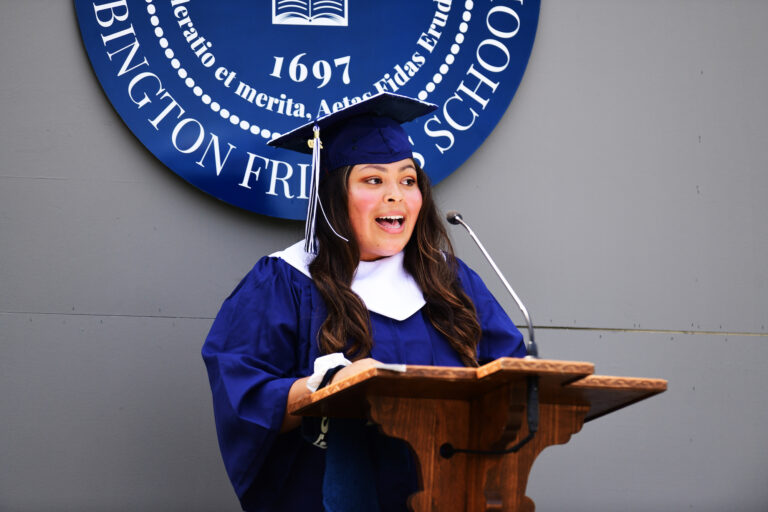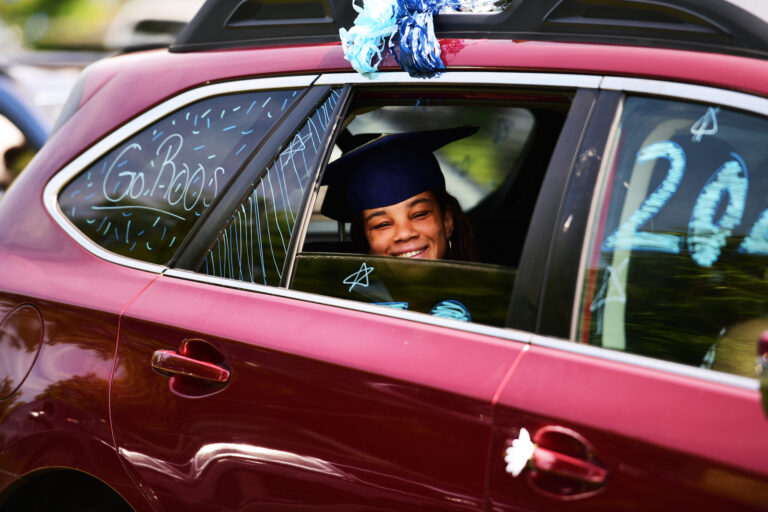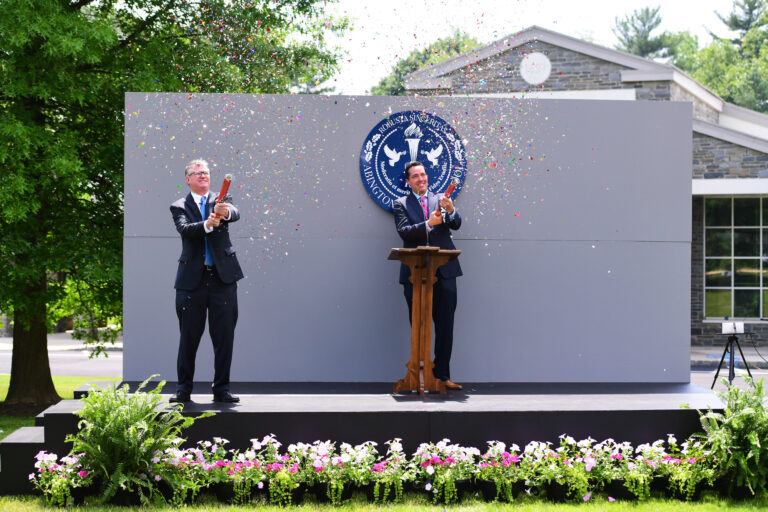 The 323rd graduating class closed the chapter on their time at AFS with a socially distanced Commencement in Cars ceremony on Wednesday, June 10, 2020. In a reimagined event that allowed graduates to cross a stage with their diplomas among friends, family and faculty, Commencement speaker Jenna Arnold '99 spoke directly to the 67 graduates saying how well AFS has prepared them to help a nation at an overwhelming impasse, with converging issues of a pandemic, an economic crisis and a revolutionary movement against racism. She declared, "Abington Friends has given you just what it takes to get us to the next right spot on this page in our history." Jenna continued, "With a Quaker inner light tucked gently behind your chest bone and in the palms of your hands, you know how to do this." To the parents of AFS graduates, she expressed, "You picked right and now your babies are ready." Jenna is an author and her most recent book is called Raising Our Hands: How White Women Can Stop Avoiding Hard Conversations, Start Accepting Responsibility, and Find Our Place on the New Frontlines. She spent three years traveling all over the country speaking with American women about power, privilege, proximity, and purpose in order to write the book.  
In keeping with the longtime AFS tradition of the eleventh grade leading the senior class processional with long chains of conjoined flowers, members of the junior class paraded their decorated cars in a loop around their graduating classmates with honks and cheers—a redefined daisy chain. A video from the first graders who would have joined the graduating class as pages played for all. It included their well wishes as they held signs and artwork to celebrate and encourage their Upper School friends. International students from China were able to join the ceremony over Zoom and given the opportunity to speak live to those gathered on campus and watching via livestream, as teachers physically walked their life-size images donning caps and gowns across the stage.
(more…)
School Traditions Anew
On Friday, October 28, 2019, another successful Field Day was logged into the AFS history books! The Blue Team came out on top this year after events such as relays, sprints, flag football soccer, hula hoop races and more.
A favorite event is the Field Day seniors vs. faculty and staff "Tug of Friendly Conflict Resolution." For another consecutive year, faculty and staff toppled seniors in a well-earned struggle.
---
The joyful tradition of Winterfest played out in the Berman Athletics Center for the first time in December 2019. The entire school entered division-by-division for a presentation that highlighted the diversity and connectedness of the AFS community. Emcees Kendall Hodges '20 and Sam Gauck '21 led the crowd through a program that was inclusive of winter holidays and celebrations such as Christmas, Kwanzaa, Hanukkah, Eid al-Fitr, Diwali, Lunar New Year, and Epiphany. In keeping with AFS tradition, the program closed with upperclassmen lining up in front of the full student body and displaying colorful posters as they recited the "Winterfest Poem."
---
On Friday, February 7, the entire school gathered for a Lunar New Year Program in the Berman Center gymnasium. Several of our Upper School international students, along with the support of faculty and staff members, put together this impressive all-school event to educate everyone on the Lunar New Year holiday and on Asian culture. The entertaining assembly included a performance by lion dance troupe Penn Lions, a dance performance by the third grade and several musical performances from students. Our international students received touching video messages from their families in China and the assembly closed with a surprise faculty flash mob where teachers danced their hearts out to BTS "Boy with Luv."
The Lunar New Year Planning Committee included: Tina Yen, Buer Su, Andrea Emmons, Felix Chen, Keisha Hirlinger, Charles Miller, Matthew Eskin, Dominique Gerard, Erin Bengtson, LaToya Miller and students Lucy Duan '23, Jiahe Wu '22, Sara Ni '21 and Joie Li '20.
---
On Thursday, May 21, 2020, the class of 2024 presented their Eighth Grade Independent Study (EGIS) projects to family, friends and faculty. The eighth grade teaching team had to get a little extra creative with EGIS Night this year! For two decades, the culmination of the EGIS program at AFS has been one of the school year's most exciting events and our teachers did not let the pandemic stand in the way of the ceremony. Eighth grade students and families gathered to watch the presentations as a YouTube Premiere where students conveyed their experiences exploring a wide range of study topics including aerial acrobatics, learning a new language, playing an instrument and publishing a book. In lieu of physical display boards, students created websites to outline their work.
Enjoy the EGIS Night video above to see the student presentations and click here to see the students' online EGIS boards!
The eighth grade team that planned, curated and executed EGIS included: Social Studies teacher and eighth grade dean Erin Timmer, English teacher Sunshine O'Donnell, Math teacher Justin Solonyka (now, also Director of Choral Music), Science teacher Mike McGlinn and Physical Education teacher Nikki Kent.
---
In May of 2020, Technical Theatre Director Seth Thomas Schmitt-Hall produced a touching Arbor Day video, which the school community viewed during a virtual watch party. The pre-recorded program included student music, readings from students and remarks from Head of School Rich Nourie. Rich shared, "Today, we give thanks for the reassurance of the spirit revealed in the magnificence of nature, are reminded of our role in stewardship of the earth and experience once again the power of traditions like Arbor Day to bind us together."
In the annual tradition, dating back more than a century, Arbor Day brings our community together to reaffirm our commitment to caring for the earth. Seniors pass the leadership to the Juniors and trees are planted in honor of the senior class and the first grade.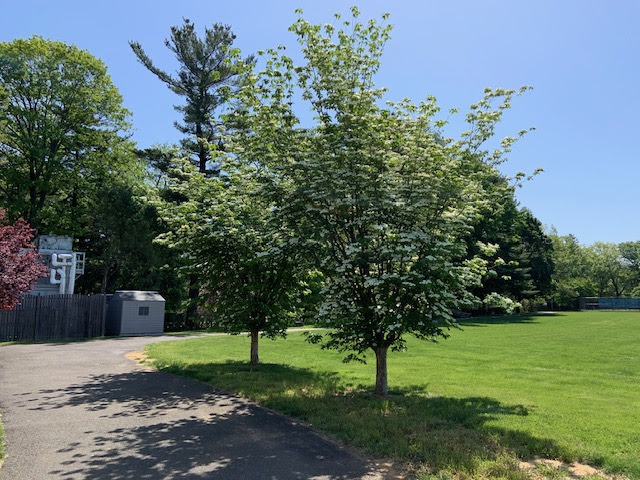 ---
In June, as the 2019-20 academic year drew to a close, AFS Athletics produced and shared a video with the school community to pay tribute to the resilience required to be an athlete during the pandemic.
The video also highlights significant individual and team achievements from 2019-20, and offers memories from the spring of 2019—an ode to the athletes who did not get to play during the 2020 spring season. Not every team is included, nor is every athlete, but these images serve as a representation of all of the Roos who took part in AFS Athletics this year. The 2020 Upper School Athletic Awards are listed here.
Varsity Theatre
The AFS Upper School fall musical Songs for a New World, opened to rave reviews in November 2019. The show is a cult favorite known as a "song cycle" and treated sold-out audiences to a series of sixteen very different songs. Each night, the musical took the audience through a moving journey, telling the interconnected stories of human existence through dramatic music and song.
AFS was pleased to have the talents of designer Jim "Jeep" Pyne, who is recently retired from People's Light & Theatre Company to work with the talented crew on set design.
The Independence Awards, which honor outstanding student theater performances and productions in the Philadelphia region, honored the school's Songs for a New World production, garnering recognition in 9 categories with 11 nominations total, including Outstanding Achievements in Overall Show.
(more…)
Center for Experiential Learning Expands with New Ex Programs
The Center for Experiential Learning at Abington Friends School (AFS) has expanded in the 2020-2021 school year with the addition of two all-new Ex programs. A record number of students have joined the new cohorts, FarmEx and ChefEx.
FarmEx and ChefEx are designed to be a multi-year experience, likely covering two years of a student's time at AFS. The students, faculty advisors and mentors for the programs have already held engaging sessions that connect people, places and ideas in collaborative ways—in person and online.
Willa Hollinger '23 was eager to participate in FarmEx due to her growing interest in the country's food and farming industry. Prior to joining FarmEx, Hollinger had already watched documentaries that covered monoculture and factory farming, and it opened her eyes to the food injustice that occurs as a result of this system.
(more…)
Teaching in 2020: A Year in Practicing Patience, Perseverance and Partnerships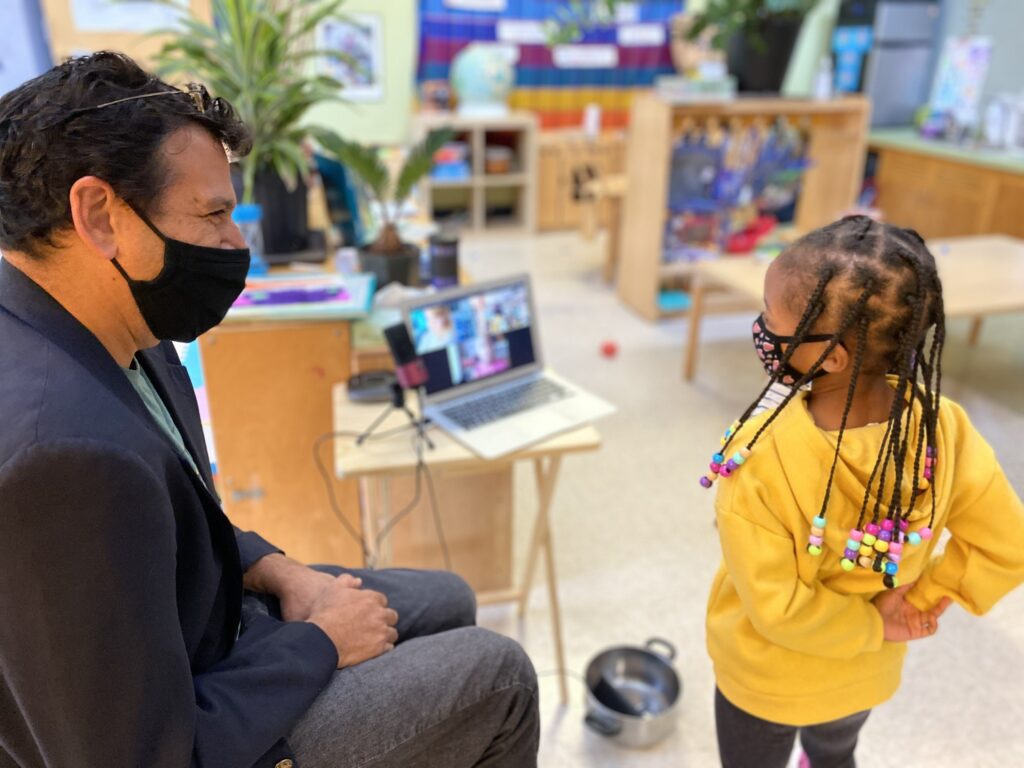 Collaboration. Flexibility. Patience. Tolerance. At Abington Friends School (AFS) teachers and students have always upheld these practices, but never have they been more crucial to student performance and resilience than they have over the past year.
Last spring, when AFS educators learned that they would be pivoting to online learning (at least temporarily) and that there was the possibility of implementing a hybrid learning schedule, which would mean some students would learn in person while others participated online, they didn't panic; instead, they planned. In fact, they engaged in regular, intensive planning so that they could not only deliver the best possible instruction but also—and equally as important—make sure their students felt safe, seen, heard, and loved. After all, daily living during a global pandemic is hard enough but trying to engage in rigorous academic learning is no small feat. Throughout the spring and summer, the student support team, in collaboration with faculty and administrators put together a way of engaging with students that focused on healing-centered pedagogy. Healing centered engagement is holistic, focused on strengths, culturally sensitive, encourages collective action to effect societal change, and supports community healing.
(more…)
Protest Writing Class Empowers Student Voices
During the unforgettable summer of 2020 emotions ran high due to myriad of racial injustices in our country. Many members of the AFS community were eager to use their voices, not only to educate and inspire but also to create empathy and change. Upper School English teacher Bartley (Bart) Jeannoute wanted to give students a platform in which to share their thoughts so he taught a free Protest Writing course for inner-city high schoolers, hosted by local nonprofit Mighty Writers. In a meeting with colleagues in the fall, Bart expressed the need for a space where students could process all that has happened since the AFS campus had closed in the spring. Bart collaborated with the school and reimagined the Mighty Writers course for the Upper School community at AFS. He was eager to welcome both in-person and virtual students to his 11th grade English classroom where he introduced songs, poems, books and articles from writers and artists such as Maya Angelou and Gil Scott Heron. Students learned how to write persuasively in a way that identifies and addresses societal issues, and they did that by studying the best of the best (e.g., Angelou's poem "Still I Rise" and Langston Hughes' poem "Let America Be America Again").
(more…)
AFS Athletics Commits to Equity and Inclusion Work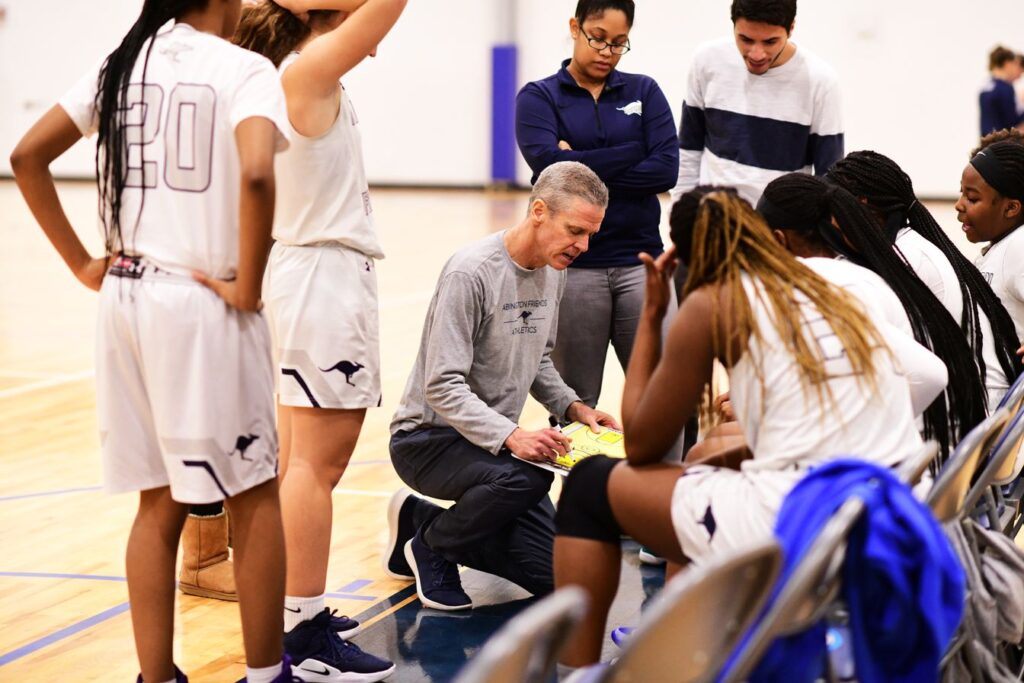 Life seemed surreal last spring when, one by one, everyday normal events began to get cancelled due to the global pandemic. That included sporting events, and while that was disappointing for many, it paled in comparison to the racial tensions that mounted following the tragic death of George Floyd in June 2020. Many took to the streets in peaceful protests, and all around the country folks started to ask the difficult questions and engage in raw conversations—all in an effort to truly make a difference, turn a corner, and create lasting change when it comes to combating racism, inequities, and injustices.
The Friends School League (FSL) Athletic Directors felt passionate about doing their part to effect change so they formed a structure for action, empowerment, and accountability through their shared platform. Led by Clerk Jeff Bond (AFS Director of Athletics), athletics administrators from nine FSL member institutions—in partnership with Directors of Equity and Inclusion and Heads of Schools—collaborated to recognize ways to enhance the experiences of every athlete, coach, official, and supporter that comes into contact with the FSL.
(more…)
Home and School Planning for a Productive Future
AFS Home and School consists of a robust group of parents and guardians who support the school and school community. Through grade-level committees, parents engage in various efforts such as Community Cares, Service and Appreciation, All Voices Family Alliance, and other groups in order to create an inclusive, socially-responsible school environment.
(more…)