1957
Gaby Tubach writes,
"Hi everybody. A piece of news I am happy to share: Daughter Isabelle Ortiz married Steve Baldock (UK) on June 5, 2019. Isabelle is a teacher at the Free University of Berlin and Steve is an aérospatial engineer with frequent missions in India and South Korea. They live in Berlin, Germany. The celebration was held at the Holy Trinity Church in Nice, followed by a dinner at the AC Marriott hotel. Son David lives in Nice. It was a great day for everybody present."
1957
Elizabeth Cobourn Cole writes,
"My husband and I will be married 55 years next month. After 12 addresses in 7 states, we are in a villa at a senior care facility in South Carolina. Meals and mail are delivered to our door now that mingling is inappropriate, and support is available on all levels. We have two sons and five teenage grandchildren. Dick and I traveled on a small ship, 27 passengers, down Alaska's inside passage last fall. A spectacular experience, worth the daunting flight disruptions both ways. Our family of ten gathered for a week last Christmas for precious time together at a lakeside rental house near us. I have kept in touch with our small cadre of classmates over the years; Abington Meeting is my faith home, and I am fortunate to have benefited from it all."
1958
Nancy Dawson writes,
"I am still in France, in the Dordogne, and writing, loving it and grateful all the time for Miss Bickley and her grammar and high standards. My daughter made me a website that I am gradually adding to: http://nancyedawson.com/. And last year, Veteran Feminists of America published a website about my feminist work: https://www.veteranfeministsofamerica.org/vfa-pioneer-histories-project-nancy-drum-dawson/. Life is good and we are happy to be safe in the French countryside during this strange pandemic. Hope all my AFS classmates and friends are well and safe."
1969
Robin Becker writes,
"During this strange time in all of our lives, I've deeply appreciated social cooperation (and compliance with science). Never before have I understood the truly global nature of public health. I extend a gracious 'thank you' to all those whose work lives required them to show up in the face of this pandemic."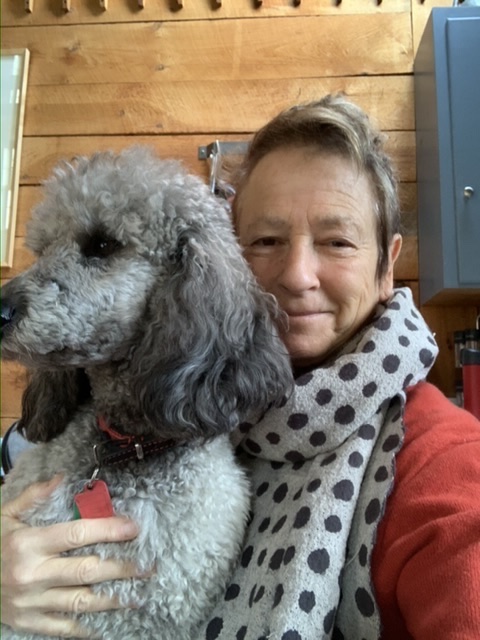 1973
Madeleine Baumann Foust writes,
"I was just figuring out how many years it has been since we gathered in the grove of AFS for our graduation (47yrs). Wow! We were the next to last all "girls "class to graduate and there was only 14 of us. Where are we today? After ten years working at Prudential Insurance Co. and getting a 2-year business degree, I decided I did not want to sit behind a desk anymore. I moved to Florida in 1990 with my future husband Uli where we spent 17 years, and I became a LPN and worked in a dialysis clinic. In 2007, in we moved back to Pennsylvania and moved in with my mother to help her. I was able to remain with the same Dialysis company I worked for in Florida and have now retired after 21+ years in dialysis. I keep in touch with Meemie Sullivan Steere '73. She always has lots of news to share about some of the past AFS people. We live parallel lives; I take care of my mom, who will be 103 years old in September, and she takes care of her mom, now 104 years old. Hope everyone is well, especially during this crazy virus. Stay safe. Would love to hear from you." mfbaumann2003@yahoo.com
1975
Neal Goren writes,
"This year we mark and celebrate 45 years from when we graduated from Abington Friends School. We think back to a time of memories of being a class to ourselves. We were the first co-education to graduate since the Depression. We think back to the teachers that influenced and prepared us for the next several chapters in our lives. We think back to the relationships from our fellow students. We remember sitting still and quiet during Meeting For Worship. I remember that when it was absolutely still, one could hear the clock on the wall as it clicked. We often wish that we could get 45 minutes just to think and meditate. Class of 1975, it has been 45 years since graduation. We have gone our separate ways. We have experienced great trials and tribulations in our lives. We have hit milestones that need to be shared. I received my degree in Television Operations and Management from the American University. For the next 20 years, I worked with Independent and Network Broadcast Stations in Houston, Dallas/Fort Worth, New Mexico, Tampa and Fort Lauderdale. For the next 20 years, I became a Headhunter for the Telecommunications Industry and for Medical Facilities. I now work for DaniJohnson.com as a business and life coach. I am married to a wonderful woman, Kerry Goren. We have a daughter, Kyra, who just graduated from Colorado State University with a degree in Ethnic Studies. We also have a son, Chasen, who will be starting his sophomore year this fall at Colorado University, Boulder. He is studying Computer Science. In the last several months, I have undergone chemotherapy treatment for Multiple Myeloma. When one receives a diagnosis like this, one starts to reflect on their purpose in life. To quote Dani Johnson, "All are called, few are chosen." What is your choice in your purpose? I challenge the class of 1975 to share what have you done in the last 45 years. Do not let 2020 go by with a whimper. It is your time to shine. Be the light!"
1976
Leeanne Rebic Hay writes,
As a freelance writer I've published many reported narratives in print and online. This June, I published my first fiction piece, "Climbing the (White) Ladder of Success" in the anthology Wild Women 2020 (TulipTree Publishing) featuring short stories and poetry by noted women writers from across the US.
1982
Jeffrey Gold writes,
"Owner/member of 65 physician multi-specialty group. Achieved "Medical Home" status which shows our office is in the top 17% of all outpatient medical offices in the country. Reappointed Assistant Clinical Professor of Medicine and continue teaching Medical Students and Medical Residents. Live in Berks County and continue hiking and fishing when able to. Son Kyle was accepted to Millersville University for math. Alec entered his senior year of high school. I do miss my Lacrosse days and all the friends at AFS."
1984
Elyse Adler Stoner writes,
"I'm excited to return to the Philadelphia area with my husband, Ed, and sons, Mitchell (18) and Drew (15) after living in Portland, Oregon, for the past 12 years. I also bring my business, Fresh Perspective Consulting, which specializes in event, sponsorship and client engagement strategy, based on my years in sports, entertainment and non-profit marketing. I am eager to connect with the AFS family (both personally and professionally) as my family and I start our new chapter."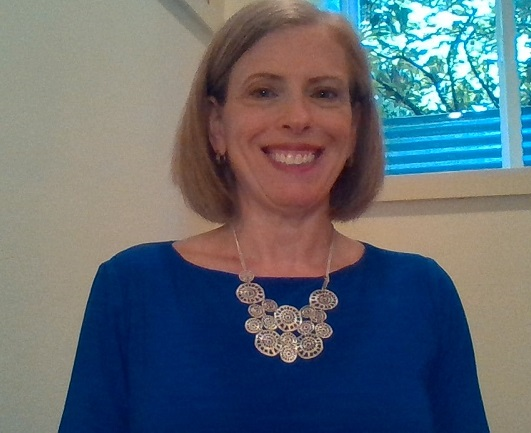 1995
Jon Makler writes,
"I took a one-year leave of absence to "world school" my four kids. Then there was a pandemic. But four months road-tripping in the U.S. and five months in 11 other countries was still a lot! Also, uniquely prepared to homeschool under quarantine. You can check out writings and photos from our travels on 12on6.blogspot.com or Instagram: makpakpdx.
2003
Adam Schorsch writes,
"In March, as the pandemic changed the world, Melissa Ward Schorsch '03 and I welcomed a new member of our family--our first child, baby girl Ellery. Now safe and healthy at home, we are ecstatic to have this ray of light here and plenty of time to grow together."
2005
Richard Ahl writes,
"Lots of changes over the past few years! I married Samantha Rothberg in September of 2017. AFS alumni Steven Silverman '05 and Daniel Rothberg '16 were groomsmen, Dave Ahl '01 was the best man, and Andrew Lyubarsky '05 officiated. I received my Ph.D. in Psychology from Yale University in 2018 and am currently a Postdoctoral Research Fellow at Boston College where I study how children reason about inequality and fairness. Our daughter Sabrina was born in September of 2019. She is an utter delight!"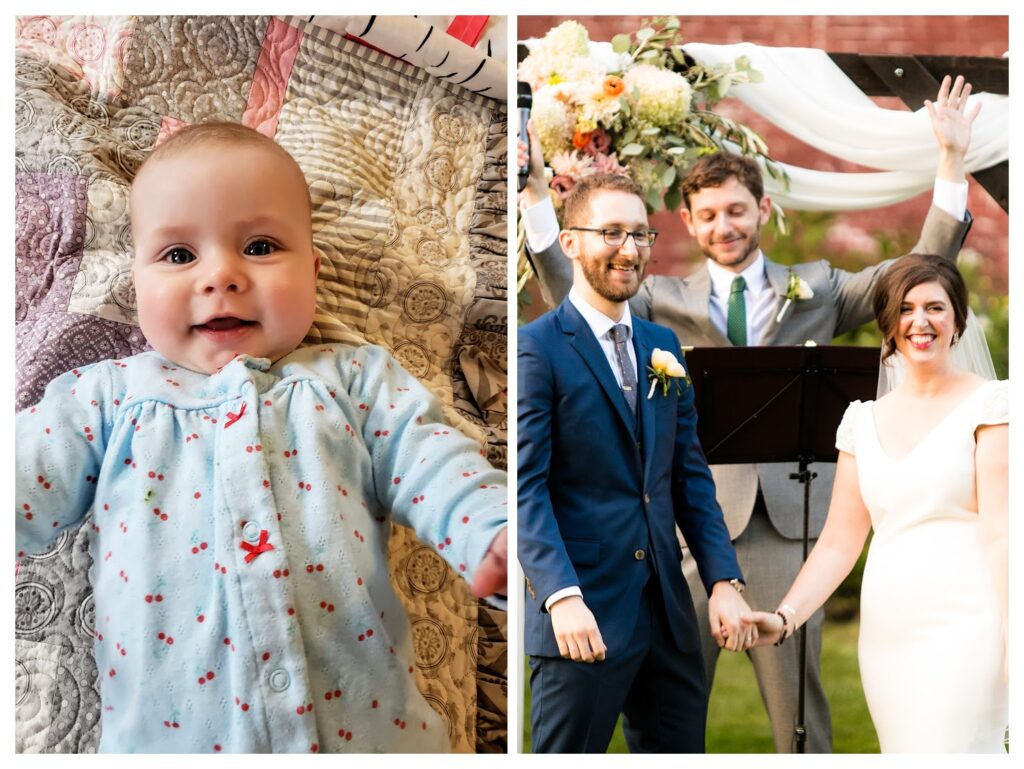 2005
Ariella Jolly Singer writes,
"Hey '05ers! My family and I just moved back to Pennsylvania after living in Colorado for seven years. I am a Family Nurse Practitioner working in West Chester, Pennsylvania. I'd love to reconnect (6' apart) with anyone, near or far. Maybe we need a Zoom Reunion?! Hope you're all well and staying safe."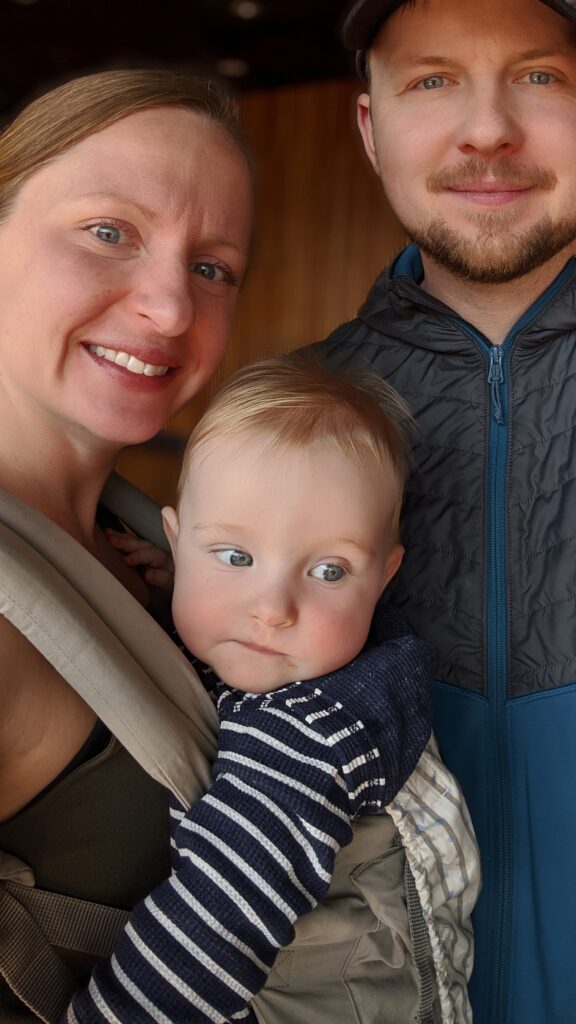 2008
Meredith Dixon writes,
"I married Aaron Allen on May 25, 2019, at Trinity Episcopal Church in Ambler, Pennsylvania. I am a clinical scientist at Merck & Co., and Aaron is a systems engineer at Susquehanna International Group. We live in Bryn Mawr, Pennsylvania. Merry's classmates--Rachel Jakubowitz Zatcoff '08 and Christine Wilson-Guaraca '08--were bridesmaids. Classmates attending the wedding were Sarah Ellen Churchill '08 and Lindsay Sandmeyer Stauffer '08."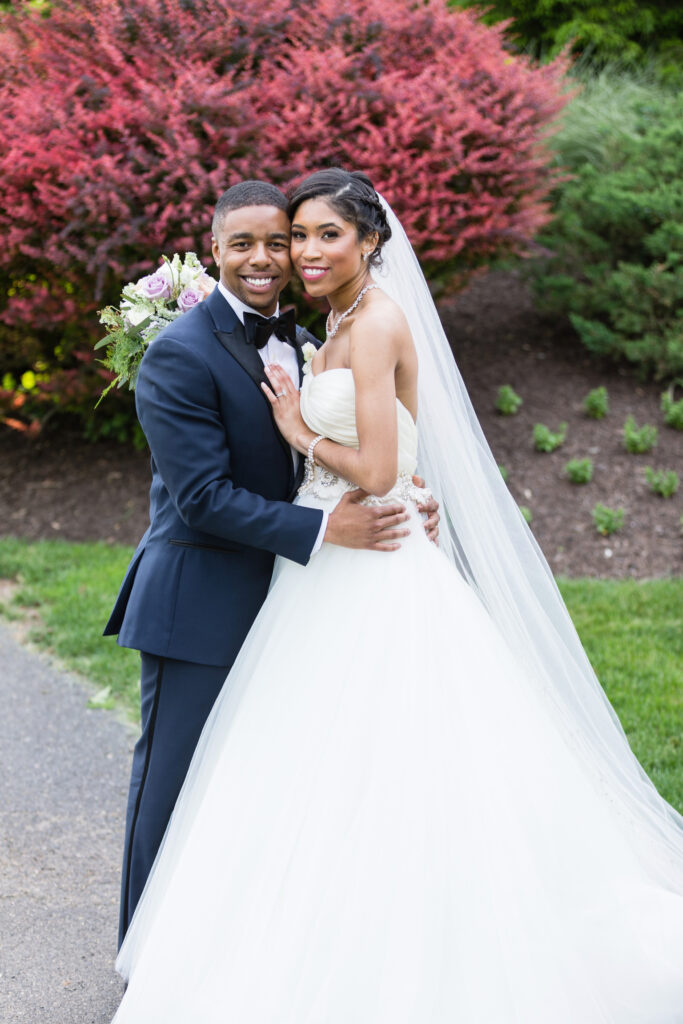 2012
Barbara Handler writes,
"I was honored to be asked to have a one-person show at Kol Ami synagogue in Elkins Park. At the opening on February 28, I was fortunate enough to sell six paintings, but the buyers couldn't get their paintings until the closing on April 4, two days before my scheduled knee surgery on the 6th. The surgery was canceled and the synagogue was closed down. Thankfully, I convinced the synagogue secretary to go in five weeks later to open the gallery door and let me run in to grab the sold pieces, one of which ("A Wagon Full of Penguins") was sold to Michael Hollinger as a birthday gift to his wife Megan."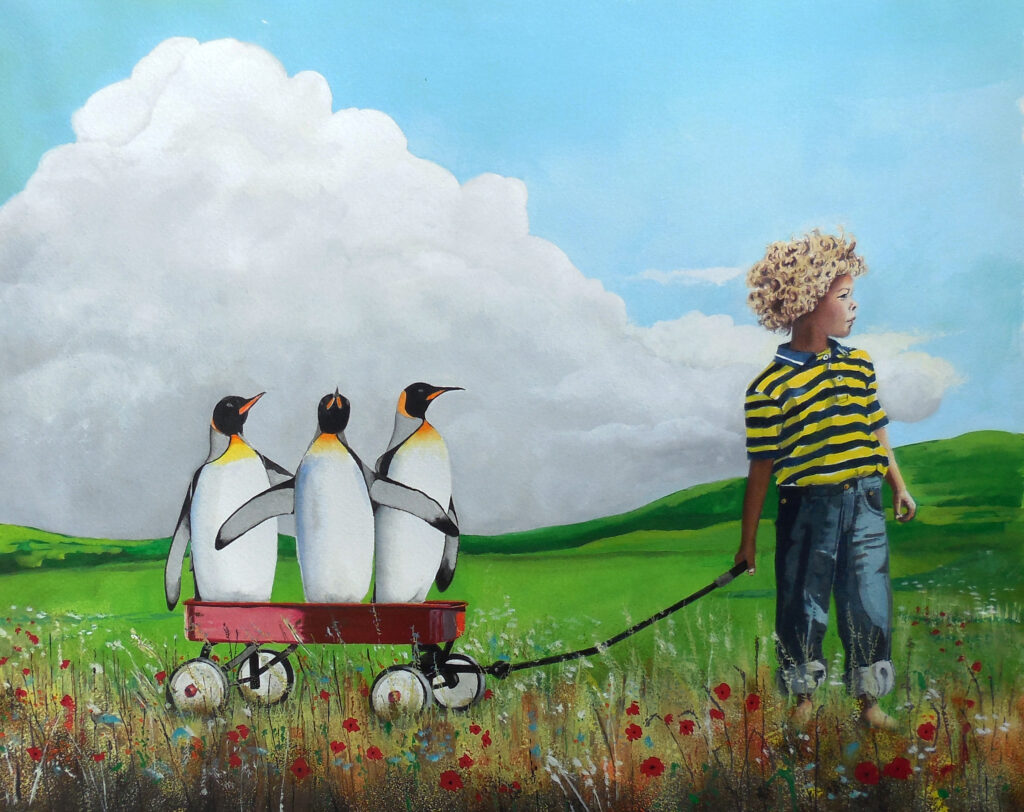 2012
Tim Israel writes,
"Jesse Dougherty '12 writes for The Washington Post covering the Washington Nationals and recently had a book releases about their World Series run in 2019 called Buzz Saw: The Improbable Story of How the Washington Nationals Won the World Series."
2014
Lily Roth writes,
"Hey 317! Hope everyone is doing well. I've been living in the area for the past year and a half working as a paramedic at Second Alarmer's Rescue Squad (you know the ambulance company we always used to see going with lights and sirens past school). In July, I am going to start medical school. I'm super excited. I hope you've all been safe and well during this pandemic! Stay well, Lily"
2016
Eli Russell writes,
"In May, I graduated from Harvard with a degree in History. Thank you to all of the AFS teachers who ignited and fostered my passion for history!"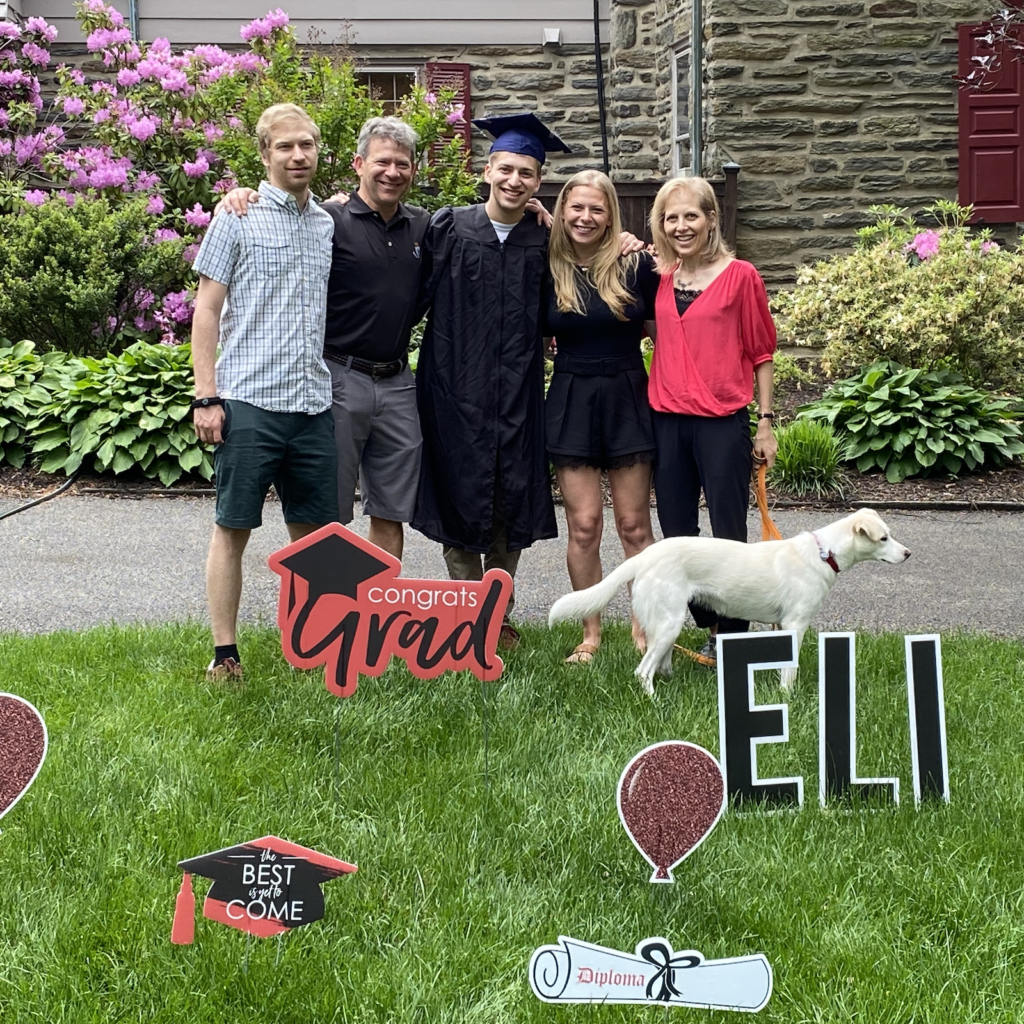 2016
Matt Pohubka writes,
"During the COVID-19 pandemic, the restaurant industry was hit hard and as a cook in the industry, I was furloughed. So I dedicated my time to a different type of food industry: feeding the hungry. My mom, Rachel Yakobashvili '16, and I volunteered with Caring for Friends to pack and deliver boxes of produce and dry goods to those in need across the Philadelphia area. They are always looking for more help, pandemic or not, so reach out to them if you're interested!"
2016
Rachel Yakobashvili writes,
"I'll be serving as a Presidential Fellow in George Washington University's Master of Public Administration Program Class of 2022 beginning Fall 2020 on a full ride! I will also be working part-time for the University developing their community engagement and COVID-19 response efforts."
2017
Noah Rosenfeld writes,
"This spring I completed my undergraduate career by graduating from the University of Pittsburgh where I studied Finance and Economics. I will be joining KPMG in New York City in June of 2021 as a Management Consulting Associate. In the time until then, I'm planning to embark on a gap year that will hopefully see me visit Italy, Spain, Montenegro, Morocco, Japan, South Korea, and Australia. Fingers crossed that the world will become a more easily navigable place in the coming months. Stay well, Friends."