The Year in Review
Teaching in 2020: A Year in Practicing Patience, Perseverance and Partnerships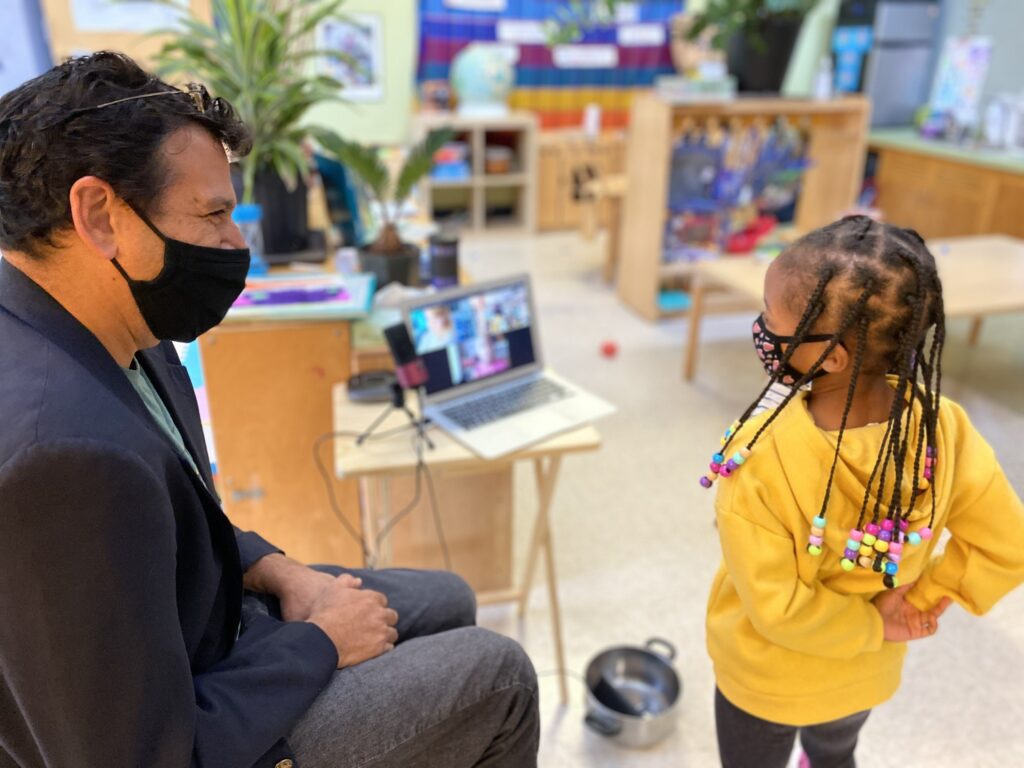 Collaboration. Flexibility. Patience. Tolerance. At Abington Friends School (AFS) teachers and students have always upheld these practices, but never have they been more crucial to student performance and resilience than they have over the past year.
Last spring, when AFS educators learned that they would be pivoting to online learning (at least temporarily) and that there was the possibility of implementing a hybrid learning schedule, which would mean some students would learn in person while others participated online, they didn't panic; instead, they planned. In fact, they engaged in regular, intensive planning so that they could not only deliver the best possible instruction but also—and equally as important—make sure their students felt safe, seen, heard, and loved. After all, daily living during a global pandemic is hard enough but trying to engage in rigorous academic learning is no small feat. Throughout the spring and summer, the student support team, in collaboration with faculty and administrators put together a way of engaging with students that focused on healing-centered pedagogy. Healing centered engagement is holistic, focused on strengths, culturally sensitive, encourages collective action to effect societal change, and supports community healing.
Megan Asplundh, Director of the WILF Learning Resource Center, offers the following strategies for building a healing centered school community: 1) Recognize and respond to young people's trauma with love, empathy and restorative practices, 2) Use an equity lens that addresses implicit bias in regard to race, class, and related structural barriers, and 3) Engage students, teachers, staff, and families in working to reform and dismantle harmful systems that make it hard for young people to succeed and thrive.
Margaret Guerra, an AFS Upper School history teacher, calls the mental fog that many students, teachers, and parents are feeling "pandemic brain." She maintains that this difficulty in focusing makes perfect sense.
"This isn't how you want to start high school. I mean, it's super hard. It's not how you want to be in fourth grade, [either]," says Guerra. "I'm not that functional [myself.] It's [taken] me three hours to make one assignment!"
Nevertheless, over the course of the year, staff and students have embraced the ever-changing learning style, recognizing that this is how it has to be for the time being. Keisha Hirlinger, the Lower School music teacher who has transitioned to an online fourth-grade co-teacher with colleague Michelle Podulka, admits that she, too, had to learn to settle in.
"When I first went online, it was really jolting and hard. It's not your first choice as the way that you might teach," says Hirlinger. "But I've been so inspired both by my partnership with Michelle and just the way that children have shown such amazing resilience and strength."
Keisha and Michelle's class has learned at home for the entire 2020 school year thus far and Keisha reports that the students are happy and thriving. Still, from the beginning she and her colleagues made sure not to set unrealistic expectations for the students or parents. In fact, teachers stated outright that this new way of learning would, at times, be challenging. Stating this outright helped establish patience, which was a huge part of making the equation work.
"Everybody could name that and breathe through it…and have grace for the moment," says Hirlinger. "I just feel like that's really important, that patience and that resilience. And I wonder if kids coming out of this experience are going to have a sense of resolve and a way in the world where they're just really able to wait, which is a huge thing to learn how to do when you're little."
While this one fourth grade class learns entirely from home, other classes are hybrid, with some children in school and others learning at home. Raji Malik teaches his kindergarten class in this hybrid fashion and works hard to ensure that his students at home are included as much as the students who are physically present in the classroom. Malik expressed "In [the classroom] I have a little microphone and whenever someone wants to say something [to an online friend], they walk up to the microphone and [speak to] the computer…to make them feel like we are all in school together."
Education at AFS has always gone beyond academics, but this year, in particular, students are learning life skills, and they are doing so in a much more overt way according to high school English teacher Sheila Pai. For instance, how do you advocate for yourself? How do you build a relationship with your teachers? What does it mean to manage your own work? How do you manage your time?
"These are lifelong skills that we're all working on as adults even," says Pai, who is pleased to witness more student agency, more student choice, and more student leadership and ownership. "These are all things that I've always wanted to strive for in my classroom and to do that as a whole school, having those conversations about social emotional well-being, having those conversations about equity and being culturally responsive and being trauma-informed, these are all things that many of us think about."
Obviously online learning doesn't translate in the same ways that in-person learning does. And though the younger generation is fairly adept at technology, for elementary-aged students who are still practicing and perfecting fine motor skills and penmanship, technology can't be the sole mode of learning. Explains Podulka, "As much as we enjoy [younger students'] brilliance on Google slides, they're still used to writing with pencil and paper. Throwing in this one extra medium is hard on kids, [because] you're asking them now to hold another thing in their brains that they have to figure out."
One upside, according to Hirlinger, is that technology causes teachers to slow down.
"In a way, that's a real gift for us, and I think we could even say it ties into some of our principles around Quakerism and being present and being with community," says Hirlinger. Doing so enables the growth of authentic conversations among students and ones that are perhaps necessary now, more than ever. For instance, Hirlinger and Podulka took an entire morning to engage in dialogue about social justice.
"We talked about how people perceive different neighborhoods," says Hirlinger. "We will take that time [because] we really do believe in that social/emotional [connection]. You have to have that in order to really have your kids buy in. [Plus,] kids need to feel safe and seen."
Lisa Ammirati, an Upper School science teacher finds a silver lining in the entire learning experience.
"A hidden blessing in all of this is that it's forced us to really think about what matters and what doesn't," she says. They have also learned resilience, which always serves you well in life.
"Students [have been] so willing to dive into this new normal. They're eager to try what is far from what they're used to. They're eager to try things that are entirely new. And so that, I think, has made our jobs a lot easier."
Adds Pai, "Nothing is perfect, but we are really striving for presence that matters. And I think that is so much of what everyone needs right now, more than learning a bunch of content and all that. We need to be seen. We need to feel a sense of belonging. We want to feel connected and we want to feel worthy. That is our goal for our faculty. That's our goal for our students. That's what we hope all our parents and guardians feel. We want everybody to know that even though this is such a hard time, we're all doing our best and we're doing okay. [It's] maybe even a better experience than we've ever had."
See more Year in Review