Scrapbook
A Return to In-Person Learning – Meet 325
"From Sophomores to Seniors in a Blink of an Eye"
By Cydney Brown '22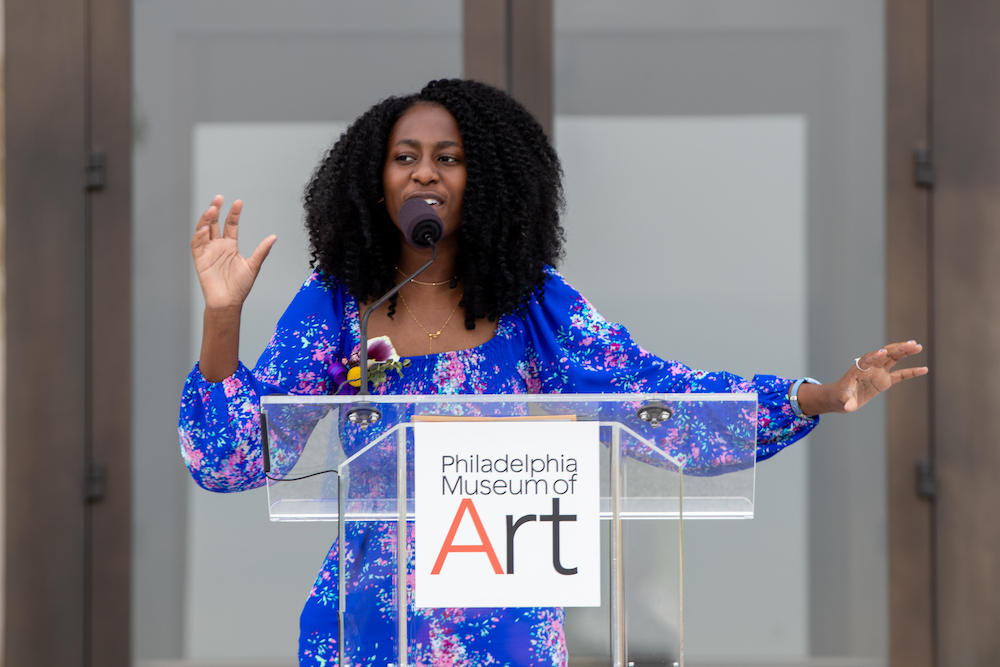 Hi, I'm Jiahe Wu '22 and I'm a rising senior this year. I like to draw on anything that is paper and my favorite medium is pencil. I'm also very awkward towards people who I don't know, but that's alright.
I'm Clay Lewis '22, and I'm the clerk of the class of 2022. I'm a person of color, a musician, a wrestler, and a Quaker. I would like to study Music Technology and the intersection between music and programming.
Hi, I'm Cydney Brown '22 and I'm the 2020-2021 Youth Poet Laureate of Philadelphia, author, sister, and friend. I write about everything I experience, or notice and I can't believe I'm a senior.
Art seems to be one thing that creates community ties. When the masks go up Sofia Gutierrez has her camera, capturing the moment; when the world shuts down Jiahe Wu has her pencil, sketching the beauty in life; when the spirits run low Clay Lewis has his music, reminding us that our hearts are still beating.
Senior year is on the horizon. During the pandemic, we've had our fair share of goodbyes and hellos to teachers, new hobbies, and friends. And now approaching our last year at AFS Clay says, "The hardest thing to say goodbye to will easily be the community. I'm going to go out into a world where there might not be people who want me to succeed. I feel like I'm going to be a small fish in a big ocean, which is really scary. The only thing that makes it slightly easier is that I know the people at AFS will always be there for me even if I'm across the country" And that's what AFS is all about. Long-lasting connections that withstand a pandemic and surpass 4 years.
(more…)
Artists in Residence Bring Beautiful Rhythm to Lower School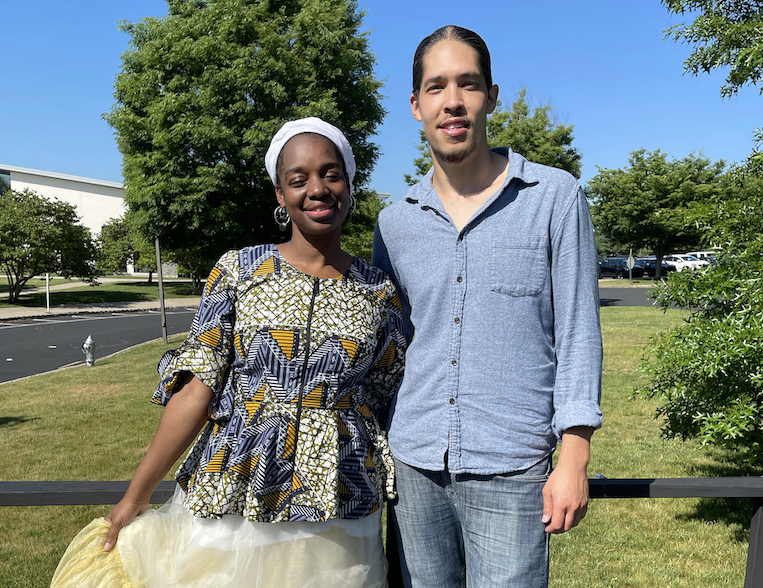 In the Lower School, movement, music and dance are essential in children's understanding of the world of music. In 2020, Lower School Director Andrea Emmons and Head of School Rich Nourie met with AFS parents Lela Jones and Alex Shaw P '34 to discuss their musical expertise and the idea for an artist in residency program. The proposed program was designed to lift up the beauty and power of Black and African musical, dance and cultural traditions. When the pandemic hit the Pennsylvania area, there was much thought around how to bring more music to younger students safely, so Andrea worked with Lela and Alex to reimagine the program to launch virtually, over Zoom, in a time when this work is particularly relevant and needed. From there, The Rhythmic Body and World of Percussion truly came to life at AFS in the winter of 2020.
"We certainly believe deeply that our work can enrich the lived experiences of the students and the faculty," says Alex. "Lela and I also believe deeply in sharing this cultural knowledge in this sort of orientation with young people in ways that we did not have access to when we were young people."
(more…)
Tales from the Past: The Pandemic—Then & Now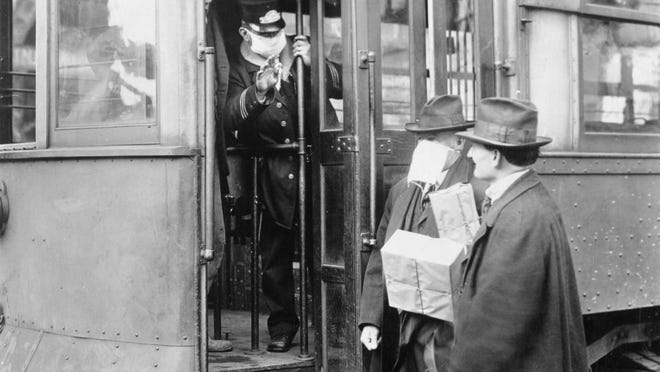 In the spring of 1918, the influenza virus hit Europe, the United States, and Asia, followed by two subsequent waves of infection in the fall of 1918 and the winter of 1919. According to the Pennsylvania Historical & Museum Commission, by the end of the 1918 pandemic, one third of the world's population was infected, with total deaths estimated to be at least 50 million but perhaps as high as 100 million.
Jordan Landes with the Swathmore Friends Historical Library, found a page from Abington Meeting's records in 1918 in which Ella S. Mitchell, Clerk, wrote, "Owing to the ban placed by the government on all social and religious gatherings during the recent epidemic of influenza, Preparative Meeting was held….[illegible writing]."
History repeats itself 100 years later with the banning of social gatherings and mask requirements in the last year and a half.
Just like the current coronavirus pandemic, the 1918 virus was brutal and highly contagious, which meant it spread swiftly and mercilessly, rendering people severely ill and often killing them in a matter of days or weeks. Symptoms mirrored those we see with COVID-19, including high fevers and muscle & joint pain. Again, just like today with the Delta variant, a century ago the virus mutated quickly, causing massive outbreak in the second and third waves.
Records show that Philadelphia was the American city with the highest, most rapidly accumulating death toll in the worst pandemic in recorded history. The virus took hold of Pittsburgh three weeks later. The outbreak began to subside in the spring of 1919.
While the modern-day pandemic is on-going, the 2020-2021 school year at AFS was largely intact with the exception of the upper school operating on a rotating schedule where some students were on campus and some learned from home. The winter season was a time when transmission was high in the region and the school's pandemic team made the decision to shift to virtual teaching. During the week of Thanksgiving classes moved online for two weeks, with a plan of returning to school in December. However, climbing rates meant that the doors to AFS would remain closed until after winter break while students learned from home. All students and staff were tested for Covid-19 before returning to school on January 11, 2021. There were no positive results returned in that round of testing and the school year finished with no known cases of in-school transmission at AFS.
AFS Alums Return to the Classroom as Faculty Members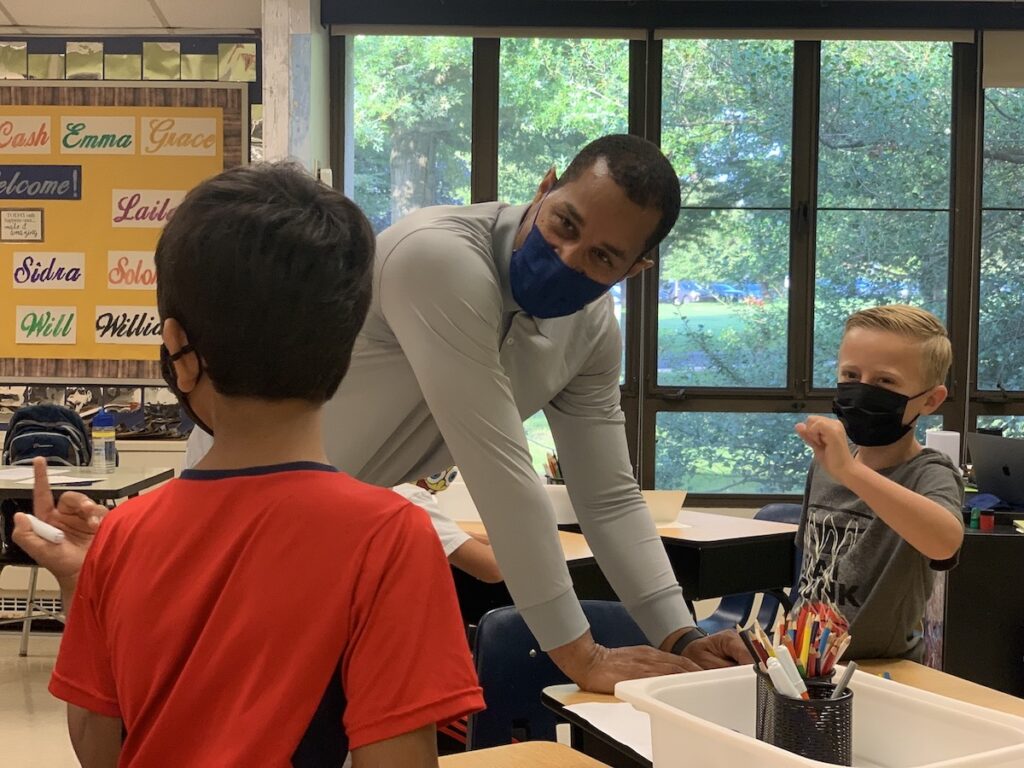 When schools across the country were gearing up to reopen their doors in the fall of 2020, teachers were feeling some trepidation and understandably so. After all, it's not like there's a handbook on how to navigate life in the midst of a global pandemic. When running a school, however, job one is manning it with individuals who have a passion for supporting, nurturing and molding young minds. Therefore, AFS put out a call to their alumni, inviting them to apply to teach during the 2020-2021 school year. A number of eager former students jumped at the chance and are happy they did so.
Jordan Louis '14 was studying Biomedical Sciences at the master level at Rutgers University but decided to make a pivot last year in order to become a support for black middle schoolers. Hired to teach seventh-grade science at AFS, Louis was touched to learn how much the students appreciated her presence, particularly the students of color. One student even wrote Louis a letter stating, "All of us black kids had someone to relate to and that felt really comforting."
"That reminded me of the importance of having representation of minority students in independent private schools, and how honored I am to have given them what they needed, even if it was just for a few months," says Louis, who is now considering becoming a professor at a historically black college. "For that, I know I have accomplished something great and have left a necessary imprint on my beloved campus."
In May 2020, Olivia Avery '16 had just graduated from college and was preparing to apply to law school. When the opportunity presented itself to became a fifth-grade teaching assistant at AFS, she went for it. During her teaching stint, she enjoyed being involved with different LGBTQA+ groups in the middle school.
"It was so inspiring to see how far middle schoolers have come in the decade since I was one of them," says Avery. "Having complex conversations about identity and marginalization with fifth- through eighth-graders can be a little mind boggling in that they tend to offer a level of brutal honesty about the world, their experiences, and their opinions that adults often buffer down. When they get to be in a space where they get to freely try to figure out their place in the world and solve problems with their peers, they end up amazing us."
Avery returned to AFS this fall as a maternity sub while she studies to take the LSATs.
Mia Panzak '17 taught fourth grade with collaborating teacher Saidah Giraud. Teaching enabled her to appreciate how each student brings their own perspective and experience to the classroom setting.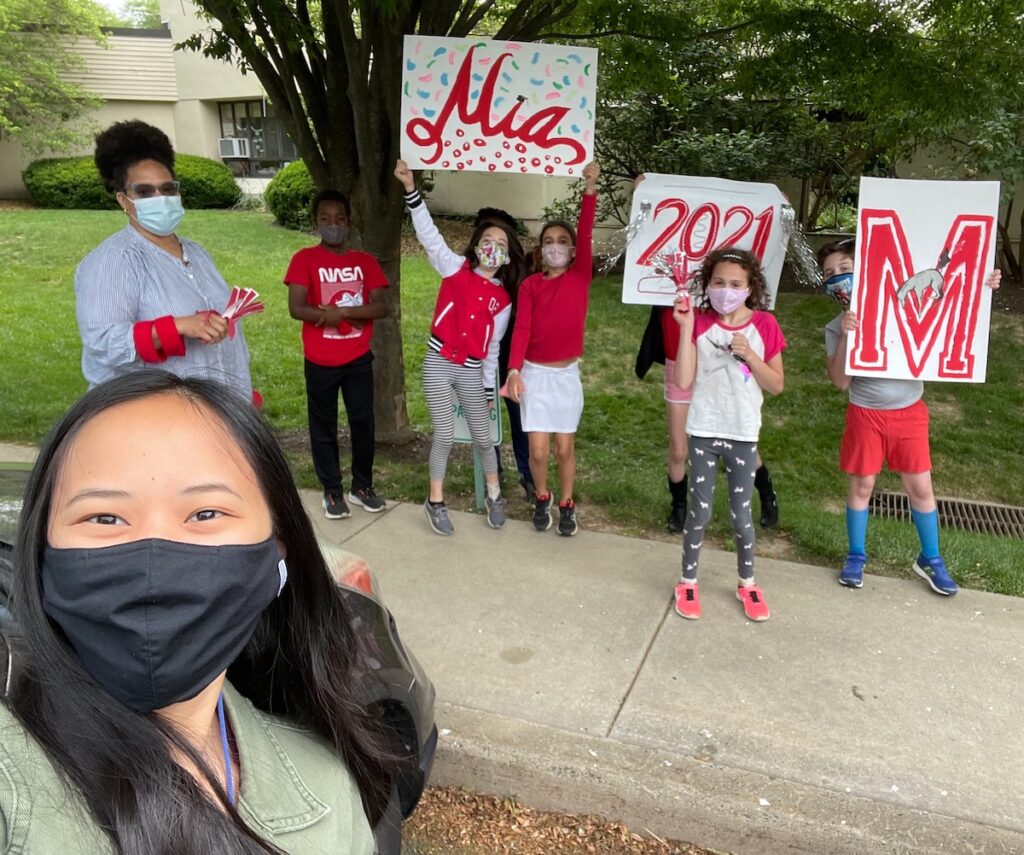 "I was challenged to meet each student where they were at while simultaneously encouraging them to lean into discomfort and step outside of their comfort zone," says Panzak. Though her future plans involve pursuing a career in the film/television industry, teaching at AFS served to inspire her in ways she didn't anticipate.
(more…)
Social Justice is at the Core of AFS Education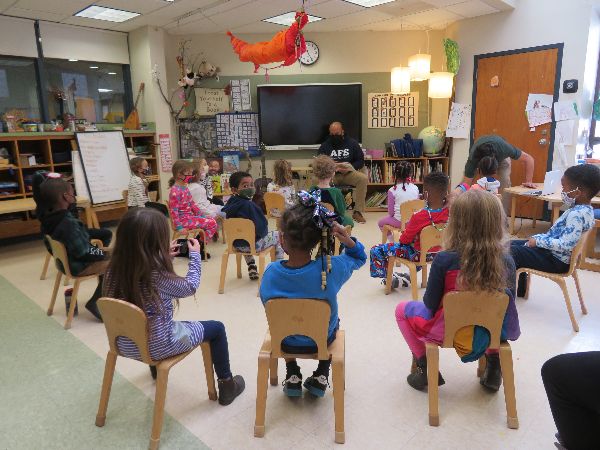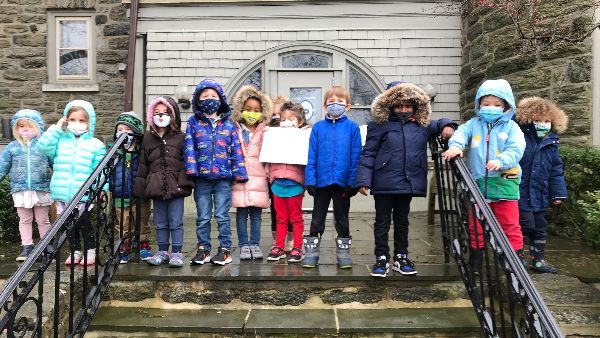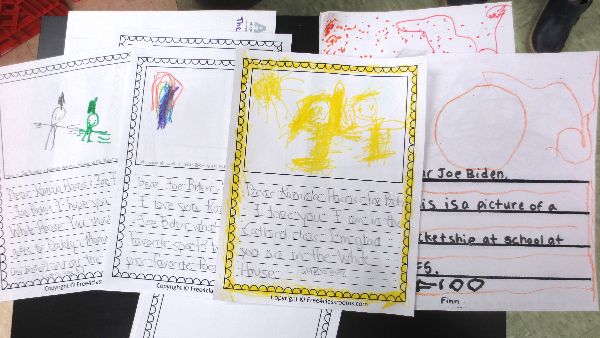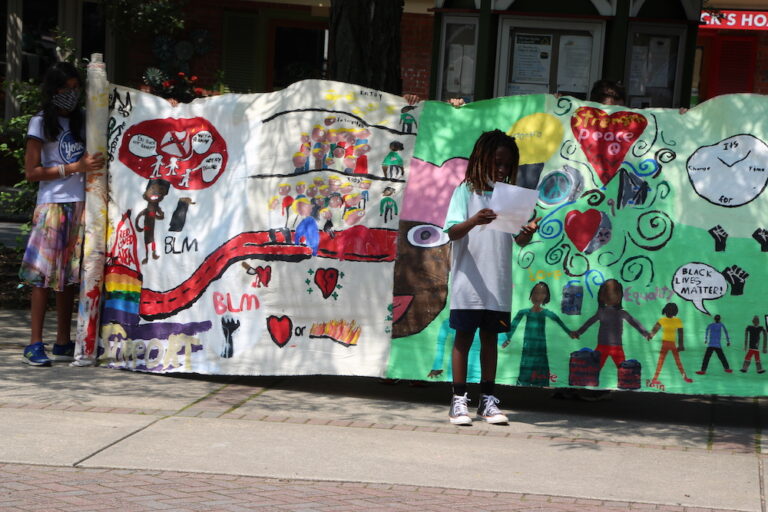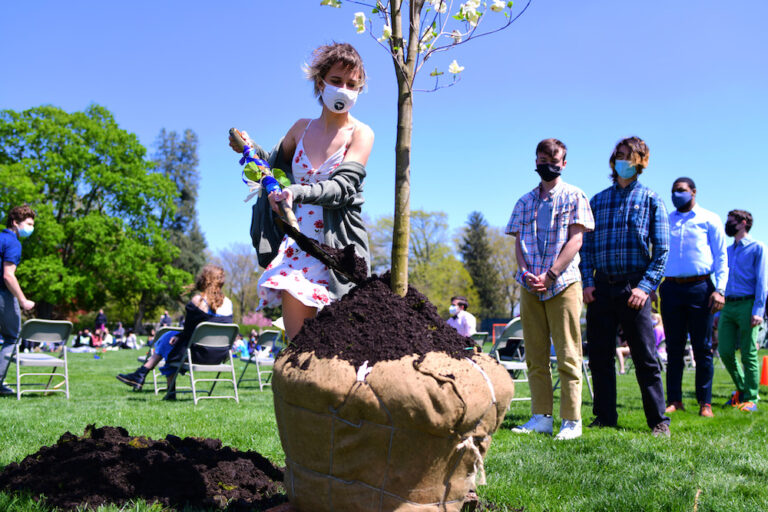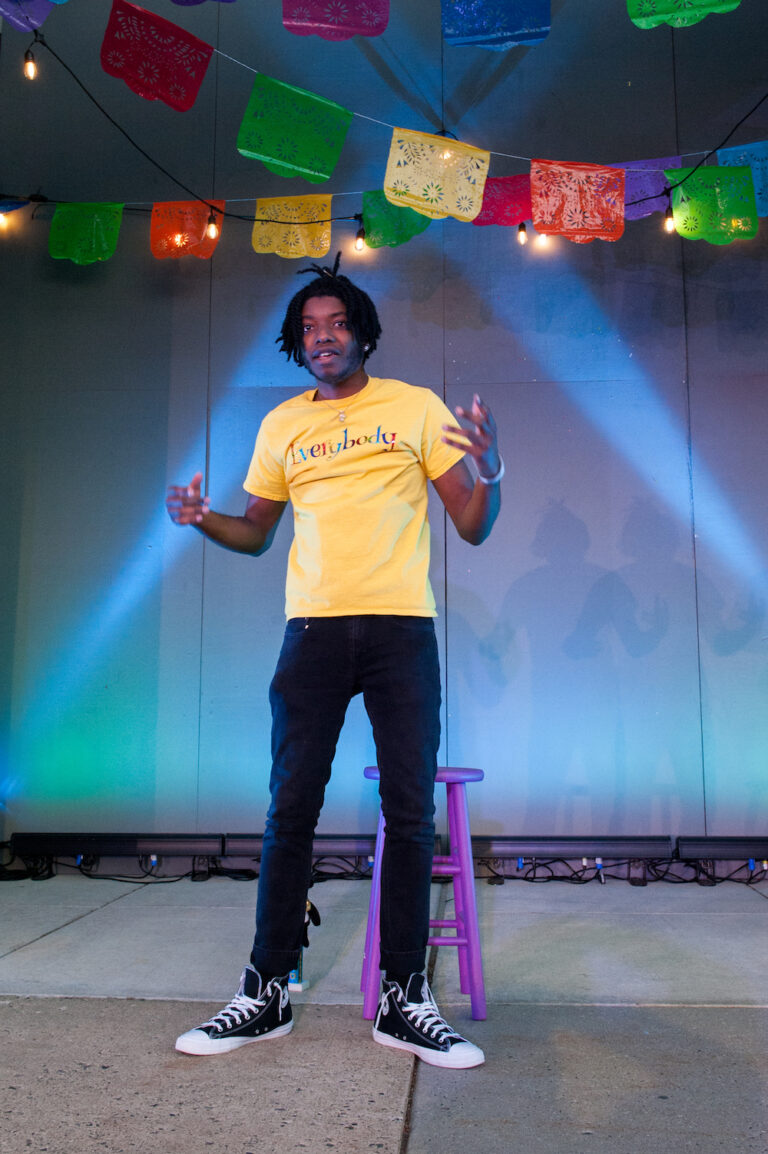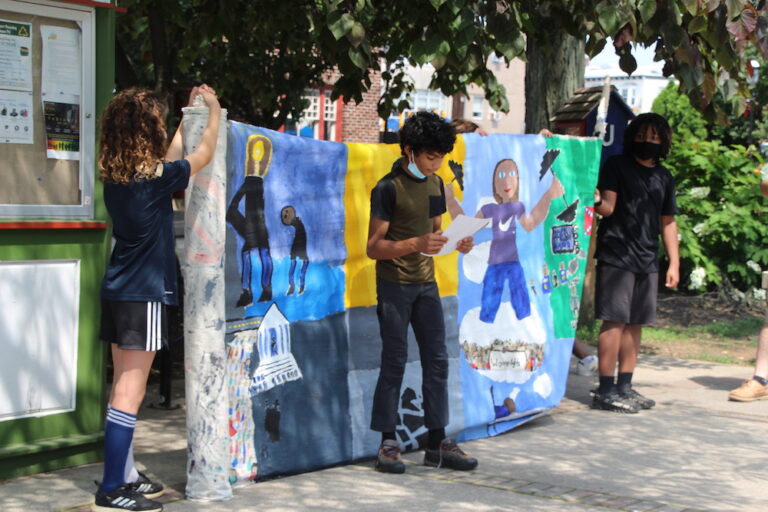 Notice
: Trying to access array offset on value of type bool in
/var/www/vhosts/abingtonfriends.net/httpdocs/wp-content/themes/oak-leaves/acf-blocks/image-slider/image-slider.php
on line
14
This past year, as racial disparities and social unrest plagued our nation, the students at AFS were encouraged to do their part in dismantling racism and oppression. This starts with education, and at AFS, they approach it at every level, starting in kindergarten.
"As an institution that is committed to equity, justice, and engagement, we cannot be silent," says Mikael Yisrael, Director of Equity, Justice, and Engagement. "We must continue to shine a light on and unequivocally denounce racism, oppression, bigotry, and hate of any kind. We must continue to build bridges of understanding and support across divisions while disrupting and dismantling systemic white supremacy. Indeed, this work is our shared responsibility, we all have a role to play."
Speaking of plays, this year the Upper School Theatre program put on a production of "Everybody", an inventive adaptation of a 15th century morality play that addresses issues of race, white fragility, social media, friendship, family obligations, materialism, and mortality.
Alicia Fernández's kindergarten class also explored various forms of artistic expression, including puppetry and scriptwriting. The class discussed the power of words and delved into social justice issues like racism, prejudice, and gender stereotypes.
Carol Wolf's Early Childhood Catbirds watched the presidential inauguration and then wrote letters and drew artwork to send to Washington, D.C. Middle schoolers also penned letters that described their hopes, dreams, and expectations for the next four years. In his letter, Nelson Cordón '25 wrote, "One issue that is really important to me is immigration, [which is] a hard problem to fix because there are so many different steps. First, we have to let people exercise their human right of migration. Second, we have to create more jobs, so that American citizens, new citizens, and the undocumented do not end up homeless."
Juliana Morrissey, Middle School Humanities teacher, wants to provide all students with a framework to better understand who they are and how they engage with the world around them.
"It's pivotal that we create spaces to make every student feel seen, heard, and respected," says Morrissey. "By guiding students to have these conversations about their own identity and how that impacts them and the world around them, we can help to build a stronger sense of community."
(more…)
Eighth Graders Impress at a Close to Traditional EGIS Night
On Thursday, May 6 the class of 2025 presented their Eighth Grade Independent Study (EGIS) projects to family, friends and faculty. For two decades, an eighth graders time in middle school has been capped by an unforgettable EGIS program. Our eighth graders have been working all year to deepen their knowledge of a subject of interest that falls outside their school curriculum.
Thanks to the stage already in place for the school play, "Everybody," eighth grade students and families gathered to witness each student briefly talk about their project and thank their advisor and mentor. The presentations were also shown virtually on Zoom for those unable to attend in-person. Students confidently shared the wide variety of experiences they explored, including aerial flight, learning how to cook, designing and creating a mural and venturing into interior design. After the students spoke on stage, they talked to guests with display boards showing their impressive work.
The Eighth Grade team that planned, curated and executed EGIS include: Eighth grade dean Erin Timmer, English teacher Sunshine O'Donnell, Math teacher Lota Anderson, Science teacher Mike McGlinn and Physical Education/Health teacher Jon Wessel.
Spring Events at Last! Arbor Day and Ecofest Yield Sun and Fun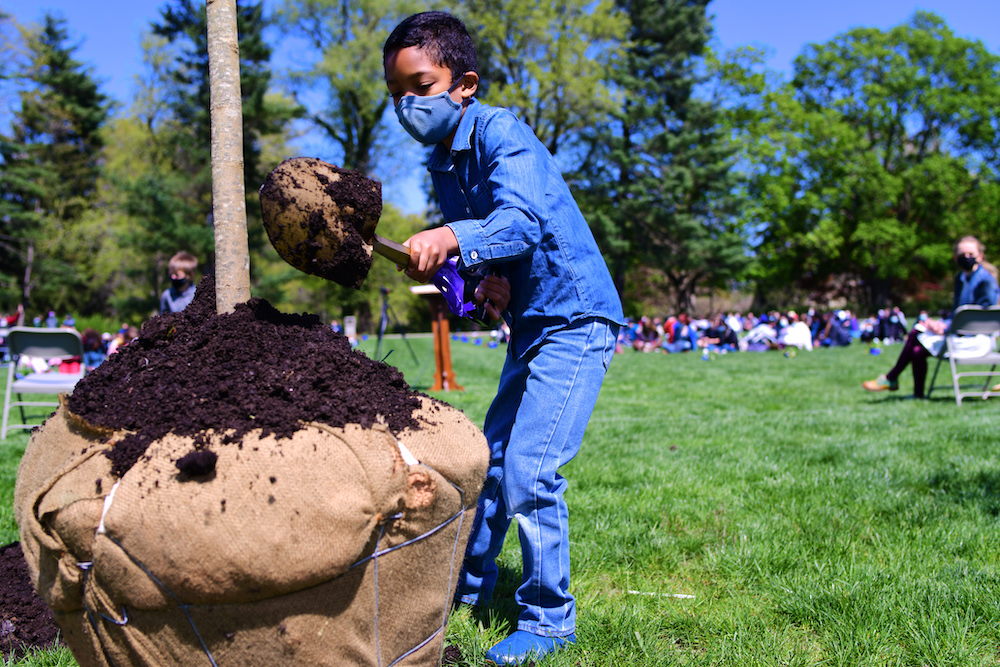 We were delighted to be able to celebrate a springtime AFS tradition, Arbor Day on Friday, April 23. In the annual tradition, dating back more than a century, Arbor Day brings our community together to reaffirm our commitment to caring for the earth. Seniors pass the leadership to the Juniors and trees are planted in honor of the senior class and the first grade. Students and faculty and staff were invited to enjoy Arbor Day, while parents and guardians were able to watch a live stream of the program, which included student music and dancing, readings and remarks from students leaders and Head of School Rich Nourie. You can watch the entire event on the AFS YouTube Channel.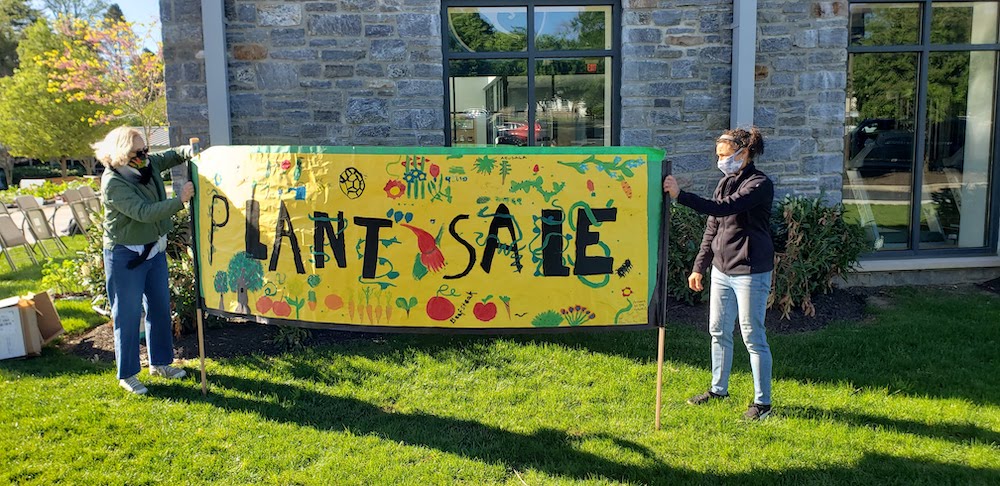 Then, AFS held its annual Ecofest on Saturday, May 4. This environmentally-centered event is planned each year for the local community. More than 100 members of the local community came to the AFS campus to recycle and donate items and to take part in the first AFS Plant Sale with the Middle School gardening clubs and FarmEx cohorts selling items grown by The Farm at AFS. Almost every single vegetable plant and herb was purchased with sales totaling $1,864!
A Commencement That Couldn't Be Dampened
The 324th graduating class closed the chapter on their time at AFS with a Commencement ceremony in the Grove of Abington Meeting House on June 11, 2021. The spring showers did not dampen the mood, as 56 seniors crossed the stage to receive diplomas. International students from China were able to join the ceremony over Zoom and given the opportunity to speak to those gathered on campus, as teachers physically walked their life-size images donning caps and gowns across the stage.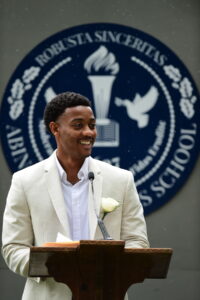 Commencement speaker Michael J. Harding '14 told students, "Remember that you are young scholar activists who have found and leveraged your voices for good. You have been willing to lean into discomfort in order to catalyze meaningful change in your communities around environmental justice and racial equity."
AFS alumna Anne Moss '70 reached out to the AFS Communications office with her own message to the class of 2021, writing, "My best wishes to the Class of 2021! I watched their ceremony and was transported back to another June 11, this one 51 years ago when my class celebrated in the Grove. I hope this class can enjoy the lifelong continuing friendships of classmates as I have with so many in the class of 1970. AFS and its memories hold a very special place in my heart."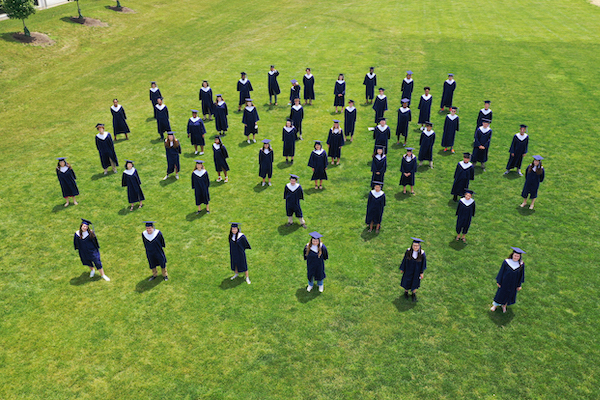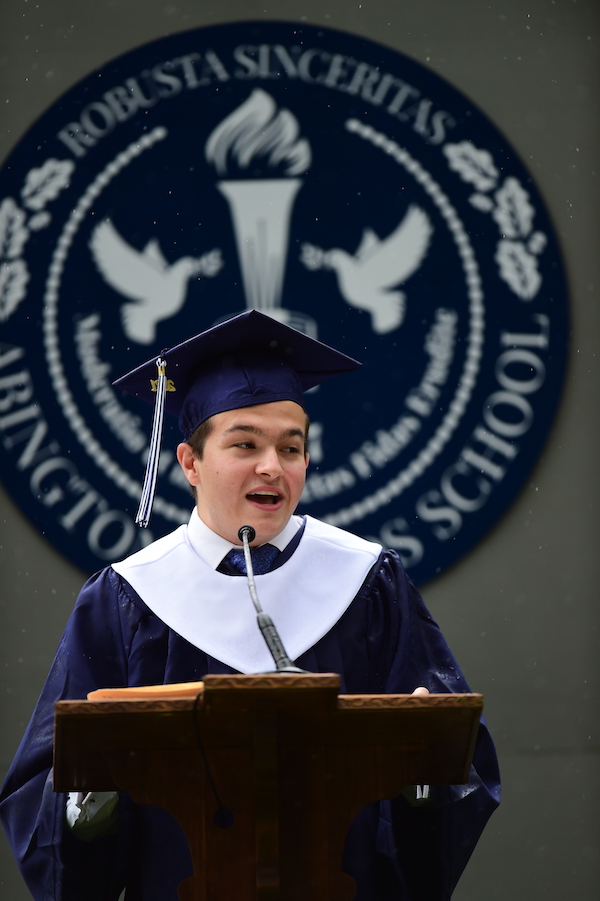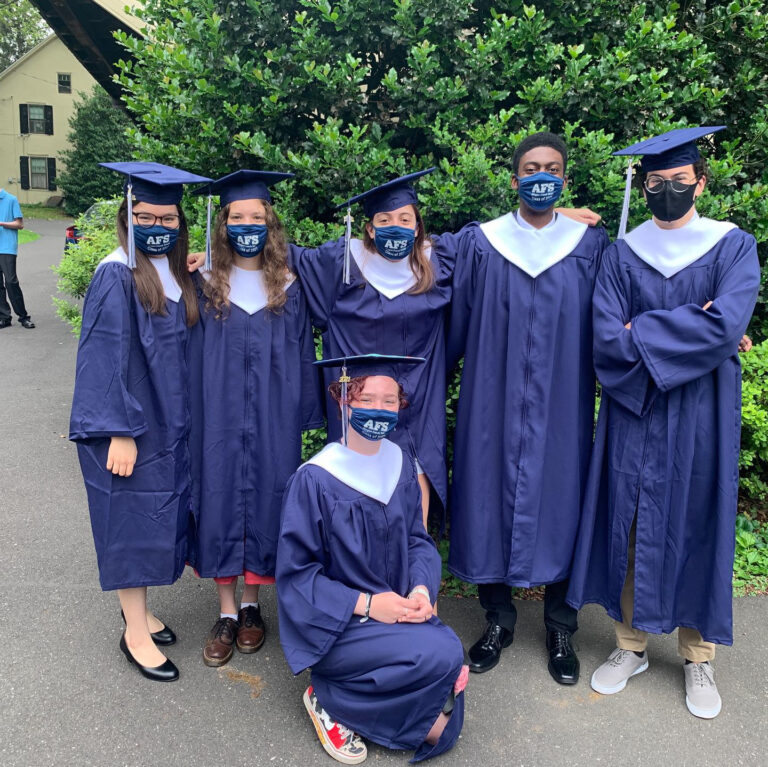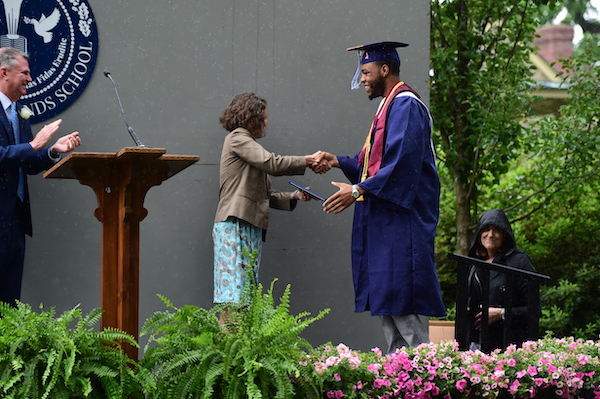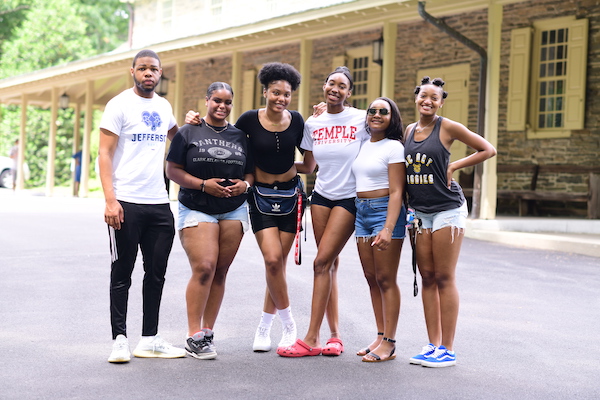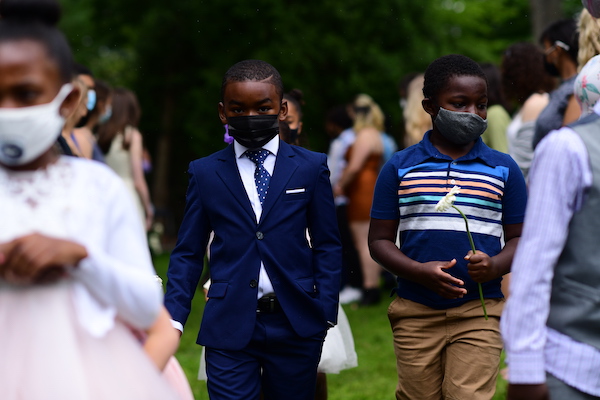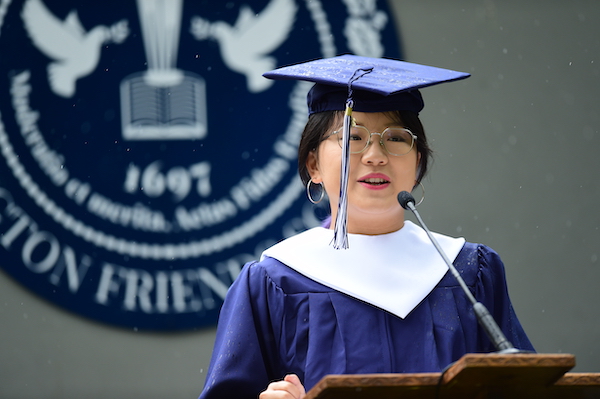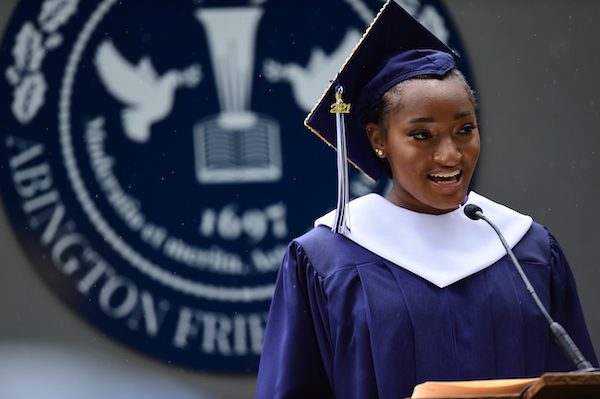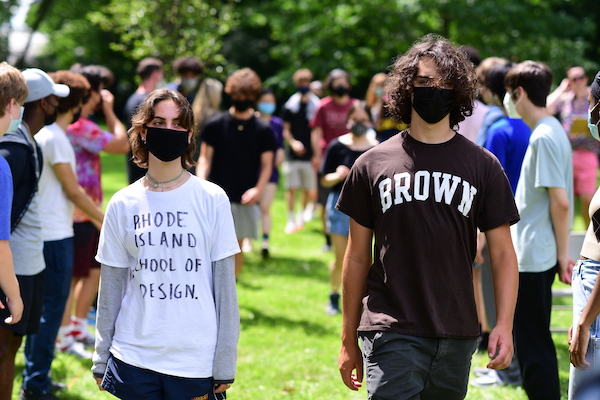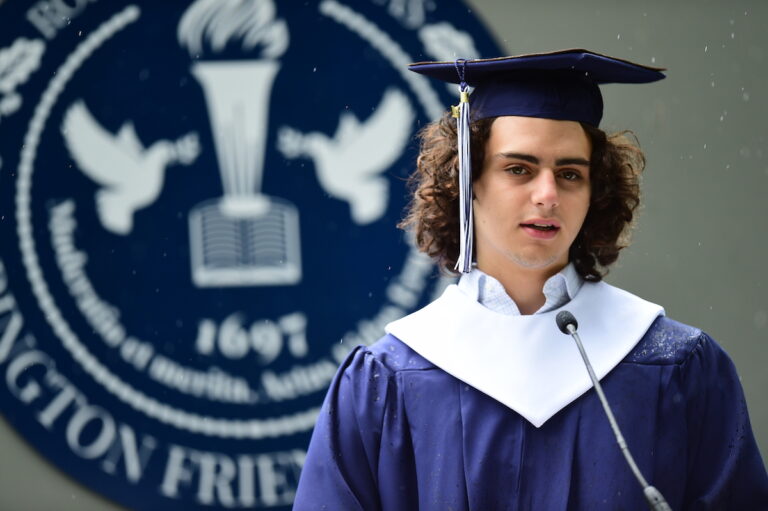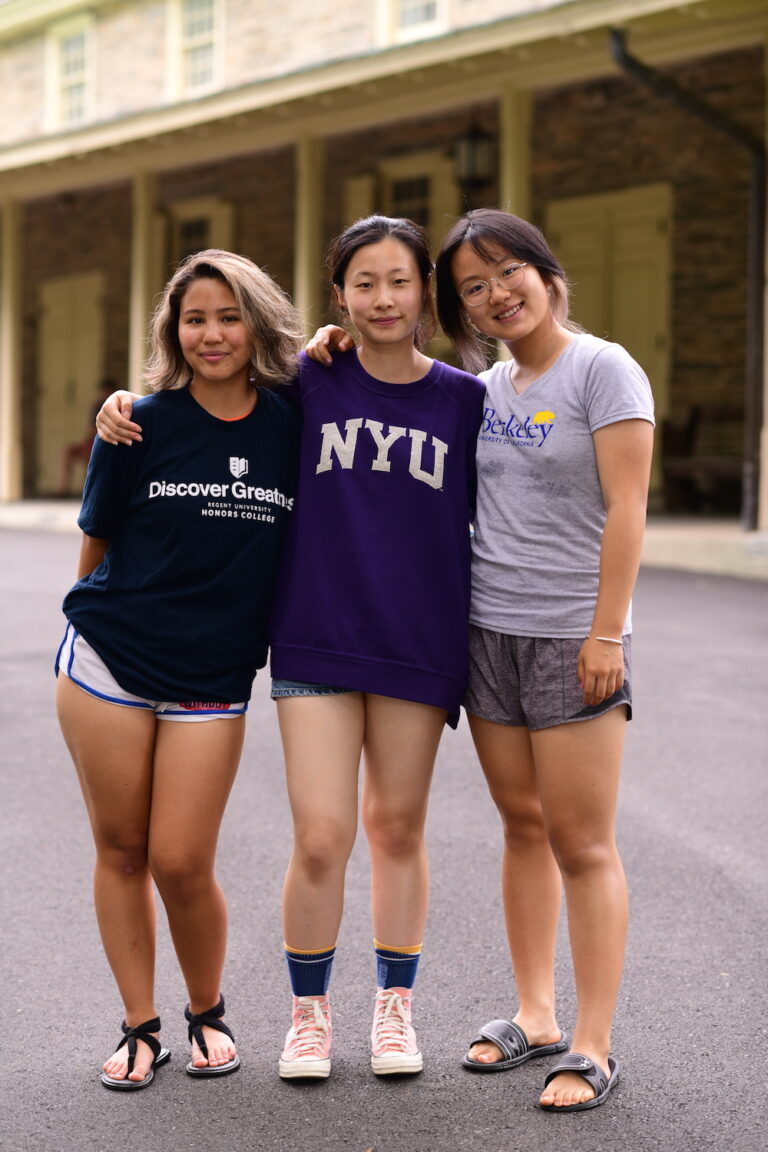 (more…)
Retirements Leave a Strong Legacy at AFS
Sandy Scott Mraz P'09, AFSA retired last school year after 26 years as a Lower School teacher at AFS. She was an extraordinary second grade teacher, whose creativity constantly advanced curriculum. Major studies like the Egypt study became renowned milestones for children and families making their way through the Lower School. Sandy has been a well-known voice of clarity and wisdom to her colleagues and her immense teaching experience—a total of 43 years in the classroom—is an amazing accomplishment.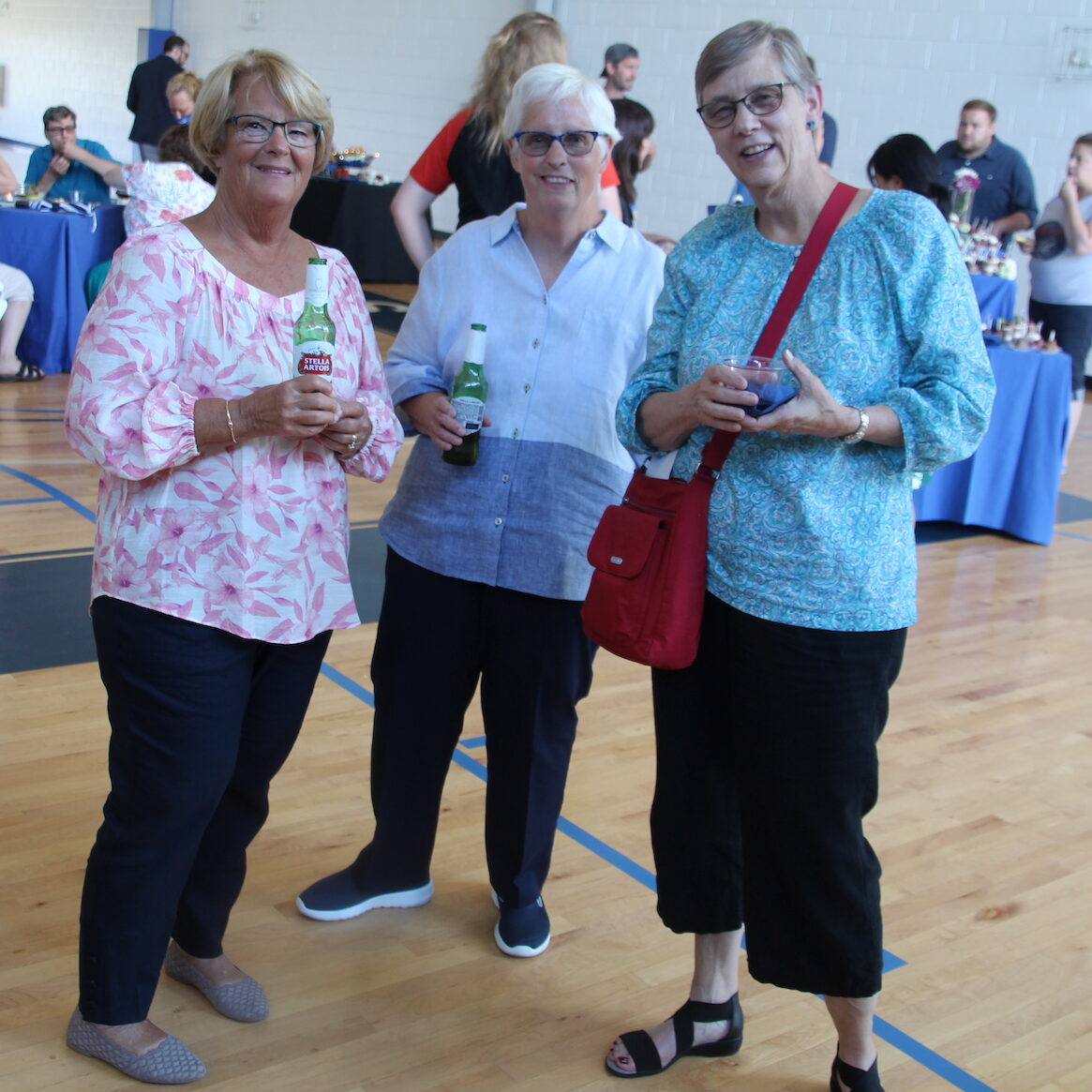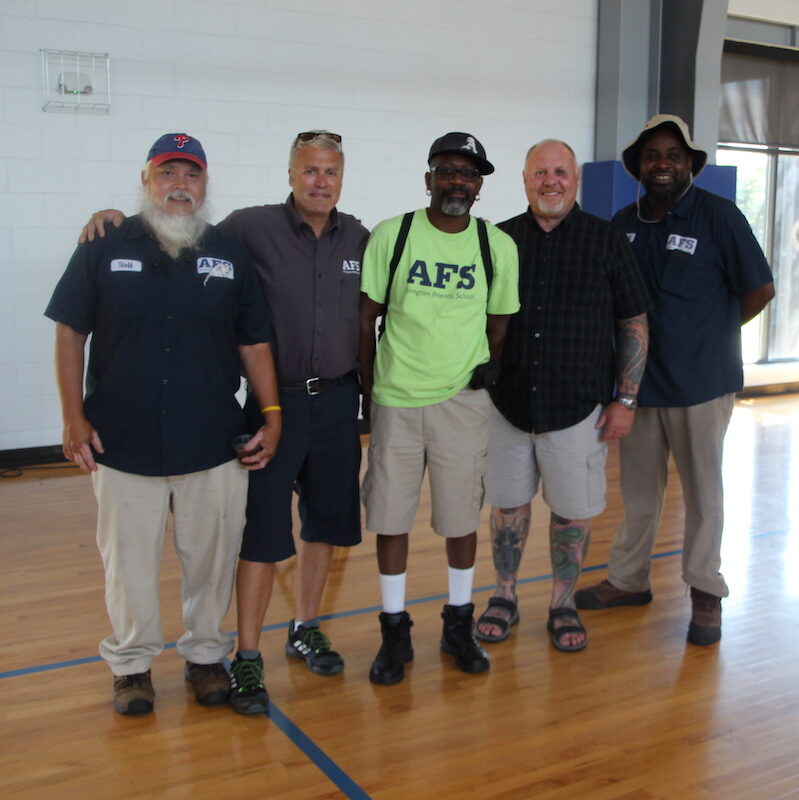 Last school year also saw the retirement of Frank Benner P'05 P'09 G'35, AFSA after 28 years as Director of Facilities at AFS. During each and every of those year, his deep care and knowledge of every inch of the AFS grounds showed in profound ways. Frank was a fearless leader of our dedicated facilities team, ushering them through a revolutionary time period in this pandemic. Prior, he aided in the growth and transformation of the campus as project manager for the construction of the Henry Faulkner Library, Student Street and the Richard N. Berman Athletics Center.
Another colleague, Ann Botel-Barnard P'98, P'06, AFSA also retired this past year after more than 20 years of teaching at AFS. Her expansive career in Language Arts education made her an integral part of the lower school faculty as a Language Arts Specialist. As Lower School Director Andrea Emmons wrote, "Ann has shaped our language arts instruction in innumerable ways, and it is hard to think about any text used by our students, writing that has been displayed in the hallways, or units of study without recalling Ann's role. She has been a dedicated teacher and community member, who has embraced teaching as a lifelong learning process."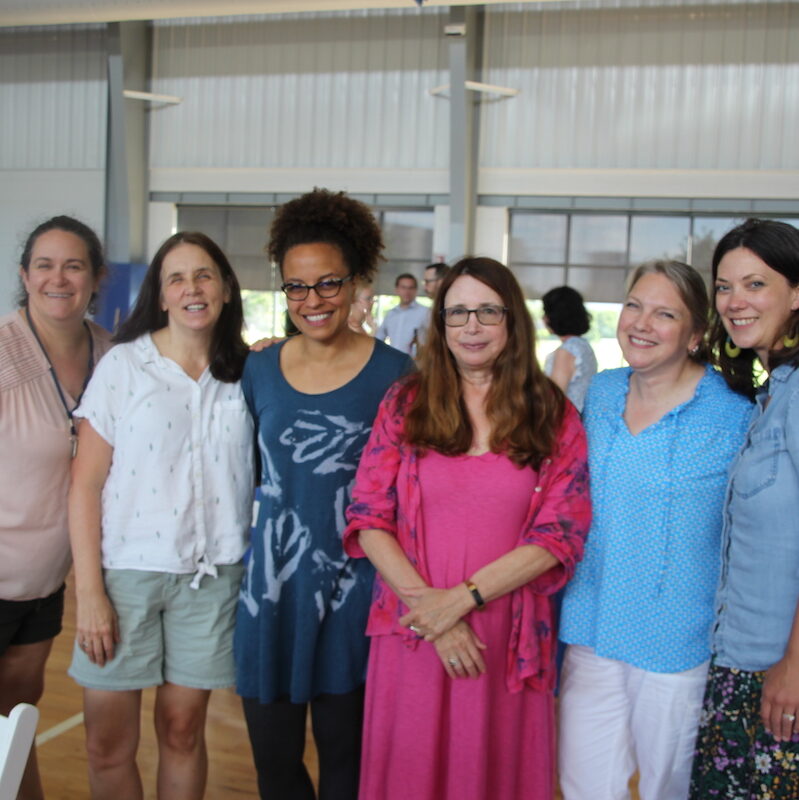 Though not a retirement, longstanding faculty member and administrator Rosanne Mistretta P'09, P'12, AFSA also departed in June from her role as Director of the Center for Experiential Learning. She accepted an exciting new role at Darrow School in upstate New York, near her home in the Berkshires, as the Director of Sustainability. Rosanne spent 22 years making an indelible mark at AFS. A former EPA attorney, Rosanne began her career at AFS as a Lower School Science teacher where she developed innovative curriculum grounded in environmental science. Her work has won national and statewide awards and recognition. In 2012, she led the development of the AFS Outside program that helped give birth to the Headwaters Discovery Playground. And in her final five years at the School, Rosanne was at the helm of the transformation and wide-reaching growth that the opening of the Center for Experiential Learning brought to AFS.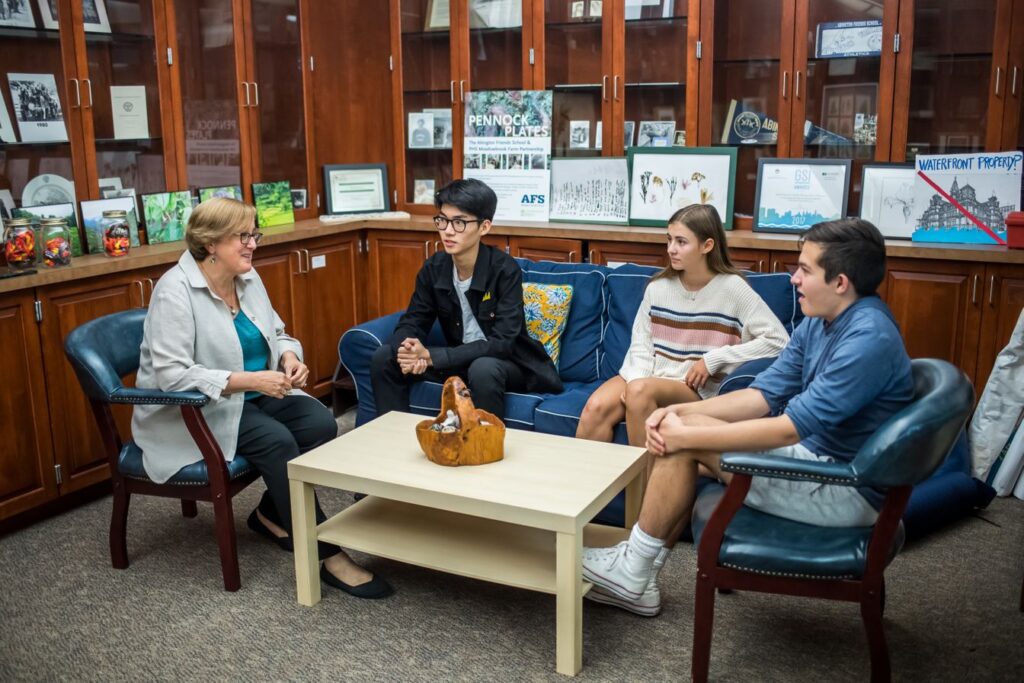 We wish Sandy, Frank, Ann and Rosanne well on their journeys and hope to welcome them back often.
New Leadership in the Upper School
Brendon Jobs was appointed as Upper School Director at AFS in July 2021. He brings extensive professional experience facilitating organizational and adult learning to his practice. He is a practiced school leader, classroom teacher and racial literacy consultant with 14 years in public and private school environments including The Haverford School, The Browning School, The Baldwin School, Penn Charter School, Central High School (PA), St. Peter's School, The Waldorf School of Philadelphia, Wilmington Friends School, Penn School of Design and more. Recently, he has been recognized as a "Top Teacher" by Main Line Today Magazine.
Brendon is a connector, building programs and relationships across school communities and drawing from a rich network that he has developed across the region with researchers, school leaders and teachers. Central to his vision is the power of relationships and collaboration, with students, colleagues and families, to together build school communities of academic depth and meaning, social emotional strength and wellbeing, a shared ethic of systemic equity and transformational opportunities available to all. As a school leader, his interests range from the craft of classroom teaching to strategic visioning for schools in the 21st century.
Brendon succeeded Dom Gerard who Rich Nourie described as "a thoughtful, caring and generative leader of the Upper School for the past five years." We welcome Brendon and his many gifts and appreciate Dom's work and spirit greatly, holding him in the light as he moves on to his next chapter. Read More about Brendon and AFS in the Philadelphia Business Journal.