The Year in Review
School Traditions Anew
On Friday, October 28, 2019, another successful Field Day was logged into the AFS history books! The Blue Team came out on top this year after events such as relays, sprints, flag football soccer, hula hoop races and more.
A favorite event is the Field Day seniors vs. faculty and staff "Tug of Friendly Conflict Resolution." For another consecutive year, faculty and staff toppled seniors in a well-earned struggle.
---
The joyful tradition of Winterfest played out in the Berman Athletics Center for the first time in December 2019. The entire school entered division-by-division for a presentation that highlighted the diversity and connectedness of the AFS community. Emcees Kendall Hodges '20 and Sam Gauck '21 led the crowd through a program that was inclusive of winter holidays and celebrations such as Christmas, Kwanzaa, Hanukkah, Eid al-Fitr, Diwali, Lunar New Year, and Epiphany. In keeping with AFS tradition, the program closed with upperclassmen lining up in front of the full student body and displaying colorful posters as they recited the "Winterfest Poem."
---
On Friday, February 7, the entire school gathered for a Lunar New Year Program in the Berman Center gymnasium. Several of our Upper School international students, along with the support of faculty and staff members, put together this impressive all-school event to educate everyone on the Lunar New Year holiday and on Asian culture. The entertaining assembly included a performance by lion dance troupe Penn Lions, a dance performance by the third grade and several musical performances from students. Our international students received touching video messages from their families in China and the assembly closed with a surprise faculty flash mob where teachers danced their hearts out to BTS "Boy with Luv."
The Lunar New Year Planning Committee included: Tina Yen, Buer Su, Andrea Emmons, Felix Chen, Keisha Hirlinger, Charles Miller, Matthew Eskin, Dominique Gerard, Erin Bengtson, LaToya Miller and students Lucy Duan '23, Jiahe Wu '22, Sara Ni '21 and Joie Li '20.
---
On Thursday, May 21, 2020, the class of 2024 presented their Eighth Grade Independent Study (EGIS) projects to family, friends and faculty. The eighth grade teaching team had to get a little extra creative with EGIS Night this year! For two decades, the culmination of the EGIS program at AFS has been one of the school year's most exciting events and our teachers did not let the pandemic stand in the way of the ceremony. Eighth grade students and families gathered to watch the presentations as a YouTube Premiere where students conveyed their experiences exploring a wide range of study topics including aerial acrobatics, learning a new language, playing an instrument and publishing a book. In lieu of physical display boards, students created websites to outline their work.
Enjoy the EGIS Night video above to see the student presentations and click here to see the students' online EGIS boards!
The eighth grade team that planned, curated and executed EGIS included: Social Studies teacher and eighth grade dean Erin Timmer, English teacher Sunshine O'Donnell, Math teacher Justin Solonyka (now, also Director of Choral Music), Science teacher Mike McGlinn and Physical Education teacher Nikki Kent.
---
In May of 2020, Technical Theatre Director Seth Thomas Schmitt-Hall produced a touching Arbor Day video, which the school community viewed during a virtual watch party. The pre-recorded program included student music, readings from students and remarks from Head of School Rich Nourie. Rich shared, "Today, we give thanks for the reassurance of the spirit revealed in the magnificence of nature, are reminded of our role in stewardship of the earth and experience once again the power of traditions like Arbor Day to bind us together."
In the annual tradition, dating back more than a century, Arbor Day brings our community together to reaffirm our commitment to caring for the earth. Seniors pass the leadership to the Juniors and trees are planted in honor of the senior class and the first grade.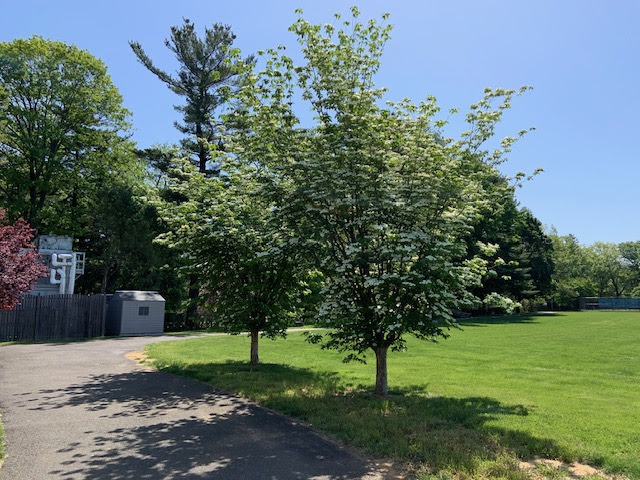 ---
In June, as the 2019-20 academic year drew to a close, AFS Athletics produced and shared a video with the school community to pay tribute to the resilience required to be an athlete during the pandemic.
The video also highlights significant individual and team achievements from 2019-20, and offers memories from the spring of 2019—an ode to the athletes who did not get to play during the 2020 spring season. Not every team is included, nor is every athlete, but these images serve as a representation of all of the Roos who took part in AFS Athletics this year. The 2020 Upper School Athletic Awards are listed here.
See more Year in Review