Messages from the Alumni Office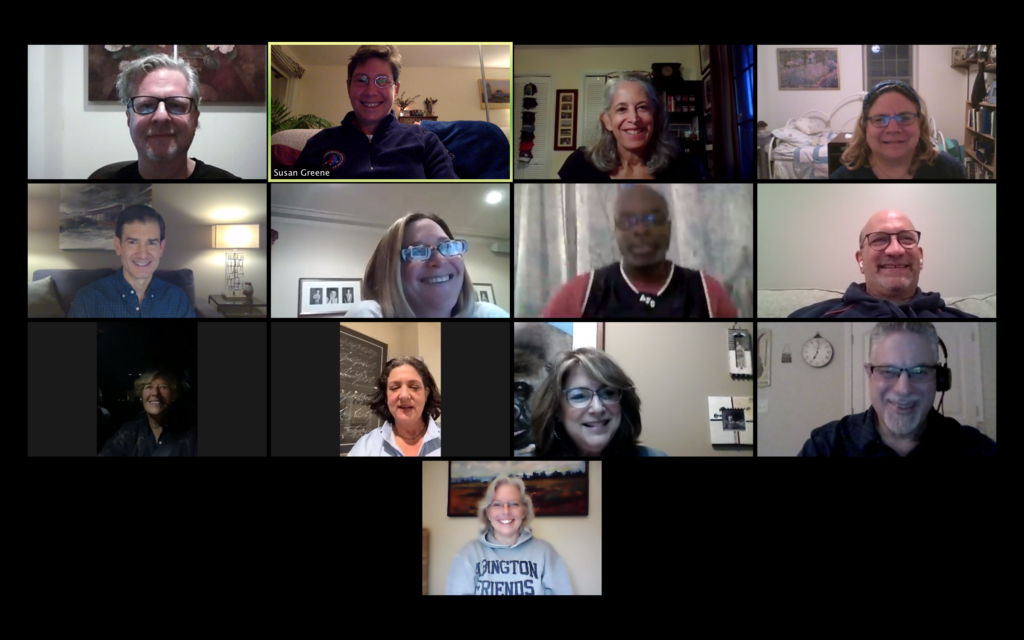 A Virtual Alumni Weekend and Reunions
This year we were thrilled to host our first-ever virtual reunion for Alumni Weekend 2020. Our alumni worldwide were able to join us from both coasts of the United States and as far away as Jerusalem and Sweden!
The lineup of events included Networking with Alumni, Open Mic, RooPRIDE, Lifelong Learning sessions, and our Alumni Meeting for Worship over Zoom. Thank you to all of our alumni who lent their talents and voices to this year's Alumni Weekend. Click on the event title below to view recordings of some of the sessions:
AFS Networking with Alumni
AFS Open Mic – Access Passcode: =P+U9k9M
Coffee Hour with Mary Lynn Ellis, AFSA
Presidents and the News Media with Drew Benfer
AFS Happy Hour Jams with Rich Nourie and AFS Faculty
Another highlight of Alumni Weekend were the class reunions that took place among classes. With the help of volunteer Reunion Class Clerks, classmates joined together virtually for catching up and reminiscing about being lifelong Roos. A special thank you to all the reunion class clerks for their help and planning this year:
Learn more about being a Reunion Class Clerk below!
---
Seeking Reunion Class Clerks to help plan milestone reunions!
Curious about your classmates? Want to help bring everyone together for a virtual happy hour or reunion? Be a Reunion Class Clerk! Working in tandem with the Alumni Office, the primary responsibilities are:
to connect and communicate with your classmates
to help build excitement and encourage attendance on Alumni Day
to encourage gifts of any size to the Fund for AFS in honor of your reunion
Communication efforts can be done over email/phone or through the AFS Alumni Facebook Group. There are no required meetings. The Alumni Office administratively supports the Reunion Class Clerks.
Interested in being a Reunion Class Clerk?
Email Lisa Budd, Director of Alumni Engagement, lbudd@abingtonfriends.net
---
Be A Mentor!
Through the Center for Experiential Learning (CEL), students have the opportunity to travel locally and abroad to benefit from in-depth, real-world experiences and mentorship. Rooted in the Quaker belief that experience is a student's most powerful teacher, our school provides students with invaluable professional and cultural experiences. Currently, the Center is looking for mentors and presenters for the 2020-2021 school year for its learning cohorts MedEx, BizEx, LawEx, ChefEx, FarmEx and the Senior Capstone Program.
Interested in volunteering or connecting students to external internships?
Email Lisa Budd, Director of Alumni Engagement, lbudd@abingtonfriends.net
Coming Up!

Alumni Day October 2021
All alumni are invited to reunite for alumni events next fall.
We will be celebrating milestone reunions for
those classes ending in '6 and '1.