On Monday, January 21, Abington Friends School once again will host a "King Day of Service." This is always an inspirational day of community-building as we work together with volunteers from across the region on behalf of those in need.
Advance registration is closed but walk-ins are welcome. Please note there is a change in the start location due to the chilly temperatures. Registration will now be in the Muller Lobby on the School's campus (575 Washington Lane) starting at 9 a.m. and the opening program will be in the Muller Auditorium beginning at 9:30 a.m. Projects will begin at 10:15. The event will wrap-up by 12 noon.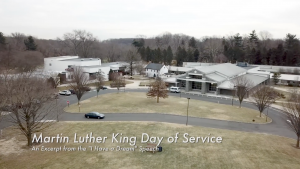 "When people gather to work together, to get to know one another and do so in the spirit of community and care for others, the impact of a day of service is magnified," said Lower School Director Andrea Emmons, who directs the event. "When we honor the life and work of Dr. King, we are lifting up the ideal of who we can be as a community and as a nation. A Day of Service is a way of actively working toward that ideal."
We invite you to celebrate the life and work of Dr. Martin Luther King, Jr. as we engage in meaningful projects and share in the collective light of community.
You can pick a service project from more than two dozen options. All materials are provided. Here are a few examples:
• Hat-making and scarf-making for Mitzvah Circle
• Assembling winter-care kits with Whosoever Gospel Mission
• Meal-making for Aid for Friends
• Craft and Activity Kit Assembly for St. Christopher's Hospital
• Make casseroles at home or assist with activities at local retirement communities