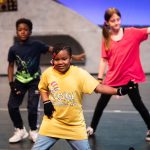 Enrollment is Now Open for the 2020-2021 School Year! 
Enrollment is now open for the 2020-2021 school year. Log on to the AFS Portal to confirm your enrollment.
At AFS, you are part of an authentic and ambitious school culture. A Friends school is a unique education; it is thoughtful, ambitious and integral to the development of young people. We know your kids, we love your kids and we are excited to continue to grow and learn together with them.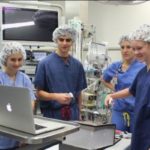 Same School, New Discoveries
With each advance in grade comes new opportunities for parents and students. There are new events to attend, teachers to meet and insights developed.
Younger students may be on the brink of learning how to read, reciting a poem, understanding melody in music, engineering a new bridge structure in science, or presenting their research in Spanish.
Older students may be deciding to enhance their school experience by auditioning for one of our award-winning theater performances, applying to a small cohort of experiential learning such as MedEx or BizEx, preparing to lead a diversity and inclusion workshop, prepping to play a Varsity sport, studying to compete in Model UN, or thinking about travel to another country on one of our cultural immersion experiences.
Our philosophy is based on a powerful academic program with a high premium placed on learning through inquiry and experience. We know and appreciate our students for who they are and the voices that they bring to our community. We welcome you to enroll by February 14 for the AFS 2020-2021 school year.
We acknowledge and appreciate your active choice in your child's education. Thank you for recognizing the value of an AFS education.
To begin the enrollment process: 
Log-in to the AFS Portal

here

. If you need more information on accessing the AFS Portal, please view

these instructions

. 

After logging in, you will receive a banner notification with your enrollment next steps. 

Click the Review button to access your enrollment contract. Please note the contract is entitled "Smart Tuition Contract"

Tuition and tuition assistance award information, where applicable, will be listed on the second page of the enrollment contract.

All enrollment materials are

due no later than February 14, 2020

. You will be notified of additional parental permissions and forms required for the new school year over the summer. 
If you need assistance: Contact the admission office at 215.576.3950 or admission@abingtonfriends.net