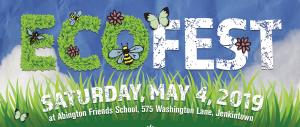 EcoFest is an annual event held at Abington Friends School. This event is run by the AFS Home & School Association with the goal of carrying out the Quaker values of stewardship and community.
EcoFest – 9 a.m. to noon
Clean out your closets, cabinets, shelves, garage, attic or shed and donate all of your unwanted, gently used items in one stop. There will be electronic recycling, donation drives, a balm and bug repellant workshop, as well as interactive and informational activities.  All events are free and open to the public and will be held rain or shine. Volunteers will be available to unload items from your car. 
Also on May 4, Nature Playdate – 10 a.m. to noon
A morning of fun activities for young children with nature at the core. Details available on the Nature Playdate event webpage.
We are excited to announce some fun new workshops at EcoFest: 
Make your own Summer Bug Balm 9 – 10:30a.m.
Learn how to make a natural Bug Balm with the Artisan of Nyambi Naturals, a herbal inspired beauty by the batch bath and body care company in Philadelphia. This is a free, hands-on workshop. Please register in advance.
Pollinator Friendly Plants  9 – 10 a.m.
Briar Bush Nature Center is offering a program discussing Pollinator Friendly Plants from 9 – 10 a.m. Pollination is the process of moving pollen from one flower to another of the same species, which produces fertile seeds. Almost all flowering plants need to be pollinated. Some plants are pollinated by wind or water, and some are even self-pollinating, and some require the assistance of bees, hummingbirds, moths and the like. Plants will be sold after the workshop for a small fee. Please register in advance.

---
Click on the organization's name below for more information and lists of accepted donation items. 
ELECTRONICS RECYCLING with 611 Metals Recycling 
611 Metals Recycling will collect and destroy almost anything with a plug for future recycling. See the Acceptable Items List for specifics. They are unable to recycle TVs. CRT Monitors are subject to a $20 per item disposal fee.

FURNITURE & HOUSEHOLD ITEMS DONATION with Habitat for Humanity
Habitat for Humanity will be onsite to collect household items, building materials and furniture for resale at ReStore.
CLOTHING & HOUSEHOLD ITEMS DONATION with Greendrop
GreenDrop will be on site to collect clothing, games, cookware, small appliances, working electronics, books and more.
FOOTWEAR DONATIONS with Play It Forward Sports
Pay It Forward Sports will be collecting cleats and shoes for distribution around the world.
PROMWEAR AND CURRENT FORMAL WEAR DONATIONS with Red Glam Event, City of Philadelphia School District.
Red Glam Event hosts an annual day to give away prom wear to students free of charge. They accept current fashions only and items must be free of rips and stains.
All events are free and open to the public.