Abington Friends and MANNA present a Community Conversation on Food, Equality and Justice in the Philadelphia region.
Wednesday, March 11, 6:30 – 8:30 p.m. in the Faulkner Library.
All are invited.
Expert panelists will focus on healthy food access in communities — from food as a foundation for health and wellness to food that is medically tailored for healthy eating and disease management. The event will include Q & A and networking, You will be sure to leave this conversation with heightened awareness around food insecurity in Philadelphia. Professional resources on topics about eating healthy on a budget, access to fresh produce and the "Healthy Philadelphia" initiative will be provided.
Moderated by Toni Graves Williamson, Director of Diversity and Inclusion, Friends Select School and Co-founder of Community Conversations on Race.

Panelists include:
Tonya Thampi-Sen, Community Nutrition Program Manager, Coalition Against Hunger
As Nutrition Program Manager for the Coalition, Tanya teaches community members how to eat healthy on a budget and advises local food pantries and soup kitchens on ways to provide healthier food to their clients. Tonya will speak about how her work with Green Light Pantries have improved healthy food access within communities. She will share her experience with how this shapes a sense of wellness for community members and what is needed in the futures to sustain healthier food access for this who are food insecure.
Tony D'Orazio, Co-Executive Director, Carversville Farm
Tony has found a way to blend all the things he cares about—interesting work, targeted philanthropy, the environment and the well-being of his part of the world—in one place: Carversville Farm Foundation. Part of the mission of Carversville Farm Foundation is to produce fresh sustainable food specifically for donation to populations who lack access to a balanced diet.  Tony will talk about the work of his Carverville Farm Foundation including why he decided to follow this path and how he sees his work impacting communities now and in the future.
Marla Gold, MD,  FACP, Professor and Dean Emerita, Dornsife School of Public Health, Drexel University, MANNA Board Member
Dr. Gold has dedicated her career to understanding and creating integrated systems of health care delivery, issues of public health infrastructure and health administration and leadership. She currently serves on the Philadelphia Mayor's Advisory Committee for "Healthy Philadelphia" – interventions designed to reduce obesity, diabetes and smoking among the region's population. Marla will talk about how medicine and public health can come together to address issues of food equity and justice. What are physicians and public health professionals doing in this area now? How can efforts be coordinated and sustainable?
Emma Leister, Registered Dietitian Nutritionist, MANNA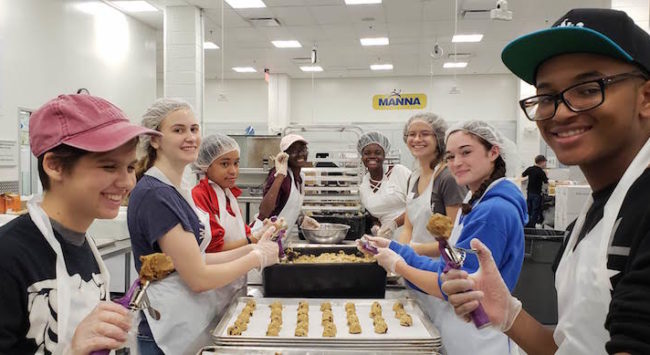 The Abington Friends School Community Service Club and Upper School Spanish Classes have been working with MANNA through a partnership and grant from the Friends Council. Students have volunteered their time to help with a variety of tasks at MANNA locations. They have also been working on a year long project re-writing MANNA brochures in both Spanish and English. We are thrilled that this partnership has led to hosting this event for students, adults and anyone interested.