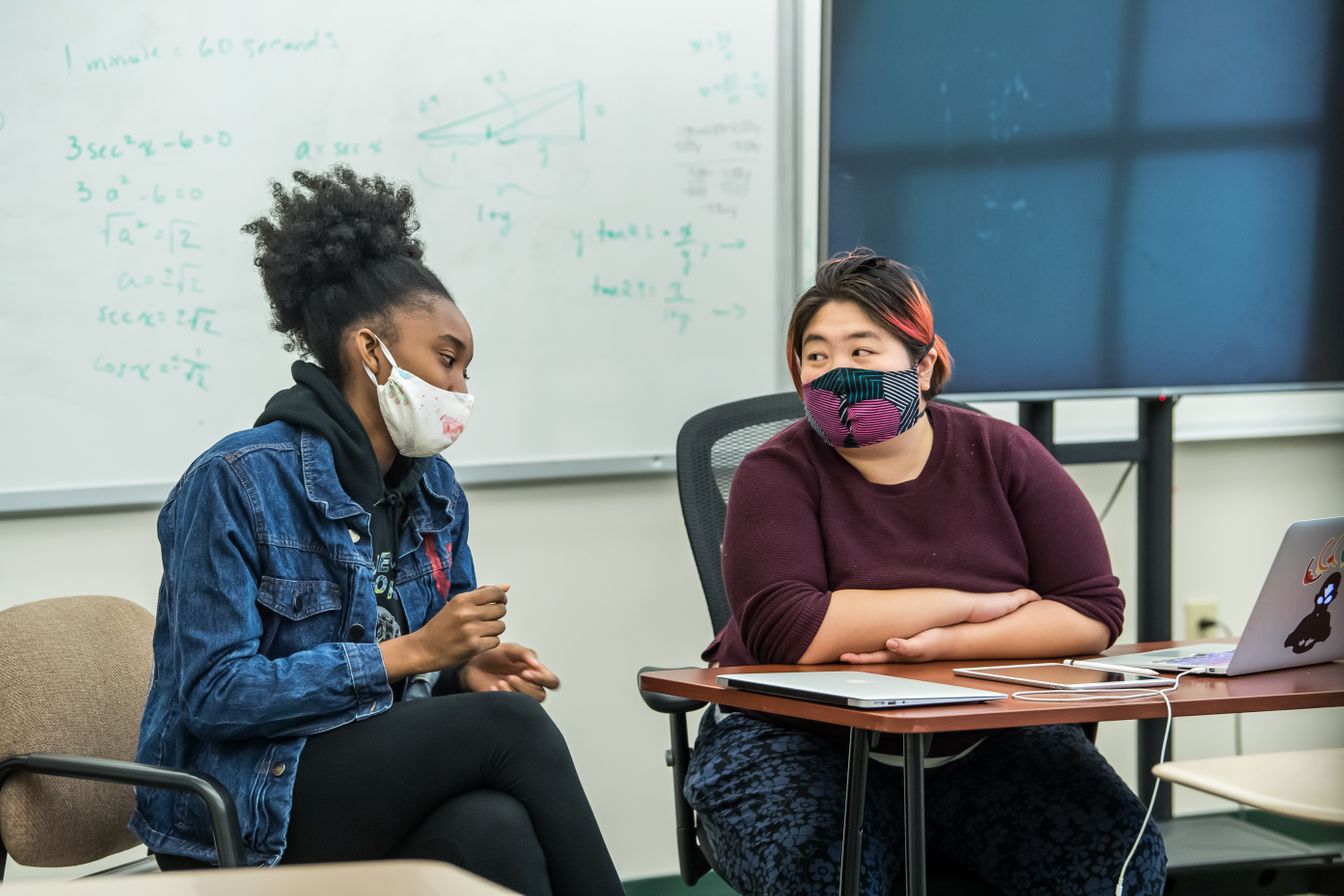 Evaluation and growth is a key part of children's education, as it allows educators to gauge students' comprehension. Our philosophy includes writing reports and providing individual instruction. We don't give grades until Middle School, and we do not teach to the test and we believe that this benefits a student's interest in learning.
Here at Abington Friends School, we believe that student evaluation provides a needed avenue for student and teacher growth. After all, personal and academic development doesn't end as an adult — even as we guide children through their education, we as educators can evolve. Change and growth are key values in an Independent Quaker education.
What is Academic Evaluation?
Academic evaluation is the teacher's assessment of their students, but also students of themselves. At AFS, this is an ongoing process to make sure students are progressing, growing, happy, and healthy. Sometimes, a student self-assessment or survey can be used as well to help.
A survey may contain questions on a variety of topics:
• Students' comfort asking questions
• Quality of the classroom environment
• Equity of discipline within the classroom
• Student engagement with peers and projects
What is the Abington Friends School's Academic Evaluation Philosophy?
As a Friends establishment, we believe that school is about more than grades and test scores — it's a community. Students are supported emotionally, socially, and spiritually, in addition to academically. The best way to ensure that is to keep communication lines open between administrators, teachers, parents, and students.
As the people experiencing the classroom daily, students are in the best position to offer insight into their learning environment. Student evaluations allow us to understand our charges' concerns, especially those they may not be comfortable addressing directly. By regularly gathering this information and communicating through teacher reports, advisory, and conference days, we can ensure that children enrolled in our school are receiving adequate support.
How Do Students Benefit?
Beyond influencing administrative and educational changes, the variety of evaluation types that we are able to offer are certainly value added benefits to educating students. For much of U.S. history, education was considered a one-way street; instructors were the keepers of knowledge, which they imparted to their students. In this model, students were envisioned and told to merely receive information without processing it through their own perspectives.
Inviting students to participate in an assessment and school subject matter recognizes that children are active agents with important input. Through this student-centered approach to education, they're able to practice skills that will become important in adulthood as well as form a perception of themselves as active agents in their education.
Allows Students to Express Their Perspectives
How often are children told their perspectives are valued? Unfortunately, there are plenty of examples in both historical and modern settings where kids' feelings and opinions are dismissed. At Abington Friends School, we
want our students to know that their thoughts and emotions are valid; we also want them to develop introspection that allows them to evaluate their own experiences critically.
Asking nuanced questions about the learning environment is one way to encourage students to consider their experiences. Asking these questions can prompt students to reflect on memories and examine their feelings about them. Practicing these critical inquiry skills is invaluable for students who can use them in a variety of future situations:
• Conflicts with peers
• Interactions with coworkers
• Communications within personal relationships
Allows Students to Practice Communication and Critique
Assessment and evaluation in higher education and beyond are constant; students are often expected to offer critical thoughts about the subjects they're studying. This is why we teach critical thinking skills in preschool through grade 12. Critical inquiry and reflection take practice and many students do not receive this type of skill or training until college. Our academic program leads to a high achieving college preparatory educational program.
Provides Opportunities for Students to Participate in Their Education
Finally, we offer so many opportunities for kids to be their own advocates. Students start to attend their teacher conferences with their parents as early as third grade. Students receive written reports about their progress, learning, and growth and there are many opportunities to discuss the reports. They learn that their voices matter and take this confidence with them into college and the workplace. Standing up for ourselves and advocating for positive environments can be difficult, but with practice, it becomes something taken for granted.
How Can You Enroll Your Child in Abington Friends School?
Abington Friends School believes in nurturing the whole child, which is why we strongly encourage parental and community participation in children's education. If this sounds like an environment your child will thrive in, we invite you to learn more by calling 215-886-4350 or contacting us online.