Ajae'Lyn Price '22 (pictured middle above with her dad and stepmom), 18, a talented student attending Abington Friends School, was recently awarded a full scholarship to Boston College through QuestBridge, a program that connects high-achieving students with some of the nation's top universities.
Price's path to a four-year college was not a trouble-free one. Starting from a young age, she faced a great deal of adversity that made her life far more challenging than most others.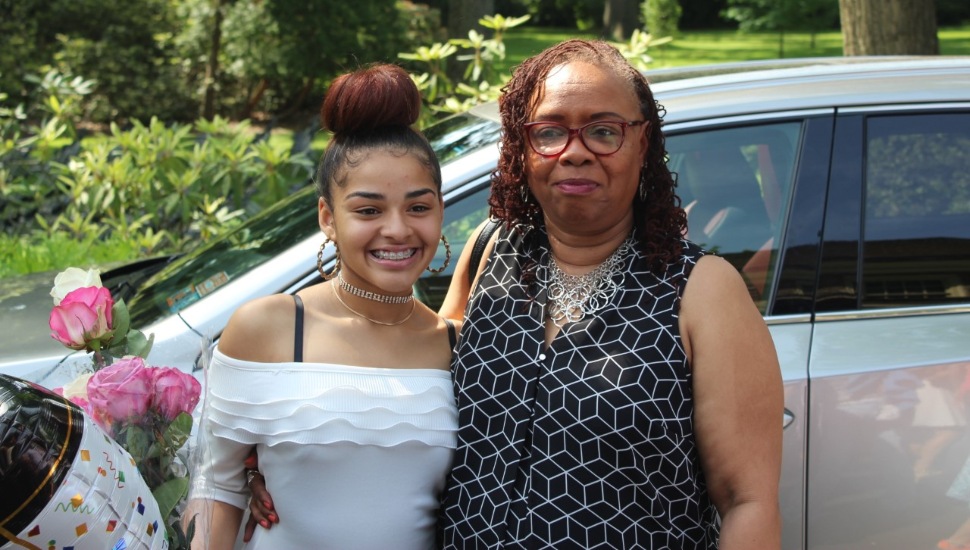 "My parents have been incarcerated since I was 16 months old," said Price. For her, they were not there to provide the stability and guidance parents typically provide.
But thankfully, Price had her grandmother, Rosalyn Holly-Price, in her life. Her grandmother raised her and was a strong guiding light in her life through her years. She was pivotal in both helping Price choose Abington Friends School and in finding college scholarships to live out her dreams.
Sadly, her grandmother passed away from COVID-19 this past year.
"In fourth grade, I started a program called Stepping Stone that my grandma introduced me to," Price said. "During that time, you had to go through an interview, you had to write an essay, and you had to also take, I believe, two tests. And then you were selected based on all those things in fourth grade, and in fifth grade, I became a Stepping Stone scholar."
Through the Stepping Stone program, Price was accepted to and visited various independent schools such as Springside Chestnut Hill Academy, and Abington Friends School (AFS) to decide where she might spend her middle school and high school years.
After experiencing tours, interviewing with administrators and teachers, and visiting the school while in session, Price went with AFS.
"AFS has built me to be more confident and optimistic and a more independent person," Price said. "When I first came to AFS, I was only one of two black girls in my class and one out of three black students in the entire sixth-grade class. I was able to help start something called Pride, a diversity group in the middle school. It taught me to understand that it's okay to be different, to understand who I am, who I want to be and how I can express myself in a space like that."
In addition to her academic achievement, Price launched her own business, Nu You Boutique, when she was only 14.
"At first, I was hoping to just earn money to help out with the family," Price said. "But as my business began to grow through social media and word of mouth, I've been able to grow my business beyond where I thought it could go."
Now, as she is nearing the end of her journey at AFS, Price is on the road to college – the first in her family to take that step.
During an independent study project that all eighth-graders at AFS participate in,  Price worked with a mentor in Labor & Delivery at  Christiana Hospital in Newark, Delaware. She helped to deliver two babies and the experience led to Price her chosen career path of becoming an Obstetrician-Gynecologist.
Price applied for QuestBridge in 12th grade and was accepted. With her scholar status, she eagerly started applying to colleges anxiously awaiting their responses. Then on December 1st, the one she'd been waiting for, came.
"I opened my laptop, and I found out that I got matched to Boston College, and I was hysterical," said Price. "I was crying. I didn't know what to do. I was excited."
Thanks to QuestBridge, Price's college tuition, room and board, travel, mentorship, and supplies are all covered.
Abington Friends School is known for its ability to activate goodness and growth in its students through an education that embraces ambition, seeks deep understanding, and prepares young people to face the future with a sturdy sense of self.
This story was originally published in MontCoToday