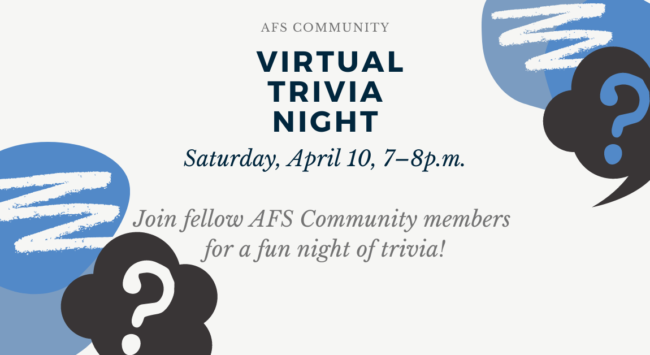 Home & School and the AFS Alumni Office invite you to this FREE event on
Saturday, April 10, 7-8 p.m. *Please note the date change. 
You can:
~ Play as a team* with your family/roommates
~ Test your knowledge and play individually
~ Play virtually with classmates/friends (must be able to connect through a separate device)
Trivia will be led by our host Bill McMenamin of McM Entertainment.
Fun Prizes given to the top 3 participants/teams!
*Teams are encouraged to consist of those with whom you live. The McM Entertainment platform doesn't support the ability for team members in different locations to be able to effectively play together. You'd need to be able to talk to each other on another device.
Here's how it works:
~ All game play will happen on www.mcment.live.
~ Participants/teams will need two devices – one to access zoom and the other to answer questions on www.mcment.live (people have used phones, iPads, laptops, computers, etc. in the past). Or, you need two browsers open side by side.
~ Zoom link will be sent out the day of competition.
REGISTRATION IS REQUIRED TO PARTICIPATE (AddEvent does not register you for the event. Please register below.)
Register for Virtual Trivia Night
Add event to calendar