Join parents, guardians, alumni and friends to explore a variety of engaging and interesting lessons from AFS educators in this virtual program series. Please register below for any or all of the sessions. Zoom links will be shared closer to each event!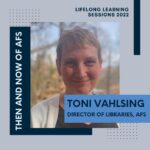 Then and Now of AFS
Thursday, February 3 from  7 – 8 p.m.
Toni Vahlsing, Director of AFS Libraries
For the 325th anniversary of the founding of AFS, Toni Vahlsing took a deep dive into the archives this summer. This interactive session will look at the buildings of AFS over time with a look at the timeline as well as some "then and now" photos. Be prepared to join an AFS History Kahoot.
---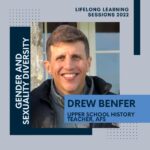 Gender and Sexuality Diversity – In & Out of the Classroom at AFS
Thursday, February 10 from 7 – 8 p.m.
Drew Benfer, US History Teacher
At AFS, there are two semester courses in the History Department: Gender and Sexuality Diversity in the Twentieth Century and Global Perspectives of Gender and Sexuality Diversity. Drew Benfer will share with you a summary of the courses and lead you through a few sample lessons. No prior knowledge is required to attend, and there will be opportunities to share your own memories and experiences of gender and sexuality diversity at AFS from your time in the Upper School.
---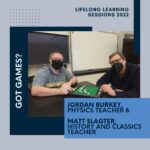 Got Games?
Thursday, February 24 from 7 – 8 p.m.
Jordan Burkey, US Physics Teacher & Matt Slagter, US History and Classics Teacher
Whether you love the old classics (Risk, Uno), the new classics (Settlers of Catan, Ticket to Ride) or the latest hot games (Azul, Wingspan), there's one thing we all have in common…we love games!!  Come share a review of a game you love with the community, and maybe discover a new favorite!
---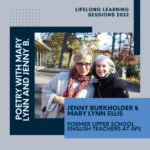 Poetry with Mary Lynn and Jenny B. 
Tuesdays, March 8 and 15 from  7 – 8 p.m.
Mary Lynn Ellis and Jenny Burkholder, former Upper School English teachers at AFS
"Language is an energy. A verb. A happening.  It has the power to change a moment. To incite a movement. To resist or to confirm. It is prophetic in many ways. What we can say, we are never far from enacting."
~Natalie Diaz
Come share the language of poetry with former AFS English teachers Jenny Burkholder and Mary Lynn Ellis for two Tuesday evenings in March. Each week, we will read a poem together, talk about its energy, and write in response. Don't worry–this is not English class. No poetry expertise needed. Just a willingness to see what happens when we pay attention to language, rub words together, feel their power. Register below for one or more of these interesting sessions