AFS Portal Enrollment Instructions for New Student and Returning Families
Logging In
To access the AFS Portal, go to https://abingtonfriends.myschoolapp.com/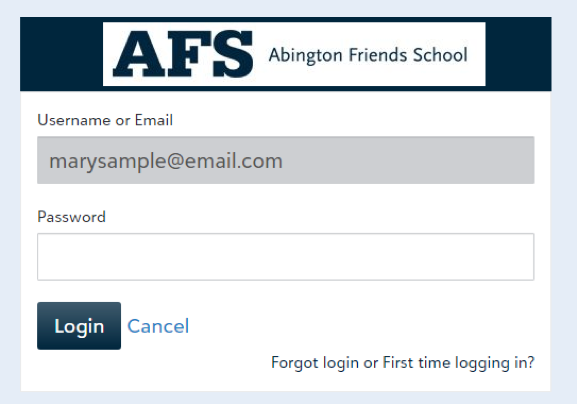 New Families: Click the "Forgot login or First time logging in?" link. This will then prompt you to enter the email address you used to submit your child's application. This will be your Username. Click the "Password" check box and then Send to receive your password via email.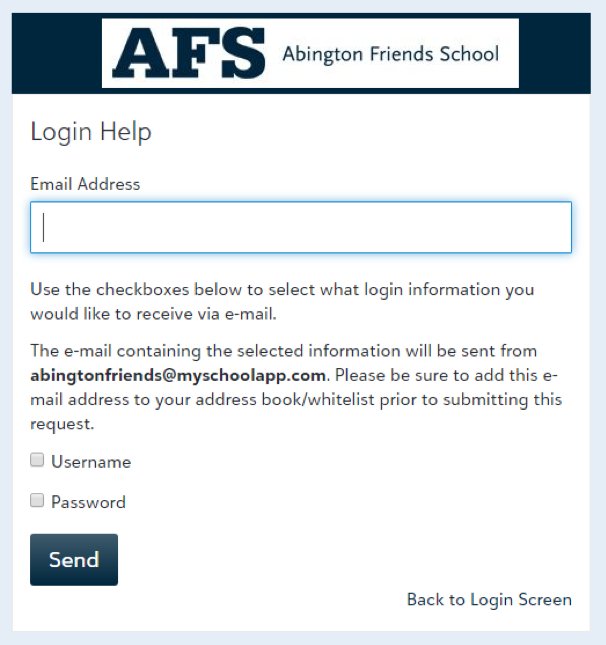 Returning Families:  Login with the Username and Password you've used to access the AFS Portal previously to submit medical records, access the directory, and view your child's progress report. If you cannot recall your password, click the "Forgot login or First time logging in?" link.
Accessing your Enrollment Contract(s)
Once you have successfully logged in to your AFS Portal account, you will see a yellow banner across the top of the screen notifying you that you have an Enrollment Contract available to you.

Click the "1 Contract(s) to Accept" link to continue. For families with multiple children enrolling at AFS, your number of contracts will reflect the number of students eligible for enrollment.
This will bring you to the "Files & Forms" page.

Due to the integration of Enrollment Contract and Smart Tuition, all enrollment contracts are entitled "Smart Tuition Contract".
Click the "Review" button to continue to your child's Enrollment Contract.
Before you are able to view your child's Enrollment Contract you will be asked if you have an existing Smart Tuition Account with AFS.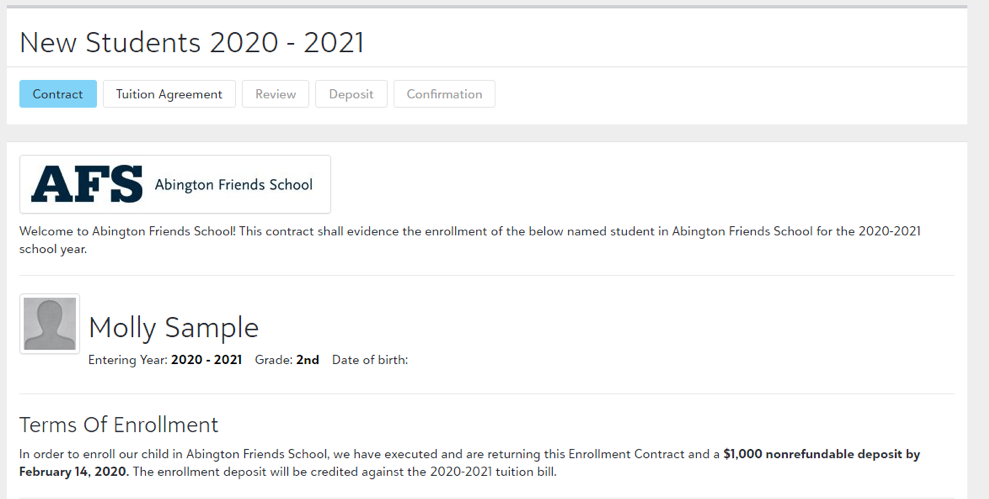 New Families: Select "No". Even if you have a Smart Tuition Account with another school, you will need to have a unique account for AFS.
Returning Families: Select "Yes". All current AFS families have an account with Smart Tuition.
*If you are a returning family with a new student, you should still select "Yes" as your new student will simply be added to your Smart Tuition Account.
Click "Continue to contract" to view the first page of your child's Enrollment Contract.

Please read through the Enrollment Contract carefully before adding your initials at the bottom of the first page.

The second section of the Enrollment Contract will detail your tuition costs, tuition assistance awards and merit scholarships (if applicable).
On this page you will also be asked to select a Payment Plan.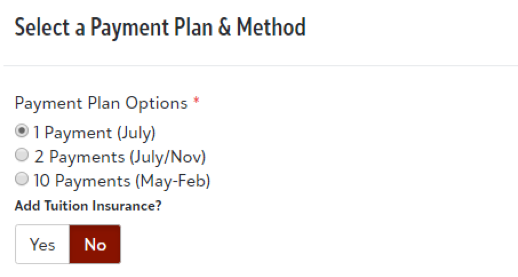 New families are required to enroll in the Tuition Refund Plan. Returning families have the option of enrolling and will make their selection (Yes or No) following the selection of their Payment Plan.
You will also be asked to set up your Payment Plan at this point in the enrollment process by selecting your preferred method of payment and payment due date.

Once you have selected your Payment Plan and payment structure, please read the remaining information before adding your signature to the bottom of the contract.

Following your signature you will be asked to review your child's Enrollment Contract.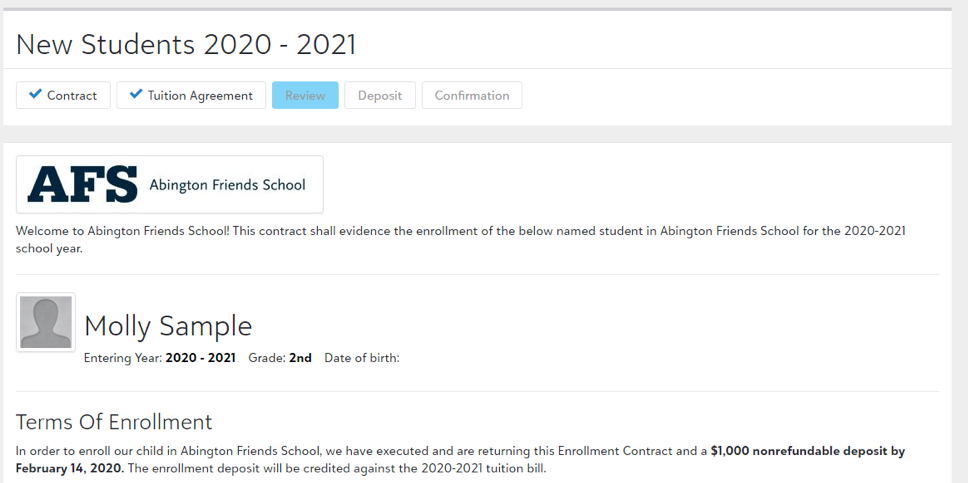 Please be sure everything is correct before moving to the Deposit page.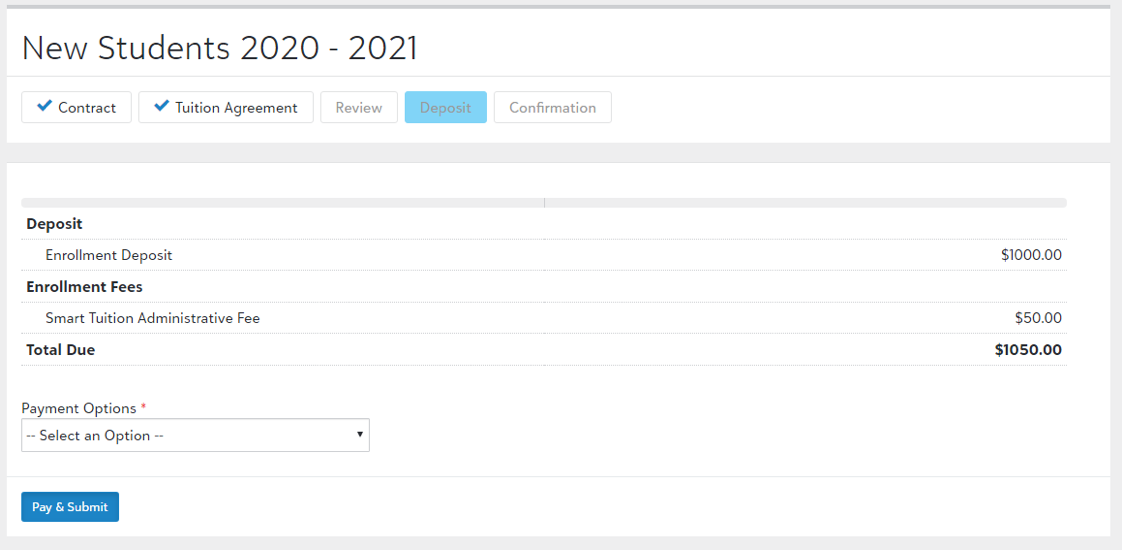 All families are required to submit a $1000 Enrollment Deposit. Families wishing to pay their Enrollment Deposit with a credit card will be assessed a 2.85% processing fee.
For families that have selected the 10-month Payment Plan, you will also be assessed a $50 Smart Tuition Administrative Fee at this time.
Please enter your payment information and select "Pay & Submit". You will then be brought to the confirmation page. If you wish to print a copy of the Enrollment Contract you will need to return to the "Forms & Files" page and click the "Show completed forms" box.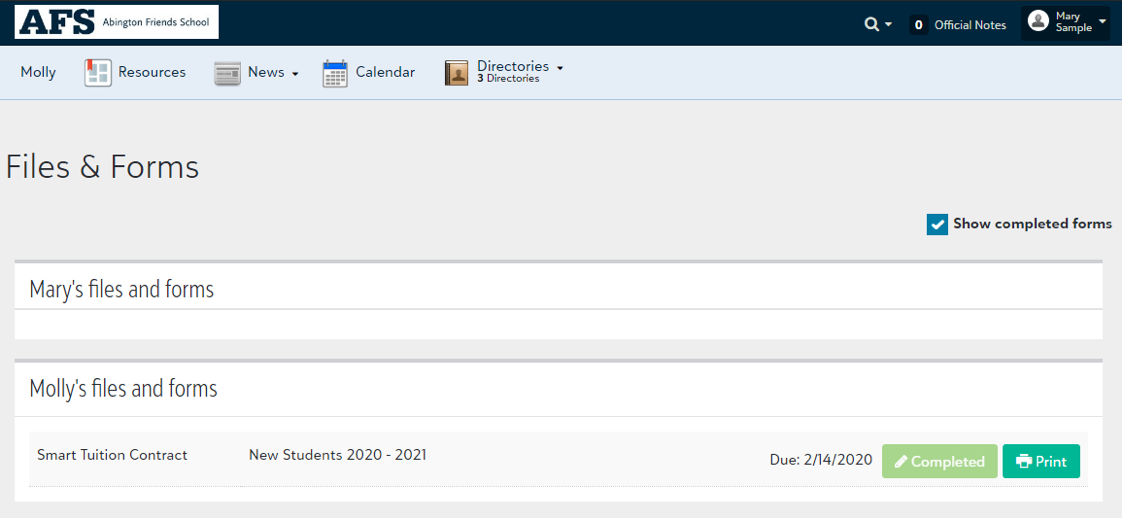 ---