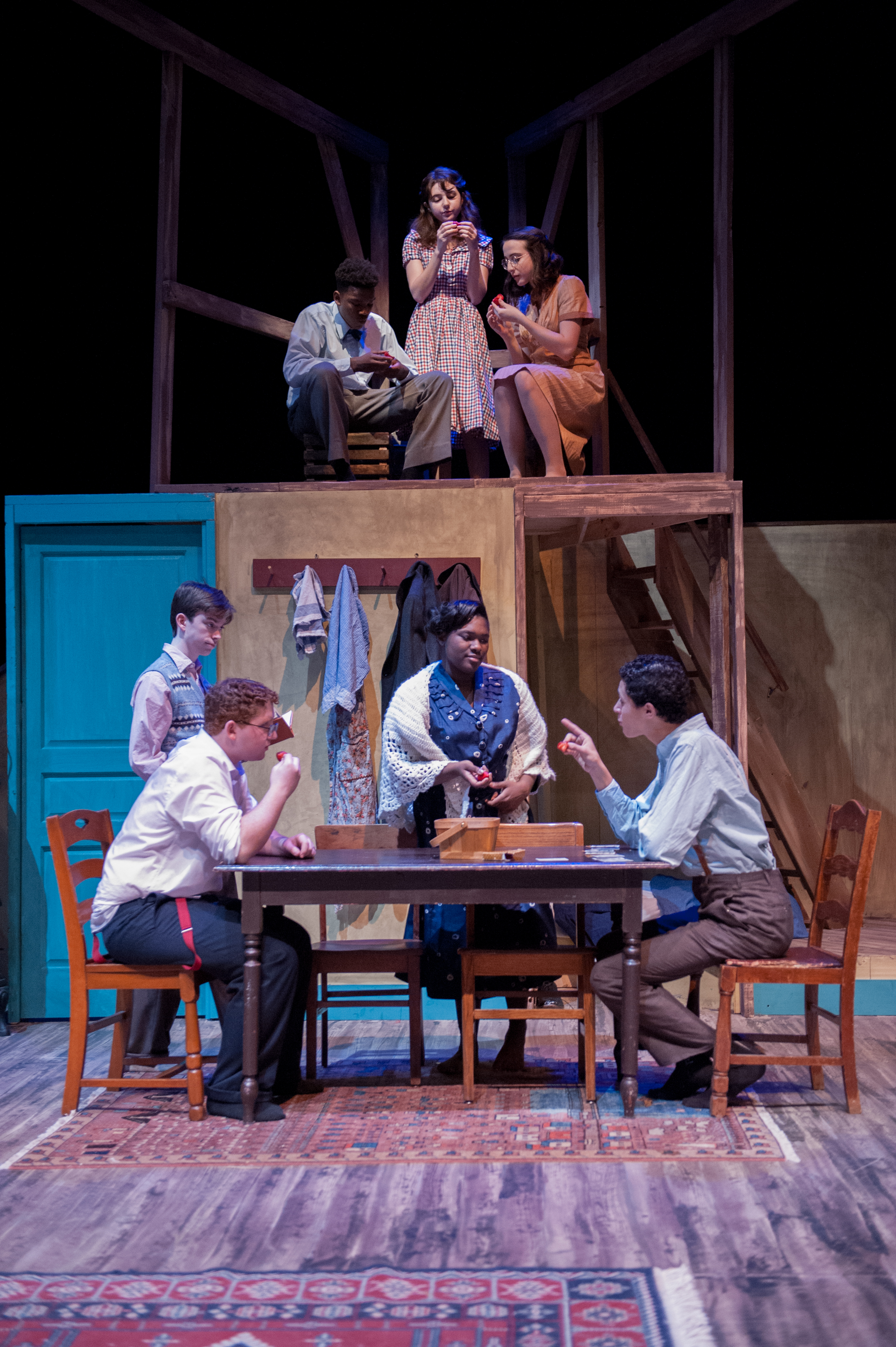 A scene from the AFS production of 'The Diary of Anne Frank.'
Two Upper School student productions presented this year have garnered a total of 22 nominations from two scholastic awards programs.
An awards gala and ceremony will be held on Sunday, May 20, at Unionville High School in Kennett Square for the Cappies Awards program, which gave the AFS spring production of "The Diary of Anne Frank" 11 nods, including a nomination for Best Play.
AFS is also participating in the pilot year for the Independence Awards program, which honors the best in musical theatre. The Independence Awards adjudicators nominated the AFS fall production of "Peter and the Starcatcher" for awards in 11 categories, including Best Musical and Best Ensemble. The Independence Awards ceremony will be held on Monday, May 21, at Temple University's Performing Arts Center.
Because AFS has been nominated in the Best Musical category, our students will be performing the Act II opening number "Mermaid Outta Me" at the Independence awards ceremony.
Here are the Cappies nominations for "The Diary of Anne Frank."
Best Play
Lead Actress/Play: Kaiya Case '18
Lead Actor/Play: Jack Sutherland '18
Featured Actress/Play: Isadora Barnett '19
Comic Actor/Play: Drew Jacobson '18
Supporting Actor/Play: Michael Carpenter '18
Creativity/Dramaturgy: Kaitlyn Arms '19
Ensemble in a Play: "The Inhabitants of the Annex" (Jack Sutherland, Halle Jacobson '20, Emma Cameron '20, Kaiya Case, Michael Carpenter, Naandi Jamison '19, Zach Ford '20 and Drew Jacobson)
Sound: Sydney Smith '18
Props: Seri Fleming '18, Kat Odoms '18
Lighting: Ben Goldstone '20
Here are the Independence Awards nominations for "Peter and the Starcatcher."
Best Musical
Best Ensemble
Lead Actress/ Kayla Brown '19
Lead Actor/ Michael Carpenter '18
Supporting Actor/ Jack Sutherland '18
Featured Actor/ Brian Wang '18
Small Ensemble/ Stache's Pirate Crew
Shift Crew/Stage Management/ Seri Fleming '18, Kat Odoms '18
Sound/ Sydney Smith '18
Marketing & Publicity/ Seri Fleming '18, Chloe Bartlett '18, Shane Steinberg '18, Kat Odoms '18
Creative Effects/ Aviva Gordon '19, Meital Kamionkowski '19