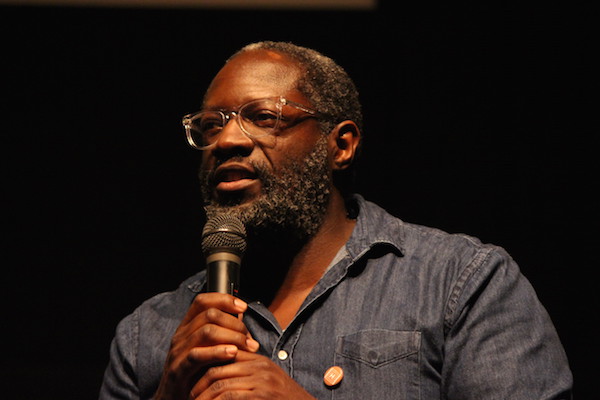 A crowd of about 280 people packed the Hiway Theater in Jenkintown to watch a powerful documentary about race and racism and to engage in a community conversation afterward based on points raised by the film.
The groundbreaking public forum drew an audience of local residents, educators, politicians, church members and others from many walks of life. Producer André Robert Lee introduced the film "I'm Not Racist … Am I?" by telling the audience members that what they were about to see might make them uneasy.
"As you watch the film, you may hear some things you don't agree with. It may hit you wrong. What I ask you to do … is to get comfortable being uncomfortable for a little while," he said.
The film follows a dozen high school students in New York City as they meet in a series of workshops to examine and discuss race, privilege and racism. Their conversations are emotional and tense at times as the students from different races and economic backgrounds grapple with their evolving definitions of racism. Over the course of a year, they challenged and supported one another. They laughed together and there are tears, too, as they come to understand one another's life experiences better.
The screening at the Hiway on Thursday night was sponsored by Abington Friends School, Friends Council on Education, the Hiway Theater and the Race Institute for Educators. Organizers saw the event as taking a step toward bringing people together and increasing understanding to help resolve one of the nation's most dogged and divisive problems.
"Tonight is about the idea of planting a seed in people's minds," André told the crowd.
After showing the film at Abington Friends last school year, organizers said they wanted to expand the conversation into the larger local community and helped arrange the screening at the Hiway Theater. Building on that event, they plan to continue and expand the conversation at 7 p.m. on Thursday, December 7, at Abington Friends.
In welcoming the crowd to the Hiway Theater, Upper School English Teacher Mary Lynn Ellis told the audience, "Because you are here, there is hope."
State Rep. Steve McCarter put the event in context when he said, "We live in a very perilous time. We've seen racism rear its ugly head. It's always there, but now it's emboldened because of what's happening in Washington."
Audience members watched the film intently and responded with applause at the end. When the house lights went up, André stood in front of the group again and asked audience members to turn to one another and describe in one word how they were feeling.
Then, he asked if some in the audience would stand up and volunteer their thoughts to the whole group. Among the words that came pouring forth were these:  "Yearning – that there's no room for my brother." "Yes — I really do believe that racism is institutional." "Community — we came into this room from all walks of life," and "Optimistic — providing a forum where people can feel safe is the first step toward real change."
Mark your calendars for the next community forum, at 7 p.m. on Thursday, December 7, at AFS. The public is invited.