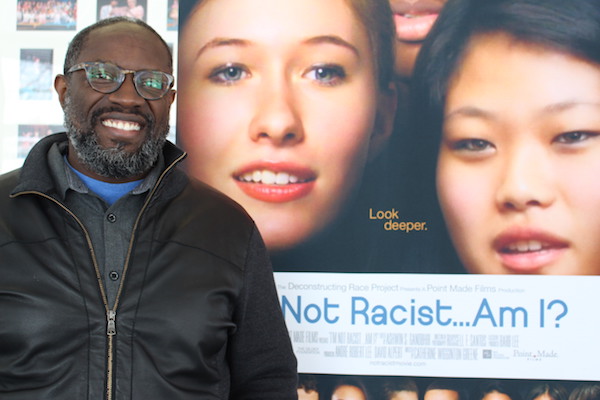 Upper School students assembled in the Muller Auditorium on Wednesday for a screening of the film "I'm Not Racist… Am I?" and then met in small groups to reflect on points made in the movie. Producer André Robert Lee was on hand to introduce the film, which follows a group of a dozen public and private school students as they grapple with their daily experience with race and their evolving definition of racism.
André asked the AFS students to consider these questions as they watched the movie: What is your definition of racism? Why do you think we are here today having this conversation? What is your day-by-day experience with race?
The producer told the students that there were moments in the film they were about to see that might be unsettling. "You may hear some things you may not like. We ask you to stay with it … emotionally, intellectually, physically."
Following the screening, André answered the students' questions and led a follow-up conversation. He said the film was not intended to change opinions, but to ask viewers to lean into the discomfort of the conversation.
Afterward, the students met in their advisories for conversations led by our student diversity facilitators and attended by faculty members. The film was screened for the faculty at an In-service Day in February. The film's director, Catherine Wigginton Greene, led a follow-up conversation on that day.