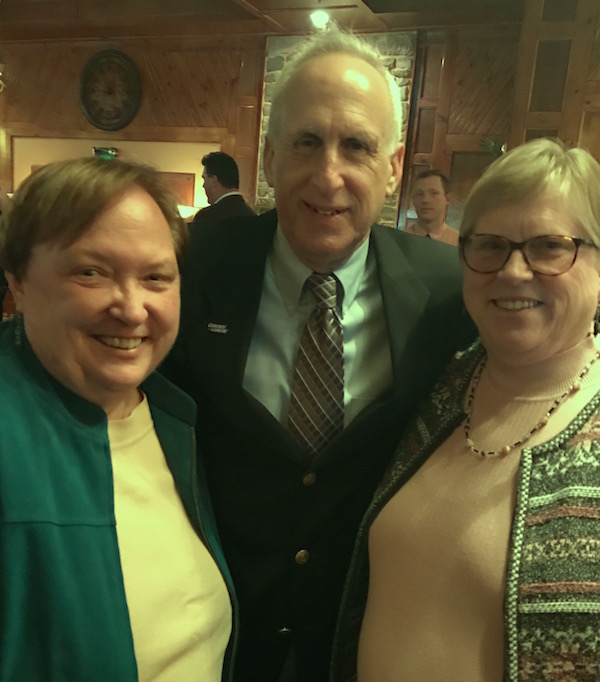 Coach Steve Chadwin was one of five coaches honored on April 5 at the inaugural Coaches vs. Cancer High School Coaching Legends Dinner, which drew a who's who of local hoops luminaries to a fundraiser for the American Cancer Society.
Coach C, who was introduced by his son, Jamie, was greeted with a standing ovation and cheers from the crowd that had gathered at the Great American Pub in Conshohocken. At AFS, he has won 16 of the 36 Friends Schools League titles that have been awarded in boys' basketball since the league was created in 1982. The next closest record belongs to Westtown, which has won six. He has logged 626 wins in a fabled 37-year career.
But, true to form, Coach C didn't say a word about winning titles or big numbers in his remarks. Instead, he talked about the help he had received from his family, assistant coaches and even former players, who come back to see him. He also thanked Abington Friends School, lauding its tradition of "academics first," for the opportunity to be a teacher-coach.
"The student-athletes that I have taught and coached, mentored, they're numerous, they're all good kids," he said. "They're all trying to find their way. Basketball's the hook. We work with them to try to teach them what's right and what's wrong. I'm just blessed to be able to do that. Every day, I teach kids, and you can't beat that."
Coach C said what he values most about being a teacher-coach is "relationships with kids and fellow coaches." And he welcomes going on a new journey with each team every year.
"The memories you make with each team, each year, are unbelievable," he said.
Also honored at the dinner of high school coaching legends were Tony Chapman of Holy Ghost Prep, Dan Dougherty of Episcopal Academy, Jim Fenerty of Germantown Academy and William "Speedy" Morris of St. Joe's Prep.