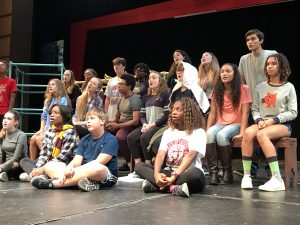 The Muller Auditorium is buzzing with the energy of YOU'RE A GOOD MAN, CHARLIE BROWN!" Cast, crew and musicians have all been working tirelessly since the first week of school to bring this beloved, award-winning musical to life on the Muller stage. Join us to navigate a typical day in the life of the hapless, lovable Charlie Brown and his high-energy, unpredictable Peanuts friends.
In addition to the evening shows on Thursday, November 8 and Friday, November 9 at 7 p.m., we're holding a new performance time for this show designed especially for families with younger children and grandparents on Saturday, November 10 at 2 p.m.. 
Tickets are now on sale HERE.