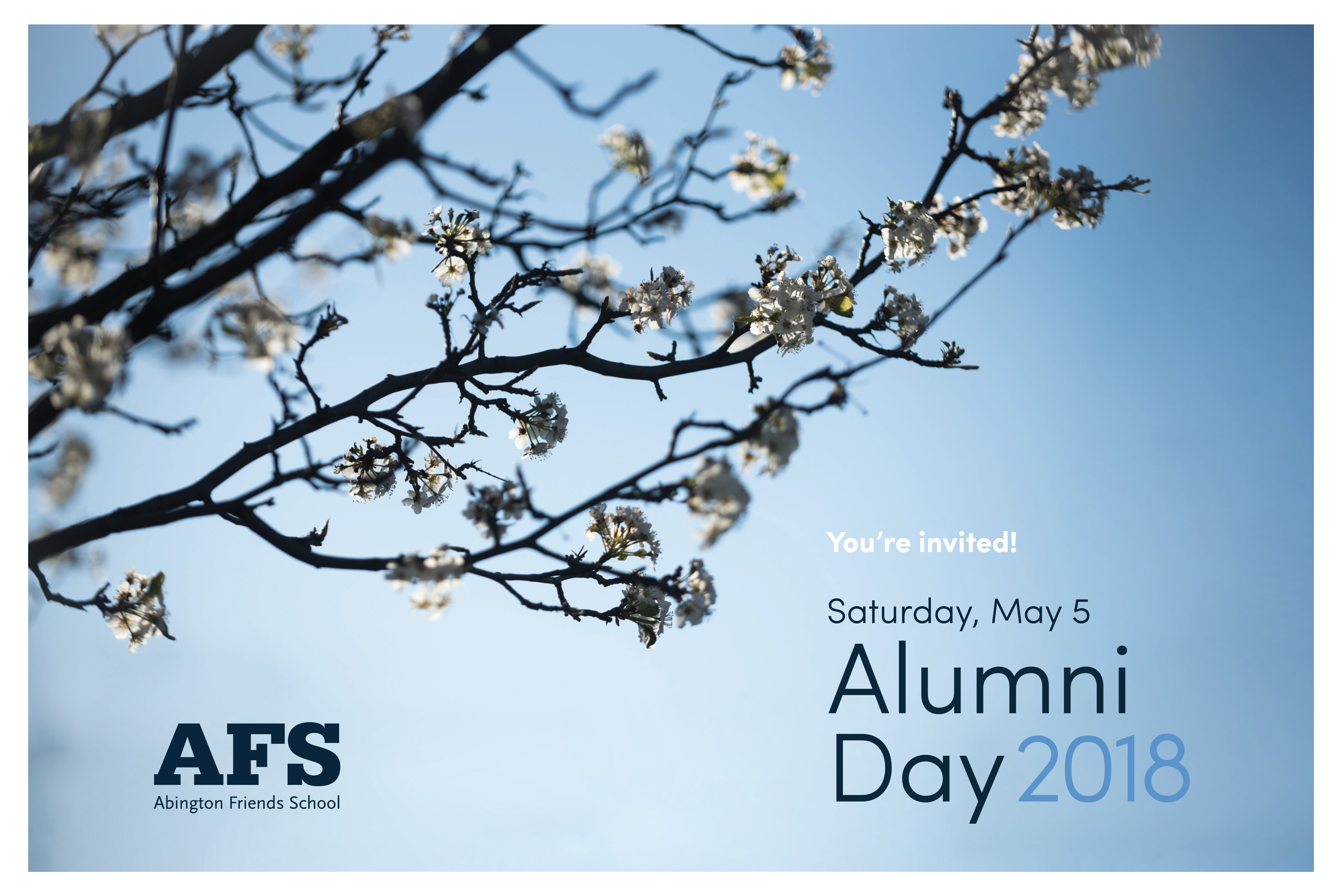 Alumni Day, Saturday, May 5, 2018
2:00 p.m. – 7:00 p.m.
New this year: An On-Campus Evening Cocktail Reception
Alumni Day will start with an Alumni Basketball game to honor the school's long history of the Hallowell gym. In keeping with a time-honored tradition and an Alumni Day favorite, all guests are invited to attend the Alumni Meeting for Worship in the Meeting House.  A new and very exciting addition to this year's Alumni Day will be celebrating the ceremonial groundbreaking of the Richard N. Berman Athletic Center. An evening reception for both the alumni reunions as well as this momentous occasion for AFS will take place on campus following the groundbreaking. Beer, wine and hors-d'oeuvres will be served, free of charge, at 5:30 p.m. in the Faulkner Library and class photos will be taken during the reception.
Curious about a class reunion?
Many milestone reunion classes plan events for their individual classes on the evening of Alumni Day.  Contact the Alumni Office to learn more. We're here to help.
EcoFest: Nature Playdate and Donation and Ecycling Event
On the morning of Alumni Day, the main campus will be lively with EcoFest which includes a Nature Playdate for kids ages 3-14 and a shredding, e-cycling and donation drive.  Alumni and their families are warmly welcome to attend these events prior to Alumni Day.
---
Alumni Day Schedule
Alumni Day Schedule of Events
Events and Activities
2 p.m. Alumni Basket Ball Game, Hallowell Gym
3 p.m. Guided Campus Tour, Stewart Lobby
4 p.m. Alumni Meeting for Worship
5 p.m. Richard N. Berman Athletics Center Ceremonial Groundbreaking, Upper School Courtyard
5:30 p.m. Evening Reception on Campus, Faulkner Library
9:00 a.m. – 12:00 p.m.
E-Cycling, Shredding and Donation Drive: Clean out your home and closets and make a difference! Bring your items for Cradles to Crayons, the PA SPCA and the Crayola Colorcycle Program. Shred One mobile shredding trucks will be on-site to securely shred documents for recycling. Gigabyter trucks will collect electronics on-site for destruction and recycling. $20 charge per television, all other acceptable items free.
10:00 a.m.- 12:00 p.m.
Nature Playdate and Nature Build, ages 3-14. Dozens of activities for all ages! Join us to build forts and fairy houses, create sun prints, natural dyes and insect mazes. Boat building from recycled materials , creating giant marble mazes, designing musical instruments and a fun recycled materials art project with the Penn State Art Program round out the fun!
Questions, please contact Carina Urbach, Director of Parent Engagement, 215-690-7672.
Many milestone reunion classes plan evening events for their individual classes on May 5 or alternate dates. Visit What is My Class Doing? to find out what is happening with your reunion!